Disney's Animal Kingdom Villas - Jambo House
Confirmed Reservations
Photo Gallery
Resort Information
Resort Overview
Resort Map
Floor Plans
Point Charts
UNIT
Studio
1 Bedroom
2 Bedroom
3 Bedroom
SHOWING ALL LISTINGS
| Check-In | Nights | Resort | Room Type | Sleeps | Price | Status | Res ID |
| --- | --- | --- | --- | --- | --- | --- | --- |
| 10/18/2023 | 1 | Animal Kingdom Villas - Jambo House | Deluxe Studio - Club Level | 4 | $552 | Available | |
| 10/18/2023 | 1 | Animal Kingdom Villas - Jambo House | Studio - Value | 4 | $325 | Available | |
| 10/24/2023 | 2 | Animal Kingdom Villas - Jambo House | Studio - Value | 4 | $700 | Available | |
| 10/09/2023 | 1 | Animal Kingdom Villas - Jambo House | Studio - Value | 4 | $325 | Available | |
| 10/26/2023 | 1 | Animal Kingdom Villas - Jambo House | Studio - Value | 4 | $325 | Available | |
| 10/23/2023 | 2 | Animal Kingdom Villas - Jambo House | Studio - Value | 4 | $650 | Available | |
| 10/26/2023 | 1 | Animal Kingdom Villas - Jambo House | Studio - Value | 4 | $325 | Available | |
| 10/23/2023 | 1 | Animal Kingdom Villas - Jambo House | Deluxe Studio - Standard View | 4 | $295 | Available | |
| 10/30/2023 | 1 | Animal Kingdom Villas - Jambo House | Deluxe Studio - Standard View | 4 | $335 | Available | |
| 11/01/2023 | 1 | Animal Kingdom Villas - Jambo House | Deluxe Studio - Standard View | 4 | $315 | Available | |
| 11/01/2023 | 1 | Animal Kingdom Villas - Jambo House | Deluxe Studio - Standard View | 4 | $315 | Available | |
| 11/03/2023 | 6 | Animal Kingdom Villas - Jambo House | Deluxe Studio - Standard View | 4 | $2,254 | Available | |
| 11/02/2023 | 1 | Animal Kingdom Villas - Jambo House | Studio - Value | 4 | $350 | Available | |
| 10/23/2023 | 1 | Animal Kingdom Villas - Jambo House | Studio - Value | 4 | $350 | Available | |
| 11/06/2023 | 1 | Animal Kingdom Villas - Jambo House | Studio - Value | 4 | $350 | Available | |
| 11/06/2023 | 1 | Animal Kingdom Villas - Jambo House | Studio - Value | 4 | $350 | Available | |
| 11/06/2023 | 1 | Animal Kingdom Villas - Jambo House | Studio - Value | 4 | $350 | Available | |
| 11/06/2023 | 2 | Animal Kingdom Villas - Jambo House | Studio - Value | 4 | $685 | Available | |
| 11/19/2023 | 1 | Animal Kingdom Villas - Jambo House | Studio - Value | 4 | $325 | Available | |
| 11/19/2023 | 1 | Animal Kingdom Villas - Jambo House | Studio - Value | 4 | $325 | Available | |
| 11/24/2023 | 1 | Animal Kingdom Villas - Jambo House | Studio - Value | 4 | $390 | Available | |
| 11/21/2023 | 6 | Animal Kingdom Villas - Jambo House | Studio - Value | 4 | $2,485 | Available | |
| 11/21/2023 | 1 | Animal Kingdom Villas - Jambo House | Studio - Value | 4 | $325 | Available | |
| 10/04/2023 | 1 | Animal Kingdom Villas - Jambo House | Studio - Value | 4 | $325 | Available | |
| 11/28/2023 | 1 | Animal Kingdom Villas - Jambo House | Studio - Value | 4 | $350 | Available | |
| 12/25/2023 | 1 | Animal Kingdom Villas - Jambo House | Studio - Value | 4 | $448 | Available | |
| 12/09/2023 | 7 | Animal Kingdom Villas - Jambo House | Studio - Value | 4 | $3,477 | Available | |
| 12/22/2023 | 1 | Animal Kingdom Villas - Jambo House | Studio - Value | 4 | $396 | Available | |
| 12/28/2023 | 1 | Animal Kingdom Villas - Jambo House | Studio - Value | 4 | $480 | Available | |
| 10/12/2023 | 1 | Animal Kingdom Villas - Jambo House | Studio - Value | 4 | $350 | Available | |
| 11/21/2023 | 1 | Animal Kingdom Villas - Jambo House | Studio - Value | 4 | $350 | Available | |
| 11/15/2023 | 1 | Animal Kingdom Villas - Jambo House | Studio - Value | 4 | $350 | Available | |
| 11/12/2023 | 1 | Animal Kingdom Villas - Jambo House | Studio - Value | 4 | $350 | Available | |
| 01/13/2024 | 1 | Animal Kingdom Villas - Jambo House | Studio - Value | 4 | $352 | Available | |
| 01/15/2024 | 1 | Animal Kingdom Villas - Jambo House | Studio - Value | 4 | $296 | Available | |
| 01/15/2024 | 1 | Animal Kingdom Villas - Jambo House | Studio - Value | 4 | $296 | Available | |
| 01/10/2024 | 1 | Animal Kingdom Villas - Jambo House | Studio - Value | 4 | $296 | Available | |
| 01/09/2024 | 2 | Animal Kingdom Villas - Jambo House | Studio - Value | 4 | $640 | Available | |
| 01/16/2024 | 1 | Animal Kingdom Villas - Jambo House | Studio - Value | 4 | $296 | Available | |
| 01/17/2024 | 1 | Animal Kingdom Villas - Jambo House | Studio - Value | 4 | $296 | Available | |
| 11/16/2023 | 1 | Animal Kingdom Villas - Jambo House | Studio - Value | 4 | $325 | Available | |
| 01/17/2024 | 1 | Animal Kingdom Villas - Jambo House | Studio - Value | 4 | $296 | Available | |
| 01/08/2024 | 1 | Animal Kingdom Villas - Jambo House | Studio - Value | 4 | $296 | Available | |
| 11/12/2023 | 1 | Animal Kingdom Villas - Jambo House | Studio - Value | 4 | $350 | Available | |
| 01/09/2024 | 2 | Animal Kingdom Villas - Jambo House | Studio - Value | 4 | $600 | Available | |
| 01/20/2024 | 1 | Animal Kingdom Villas - Jambo House | Studio - Value | 4 | $363 | Available | |
| 01/08/2024 | 4 | Animal Kingdom Villas - Jambo House | Studio - Value | 4 | $1,296 | Available | |
| 01/08/2024 | 1 | Animal Kingdom Villas - Jambo House | Studio - Value | 4 | $298 | Available | |
| 01/12/2024 | 1 | Animal Kingdom Villas - Jambo House | Studio - Value | 4 | $350 | Available | |
| 01/15/2024 | 2 | Animal Kingdom Villas - Jambo House | Studio - Value | 4 | $600 | Available | |
| 01/16/2024 | 1 | Animal Kingdom Villas - Jambo House | Studio - Value | 4 | $298 | Available | |
| 01/23/2024 | 1 | Animal Kingdom Villas - Jambo House | Studio - Value | 4 | $298 | Available | |
| 01/23/2024 | 1 | Animal Kingdom Villas - Jambo House | Studio - Value | 4 | $298 | Available | |
| 11/27/2023 | 1 | Animal Kingdom Villas - Jambo House | Studio - Value | 4 | $350 | Available | |
| 01/12/2024 | 1 | Animal Kingdom Villas - Jambo House | Studio - Value | 4 | $352 | Available | |
| 01/20/2024 | 1 | Animal Kingdom Villas - Jambo House | Studio - Value | 4 | $352 | Available | |
| 01/25/2024 | 1 | Animal Kingdom Villas - Jambo House | Studio - Value | 4 | $298 | Available | |
| 01/25/2024 | 1 | Animal Kingdom Villas - Jambo House | Studio - Value | 4 | $298 | Available | |
| 01/20/2024 | 1 | Animal Kingdom Villas - Jambo House | Studio - Value | 4 | $352 | Available | |
| 01/03/2024 | 1 | Animal Kingdom Villas - Jambo House | Studio - Value | 4 | $300 | Available | |
| 01/13/2024 | 1 | Animal Kingdom Villas - Jambo House | Studio - Value | 4 | $352 | Available | |
| 02/02/2024 | 1 | Animal Kingdom Villas - Jambo House | Studio - Value | 4 | $360 | Available | |
| 02/05/2024 | 1 | Animal Kingdom Villas - Jambo House | Studio - Value | 4 | $297 | Available | |
| 02/01/2024 | 1 | Animal Kingdom Villas - Jambo House | Studio - Value | 4 | $297 | Available | |
| 02/13/2024 | 1 | Animal Kingdom Villas - Jambo House | Studio - Value | 4 | $297 | Available | |
| 02/15/2024 | 1 | Animal Kingdom Villas - Jambo House | Studio - Value | 4 | $297 | Available | |
| 02/15/2024 | 1 | Animal Kingdom Villas - Jambo House | Studio - Value | 4 | $324 | Available | |
| 02/12/2024 | 1 | Animal Kingdom Villas - Jambo House | Studio - Value | 4 | $297 | Available | |
| 02/11/2024 | 2 | Animal Kingdom Villas - Jambo House | Studio - Value | 4 | $648 | Available | |
| 02/11/2024 | 2 | Animal Kingdom Villas - Jambo House | Studio - Value | 4 | $693 | Available | |
| 02/10/2024 | 3 | Animal Kingdom Villas - Jambo House | Studio - Value | 4 | $1,080 | Available | |
| 02/13/2024 | 1 | Animal Kingdom Villas - Jambo House | Studio - Value | 4 | $324 | Available | |
| 02/09/2024 | 2 | Animal Kingdom Villas - Jambo House | Deluxe Studio - Standard View | 4 | $690 | Available | |
| 02/16/2024 | 3 | Animal Kingdom Villas - Jambo House | Deluxe Studio - Standard View | 4 | $1,196 | Available | |
| 02/09/2024 | 2 | Animal Kingdom Villas - Jambo House | Deluxe Studio - Standard View | 4 | $690 | Available | |
| 02/17/2024 | 7 | Animal Kingdom Villas - Jambo House | Deluxe Studio - Standard View | 4 | $2,668 | Available | |
| 02/21/2024 | 1 | Animal Kingdom Villas - Jambo House | Studio - Value | 4 | $360 | Available | |
| 02/16/2024 | 1 | Animal Kingdom Villas - Jambo House | Studio - Value | 4 | $364 | Available | |
| 01/28/2024 | 2 | Animal Kingdom Villas - Jambo House | Studio - Value | 4 | $648 | Available | |
| 11/01/2023 | 1 | Animal Kingdom Villas - Jambo House | Studio - Value | 4 | $350 | Available | |
| 02/26/2024 | 1 | Animal Kingdom Villas - Jambo House | Studio - Value | 4 | $360 | Available | |
| 02/26/2024 | 1 | Animal Kingdom Villas - Jambo House | Studio - Value | 4 | $360 | Available | |
| 02/26/2024 | 1 | Animal Kingdom Villas - Jambo House | Studio - Value | 4 | $360 | Available | |
| 02/26/2024 | 1 | Animal Kingdom Villas - Jambo House | Studio - Value | 4 | $360 | Available | |
| 02/26/2024 | 1 | Animal Kingdom Villas - Jambo House | Studio - Value | 4 | $360 | Available | |
| 02/27/2024 | 1 | Animal Kingdom Villas - Jambo House | Studio - Value | 4 | $360 | Available | |
| 02/25/2024 | 1 | Animal Kingdom Villas - Jambo House | Studio - Value | 4 | $360 | Available | |
| 02/25/2024 | 1 | Animal Kingdom Villas - Jambo House | Studio - Value | 4 | $360 | Available | |
| 02/25/2024 | 1 | Animal Kingdom Villas - Jambo House | Studio - Value | 4 | $360 | Available | |
| 01/15/2024 | 1 | Animal Kingdom Villas - Jambo House | Studio - Value | 4 | $298 | Available | |
| 02/21/2024 | 1 | Animal Kingdom Villas - Jambo House | Studio - Value | 4 | $360 | Available | |
| 02/27/2024 | 1 | Animal Kingdom Villas - Jambo House | Studio - Value | 4 | $360 | Available | |
| 11/06/2023 | 2 | Animal Kingdom Villas - Jambo House | Studio - Value | 4 | $695 | Available | |
| 02/29/2024 | 1 | Animal Kingdom Villas - Jambo House | Studio - Value | 4 | $348 | Available | |
| 02/29/2024 | 1 | Animal Kingdom Villas - Jambo House | Studio - Value | 4 | $360 | Available | |
| 02/29/2024 | 1 | Animal Kingdom Villas - Jambo House | Studio - Value | 4 | $360 | Available | |
| 02/29/2024 | 1 | Animal Kingdom Villas - Jambo House | Studio - Value | 4 | $360 | Available | |
| 02/27/2024 | 1 | Animal Kingdom Villas - Jambo House | Studio - Value | 4 | $360 | Available | |
| 02/28/2024 | 1 | Animal Kingdom Villas - Jambo House | Studio - Value | 4 | $360 | Available | |
| 02/29/2024 | 1 | Animal Kingdom Villas - Jambo House | Studio - Value | 4 | $360 | Available | |
| 02/13/2024 | 1 | Animal Kingdom Villas - Jambo House | Studio - Value | 4 | $297 | Available | |
| 02/16/2024 | 1 | Animal Kingdom Villas - Jambo House | Studio - Value | 4 | $399 | Available | |
| 03/01/2024 | 3 | Animal Kingdom Villas - Jambo House | Studio - Value | 4 | $1,198 | Available | |
| 02/16/2024 | 1 | Animal Kingdom Villas - Jambo House | Studio - Value | 4 | $399 | Available | |
| 03/07/2024 | 1 | Animal Kingdom Villas - Jambo House | Studio - Value | 4 | $360 | Available | |
| 03/06/2024 | 2 | Animal Kingdom Villas - Jambo House | Studio - Value | 4 | $720 | Available | |
| 03/06/2024 | 2 | Animal Kingdom Villas - Jambo House | Studio - Value | 4 | $720 | Available | |
| 03/08/2024 | 1 | Animal Kingdom Villas - Jambo House | Studio - Value | 4 | $399 | Available | |
| 10/29/2023 | 4 | Animal Kingdom Villas - Jambo House | Deluxe Studio - Savanna View | 4 | $1,672 | Available | |
| 03/13/2024 | 1 | Animal Kingdom Villas - Jambo House | Studio - Value | 4 | $360 | Available | |
| 03/11/2024 | 1 | Animal Kingdom Villas - Jambo House | Studio - Value | 4 | $360 | Available | |
| 03/05/2024 | 1 | Animal Kingdom Villas - Jambo House | Studio - Value | 4 | $360 | Available | |
| 02/12/2024 | 1 | Animal Kingdom Villas - Jambo House | Studio - Value | 4 | $297 | Available | |
| 03/09/2024 | 1 | Animal Kingdom Villas - Jambo House | Studio - Value | 4 | $399 | Available | |
| 03/13/2024 | 2 | Animal Kingdom Villas - Jambo House | Studio - Value | 4 | $696 | Available | |
| 03/08/2024 | 1 | Animal Kingdom Villas - Jambo House | Studio - Value | 4 | $399 | Available | |
| 03/11/2024 | 1 | Animal Kingdom Villas - Jambo House | Studio - Value | 4 | $360 | Available | |
| 03/08/2024 | 1 | Animal Kingdom Villas - Jambo House | Studio - Value | 4 | $399 | Available | |
| 03/13/2024 | 1 | Animal Kingdom Villas - Jambo House | Studio - Value | 4 | $360 | Available | |
| 03/15/2024 | 1 | Animal Kingdom Villas - Jambo House | Studio - Value | 4 | $399 | Available | |
| 03/01/2024 | 1 | Animal Kingdom Villas - Jambo House | Studio - Value | 4 | $399 | Available | |
| 03/17/2024 | 2 | Animal Kingdom Villas - Jambo House | Studio - Value | 4 | $696 | Available | |
| 03/17/2024 | 2 | Animal Kingdom Villas - Jambo House | Studio - Value | 4 | $696 | Available | |
| 03/17/2024 | 2 | Animal Kingdom Villas - Jambo House | Studio - Value | 4 | $696 | Available | |
| 03/07/2024 | 3 | Animal Kingdom Villas - Jambo House | Studio - Value | 4 | $1,200 | Available | |
| 03/18/2024 | 1 | Animal Kingdom Villas - Jambo House | Studio - Value | 4 | $360 | Available | |
| 03/20/2024 | 1 | Animal Kingdom Villas - Jambo House | Studio - Value | 4 | $360 | Available | |
| 03/20/2024 | 1 | Animal Kingdom Villas - Jambo House | Studio - Value | 4 | $360 | Available | |
| 03/14/2024 | 7 | Animal Kingdom Villas - Jambo House | Studio - Value | 4 | $3,168 | Available | |
| 03/19/2024 | 7 | Animal Kingdom Villas - Jambo House | Studio - Value | 4 | $3,456 | Available | |
| 01/13/2024 | 1 | Animal Kingdom Villas - Jambo House | Deluxe Studio - Standard View | 4 | $350 | Available | |
| 03/19/2024 | 7 | Animal Kingdom Villas - Jambo House | Studio - Value | 4 | $2,496 | Available | |
| 03/21/2024 | 1 | Animal Kingdom Villas - Jambo House | Studio - Value | 4 | $342 | Available | |
| 11/25/2023 | 1 | Animal Kingdom Villas - Jambo House | Studio - Value | 4 | $403 | Available | |
| 01/28/2024 | 1 | Animal Kingdom Villas - Jambo House | Studio - Value | 4 | $296 | Available | |
| 03/16/2024 | 1 | Animal Kingdom Villas - Jambo House | Studio - Value | 4 | $399 | Available | |
| 03/05/2024 | 1 | Animal Kingdom Villas - Jambo House | Studio - Value | 4 | $348 | Available | |
| 03/17/2024 | 6 | Animal Kingdom Villas - Jambo House | Studio - Value | 4 | $2,664 | Available | |
| 03/17/2024 | 7 | Animal Kingdom Villas - Jambo House | Studio - Value | 4 | $3,080 | Available | |
| 03/17/2024 | 7 | Animal Kingdom Villas - Jambo House | Studio - Value | 4 | $3,168 | Available | |
| 03/14/2024 | 5 | Animal Kingdom Villas - Jambo House | Studio - Value | 4 | $2,304 | Available | |
| 03/04/2024 | 3 | Animal Kingdom Villas - Jambo House | Studio - Value | 4 | $1,188 | Available | |
| 03/03/2024 | 7 | Animal Kingdom Villas - Jambo House | Studio - Value | 4 | $3,168 | Available | |
| 11/24/2023 | 1 | Animal Kingdom Villas - Jambo House | Studio - Value | 4 | $399 | Available | |
| 11/27/2023 | 1 | Animal Kingdom Villas - Jambo House | Studio - Value | 4 | $325 | Available | |
| 02/04/2024 | 1 | Animal Kingdom Villas - Jambo House | Studio - Value | 4 | $297 | Available | |
| 02/09/2024 | 1 | Animal Kingdom Villas - Jambo House | Studio - Value | 4 | $360 | Available | |
| 12/24/2023 | 5 | Animal Kingdom Villas - Jambo House | Studio - Value | 4 | $2,600 | Available | |
| 02/04/2024 | 1 | Animal Kingdom Villas - Jambo House | Studio - Value | 4 | $297 | Available | |
| 01/18/2024 | 1 | Animal Kingdom Villas - Jambo House | Studio - Value | 4 | $298 | Available | |
| 01/15/2024 | 1 | Animal Kingdom Villas - Jambo House | Studio - Value | 4 | $298 | Available | |
| 01/15/2024 | 1 | Animal Kingdom Villas - Jambo House | Studio - Value | 4 | $298 | Available | |
| 01/03/2024 | 1 | Animal Kingdom Villas - Jambo House | Studio - Value | 4 | $298 | Available | |
| 10/04/2023 | 1 | Animal Kingdom Villas - Jambo House | Studio - Value | 4 | $275 | Available | |
| 12/24/2023 | 6 | Animal Kingdom Villas - Jambo House | Studio - Value | 4 | $3,007 | Available | |
| 01/08/2024 | 4 | Animal Kingdom Villas - Jambo House | Studio - Value | 4 | $1,392 | Available | |
| 01/08/2024 | 2 | Animal Kingdom Villas - Jambo House | Studio - Value | 4 | $600 | Available | |
| 02/18/2024 | 5 | Animal Kingdom Villas - Jambo House | Studio - Value | 4 | $2,160 | Available | |
| 03/10/2024 | 3 | Animal Kingdom Villas - Jambo House | Studio - Value | 4 | $1,296 | Available | |
| 04/07/2024 | 6 | Animal Kingdom Villas - Jambo House | Studio - Value | 4 | $2,664 | Available | |
| 03/21/2024 | 7 | Animal Kingdom Villas - Jambo House | Studio - Value | 4 | $3,744 | Available | |
| 12/31/2023 | 1 | Animal Kingdom Villas - Jambo House | Studio - Value | 4 | $576 | Available | |
| 12/31/2023 | 3 | Animal Kingdom Villas - Jambo House | Studio - Value | 4 | $1,558 | Available | |
| 01/19/2024 | 1 | Animal Kingdom Villas - Jambo House | Studio - Value | 4 | $396 | Available | |
| 02/24/2024 | 4 | Animal Kingdom Villas - Jambo House | Studio - Value | 4 | $1,800 | Available | |
| 04/14/2024 | 6 | Animal Kingdom Villas - Jambo House | Studio - Value | 4 | $2,664 | Available | |
| 04/20/2024 | 6 | Animal Kingdom Villas - Jambo House | Studio - Value | 4 | $2,664 | Available | |
| 03/19/2024 | 4 | Animal Kingdom Villas - Jambo House | Studio - Value | 4 | $1,800 | Available | |
| 04/06/2024 | 7 | Animal Kingdom Villas - Jambo House | Studio - Value | 4 | $3,168 | Available | |
| 04/07/2024 | 4 | Animal Kingdom Villas - Jambo House | Studio - Value | 4 | $1,536 | Available | |
| 04/04/2024 | 1 | Animal Kingdom Villas - Jambo House | Studio - Value | 4 | $372 | Available | |
| 04/09/2024 | 2 | Animal Kingdom Villas - Jambo House | Studio - Value | 4 | $744 | Available | |
| 04/11/2024 | 1 | Animal Kingdom Villas - Jambo House | Studio - Value | 4 | $372 | Available | |
| 02/01/2024 | 2 | Animal Kingdom Villas - Jambo House | Studio - Value | 4 | $672 | Available | |
| 04/21/2024 | 2 | Animal Kingdom Villas - Jambo House | Studio - Value | 4 | $720 | Available | |
| 04/21/2024 | 2 | Animal Kingdom Villas - Jambo House | Studio - Value | 4 | $720 | Available | |
| 04/12/2024 | 1 | Animal Kingdom Villas - Jambo House | Studio - Value | 4 | $399 | Available | |
| 03/02/2024 | 1 | Animal Kingdom Villas - Jambo House | Studio - Value | 4 | $399 | Available | |
| 02/01/2024 | 1 | Animal Kingdom Villas - Jambo House | Studio - Value | 4 | $297 | Available | |
| 04/15/2024 | 3 | Animal Kingdom Villas - Jambo House | Studio - Value | 4 | $1,188 | Available | |
| 04/22/2024 | 5 | Animal Kingdom Villas - Jambo House | Studio - Value | 4 | $1,984 | Available | |
| 04/23/2024 | 2 | Animal Kingdom Villas - Jambo House | Studio - Value | 4 | $792 | Available | |
| 04/09/2024 | 1 | Animal Kingdom Villas - Jambo House | Studio - Value | 4 | $396 | Available | |
| 04/23/2024 | 1 | Animal Kingdom Villas - Jambo House | Studio - Value | 4 | $360 | Available | |
| 04/26/2024 | 1 | Animal Kingdom Villas - Jambo House | Studio - Value | 4 | $399 | Available | |
| 04/26/2024 | 1 | Animal Kingdom Villas - Jambo House | Studio - Value | 4 | $399 | Available | |
| 04/26/2024 | 2 | Animal Kingdom Villas - Jambo House | Studio - Value | 4 | $840 | Available | |
| 10/30/2023 | 1 | Animal Kingdom Villas - Jambo House | Deluxe Studio - Standard View | 4 | $345 | Available | |
| 04/25/2024 | 6 | Animal Kingdom Villas - Jambo House | Studio - Value | 4 | $2,736 | Available | |
| 02/20/2024 | 1 | Animal Kingdom Villas - Jambo House | Studio - Value | 4 | $396 | Available | |
| 02/27/2024 | 2 | Animal Kingdom Villas - Jambo House | Studio - Value | 4 | $792 | Available | |
| 03/06/2024 | 3 | Animal Kingdom Villas - Jambo House | Studio - Value | 4 | $1,254 | Available | |
| 04/02/2024 | 3 | Animal Kingdom Villas - Jambo House | Studio - Value | 4 | $1,296 | Available | |
| 01/21/2024 | 1 | Animal Kingdom Villas - Jambo House | Studio - Value | 4 | $296 | Available | |
| 12/26/2023 | 2 | Animal Kingdom Villas - Jambo House | Studio - Value | 4 | $960 | Available | |
| 03/29/2024 | 3 | Animal Kingdom Villas - Jambo House | Studio - Value | 4 | $1,200 | Available | |
| 04/11/2024 | 1 | Animal Kingdom Villas - Jambo House | Studio - Value | 4 | $348 | Available | |
| 04/23/2024 | 4 | Animal Kingdom Villas - Jambo House | Studio - Value | 4 | $1,500 | Available | |
| 04/28/2024 | 2 | Animal Kingdom Villas - Jambo House | Studio - Value | 4 | $744 | Available | |
| 02/25/2024 | 4 | Animal Kingdom Villas - Jambo House | Studio - Value | 4 | $1,728 | Available | |
| 02/18/2024 | 2 | Animal Kingdom Villas - Jambo House | Studio - Value | 4 | $864 | Available | |
| 03/01/2024 | 4 | Animal Kingdom Villas - Jambo House | Studio - Value | 4 | $1,872 | Available | |
| 03/28/2024 | 1 | Animal Kingdom Villas - Jambo House | Studio - Value | 4 | $416 | Available | |
| 02/09/2024 | 2 | Animal Kingdom Villas - Jambo House | Deluxe Studio - Standard View | 4 | $690 | Available | |
| 02/16/2024 | 6 | Animal Kingdom Villas - Jambo House | Deluxe Studio - Standard View | 4 | $2,300 | Available | |
| 05/11/2024 | 6 | Animal Kingdom Villas - Jambo House | Deluxe Studio - Standard View | 4 | $1,824 | Available | |
| 06/01/2024 | 1 | Animal Kingdom Villas - Jambo House | Studio - Value | 4 | $312 | Available | |
| 04/11/2024 | 1 | Animal Kingdom Villas - Jambo House | Studio - Value | 4 | $312 | Available | |
| 01/09/2024 | 1 | Animal Kingdom Villas - Jambo House | Studio - Value | 4 | $296 | Available | |
| 02/26/2024 | 4 | Animal Kingdom Villas - Jambo House | Studio - Value | 4 | $1,728 | Available | |
| 02/18/2024 | 1 | Animal Kingdom Villas - Jambo House | Studio - Value | 4 | $396 | Available | |
| 02/11/2024 | 5 | Animal Kingdom Villas - Jambo House | Deluxe Studio - Standard View | 4 | $2,170 | Available | |
| 02/11/2024 | 5 | Animal Kingdom Villas - Jambo House | Deluxe Studio - Savanna View | 4 | $1,955 | Available | |
| 02/11/2024 | 1 | Animal Kingdom Villas - Jambo House | Deluxe Studio - Standard View | 4 | $322 | Available | |
| 02/14/2024 | 3 | Animal Kingdom Villas - Jambo House | Deluxe Studio - Standard View | 4 | $1,012 | Available | |
| 06/01/2024 | 2 | Animal Kingdom Villas - Jambo House | Studio - Value | 4 | $720 | Available | |
| 06/04/2024 | 2 | Animal Kingdom Villas - Jambo House | Studio - Value | 4 | $650 | Available | |
| 05/11/2024 | 5 | Animal Kingdom Villas - Jambo House | Deluxe Studio - Standard View | 4 | $1,512 | Available | |
| 05/24/2024 | 2 | Animal Kingdom Villas - Jambo House | Studio - Value | 4 | $696 | Available | |
| 06/16/2024 | 1 | Animal Kingdom Villas - Jambo House | Studio - Value | 4 | $297 | Available | |
| 10/31/2023 | 1 | Animal Kingdom Villas - Jambo House | Deluxe Studio - Standard View | 4 | $285 | Available | |
| 11/19/2023 | 1 | Animal Kingdom Villas - Jambo House | Deluxe Studio - Standard View | 4 | $285 | Available | |
| 11/12/2023 | 1 | Animal Kingdom Villas - Jambo House | Deluxe Studio - Standard View | 4 | $315 | Available | |
| 06/23/2024 | 7 | Animal Kingdom Villas - Jambo House | Studio - Value | 4 | $2,622 | Available | |
| 02/13/2024 | 1 | Animal Kingdom Villas - Jambo House | Studio - Value | 4 | $297 | Available | |
| 04/10/2024 | 1 | Animal Kingdom Villas - Jambo House | Studio - Value | 4 | $348 | Available | |
| 06/21/2024 | 2 | Animal Kingdom Villas - Jambo House | Studio - Value | 4 | $696 | Available | |
| 06/14/2024 | 1 | Animal Kingdom Villas - Jambo House | Studio - Value | 4 | $348 | Available | |
| 06/21/2024 | 2 | Animal Kingdom Villas - Jambo House | Studio - Value | 4 | $696 | Available | |
| 06/27/2024 | 1 | Animal Kingdom Villas - Jambo House | Studio - Value | 4 | $297 | Available | |
| 06/27/2024 | 2 | Animal Kingdom Villas - Jambo House | Studio - Value | 4 | $599 | Available | |
| 06/25/2024 | 1 | Animal Kingdom Villas - Jambo House | Studio - Value | 4 | $297 | Available | |
| 06/18/2024 | 1 | Animal Kingdom Villas - Jambo House | Studio - Value | 4 | $297 | Available | |
| 05/25/2024 | 1 | Animal Kingdom Villas - Jambo House | Studio - Value | 4 | $348 | Available | |
| 02/21/2024 | 1 | Animal Kingdom Villas - Jambo House | Studio - Value | 4 | $348 | Available | |
| 02/18/2024 | 5 | Animal Kingdom Villas - Jambo House | Studio - Value | 4 | $2,400 | Available | |
| 05/23/2024 | 1 | Animal Kingdom Villas - Jambo House | Studio - Value | 4 | $288 | Available | |
| 05/23/2024 | 1 | Animal Kingdom Villas - Jambo House | Studio - Value | 4 | $288 | Available | |
| 04/28/2024 | 3 | Animal Kingdom Villas - Jambo House | Studio - Value | 4 | $999 | Available | |
| 05/06/2024 | 1 | Animal Kingdom Villas - Jambo House | Studio - Value | 4 | $288 | Available | |
| 02/28/2024 | 2 | Animal Kingdom Villas - Jambo House | Studio - Value | 4 | $696 | Available | |
| 04/15/2024 | 1 | Animal Kingdom Villas - Jambo House | Studio - Value | 4 | $348 | Available | |
| 03/01/2024 | 6 | Animal Kingdom Villas - Jambo House | Deluxe Studio - Standard View | 4 | $2,200 | Available | |
| 03/01/2024 | 3 | Animal Kingdom Villas - Jambo House | Deluxe Studio - Standard View | 4 | $1,144 | Available | |
| 06/24/2024 | 1 | Animal Kingdom Villas - Jambo House | Studio - Value | 4 | $297 | Available | |
| 06/24/2024 | 1 | Animal Kingdom Villas - Jambo House | Studio - Value | 4 | $297 | Available | |
| 06/24/2024 | 1 | Animal Kingdom Villas - Jambo House | Studio - Value | 4 | $297 | Available | |
| 06/26/2024 | 1 | Animal Kingdom Villas - Jambo House | Studio - Value | 4 | $297 | Available | |
| 06/21/2024 | 1 | Animal Kingdom Villas - Jambo House | Studio - Value | 4 | $348 | Available | |
| 06/05/2024 | 1 | Animal Kingdom Villas - Jambo House | Studio - Value | 4 | $288 | Available | |
| 06/29/2024 | 1 | Animal Kingdom Villas - Jambo House | Studio - Value | 4 | $360 | Available | |
| 07/01/2024 | 1 | Animal Kingdom Villas - Jambo House | Studio - Value | 4 | $297 | Available | |
| 01/19/2024 | 3 | Animal Kingdom Villas - Jambo House | Deluxe Studio - Standard View | 4 | $880 | Available | |
| 01/15/2024 | 4 | Animal Kingdom Villas - Jambo House | Deluxe Studio - Standard View | 4 | $1,056 | Available | |
| 07/02/2024 | 1 | Animal Kingdom Villas - Jambo House | Studio - Value | 4 | $297 | Available | |
| 06/28/2024 | 1 | Animal Kingdom Villas - Jambo House | Studio - Value | 4 | $348 | Available | |
| 03/05/2024 | 1 | Animal Kingdom Villas - Jambo House | Studio - Value | 4 | $348 | Available | |
| 06/15/2024 | 1 | Animal Kingdom Villas - Jambo House | Studio - Value | 4 | $348 | Available | |
| 06/17/2024 | 1 | Animal Kingdom Villas - Jambo House | Studio - Value | 4 | $297 | Available | |
| 02/03/2024 | 1 | Animal Kingdom Villas - Jambo House | Deluxe Studio - Standard View | 4 | $330 | Available | |
| 03/09/2024 | 7 | Animal Kingdom Villas - Jambo House | 1 Bedroom Villa - Value | 4 | $3,828 | Available | |
| 07/10/2024 | 2 | Animal Kingdom Villas - Jambo House | Studio - Value | 4 | $648 | Available | |
| 07/09/2024 | 3 | Animal Kingdom Villas - Jambo House | Studio - Value | 4 | $999 | Available | |
| 07/11/2024 | 1 | Animal Kingdom Villas - Jambo House | Studio - Value | 4 | $297 | Available | |
| 07/11/2024 | 1 | Animal Kingdom Villas - Jambo House | Studio - Value | 4 | $297 | Available | |
| 06/15/2024 | 1 | Animal Kingdom Villas - Jambo House | Studio - Value | 4 | $348 | Available | |
| 07/11/2024 | 1 | Animal Kingdom Villas - Jambo House | Studio - Value | 4 | $297 | Available | |
| 07/07/2024 | 1 | Animal Kingdom Villas - Jambo House | Studio - Value | 4 | $297 | Available | |
| 06/25/2024 | 1 | Animal Kingdom Villas - Jambo House | Studio - Value | 4 | $297 | Available | |
| 06/19/2024 | 1 | Animal Kingdom Villas - Jambo House | Studio - Value | 4 | $297 | Available | |
| 06/22/2024 | 1 | Animal Kingdom Villas - Jambo House | Studio - Value | 4 | $348 | Available | |
| 07/03/2024 | 1 | Animal Kingdom Villas - Jambo House | Studio - Value | 4 | $297 | Available | |
| 07/10/2024 | 3 | Animal Kingdom Villas - Jambo House | Studio - Value | 4 | $999 | Available | |
| 07/07/2024 | 2 | Animal Kingdom Villas - Jambo House | Studio - Value | 4 | $648 | Available | |
| 04/13/2024 | 2 | Animal Kingdom Villas - Jambo House | Studio - Value | 4 | $780 | Available | |
| 07/11/2024 | 2 | Animal Kingdom Villas - Jambo House | Studio - Value | 4 | $630 | Available | |
| 05/28/2024 | 1 | Animal Kingdom Villas - Jambo House | Studio - Value | 4 | $288 | Available | |
| 12/24/2023 | 3 | Animal Kingdom Villas - Jambo House | Deluxe Studio - Savanna View | 4 | $2,106 | Available | |
| 06/29/2024 | 6 | Animal Kingdom Villas - Jambo House | Deluxe Studio - Standard View | 4 | $2,125 | Available | |
| 07/12/2024 | 2 | Animal Kingdom Villas - Jambo House | Studio - Value | 4 | $624 | Available | |
| 07/13/2024 | 1 | Animal Kingdom Villas - Jambo House | Studio - Value | 4 | $312 | Available | |
| 03/15/2024 | 7 | Animal Kingdom Villas - Jambo House | Deluxe Studio - Standard View | 4 | $2,552 | Available | |
| 03/15/2024 | 6 | Animal Kingdom Villas - Jambo House | Deluxe Studio - Standard View | 4 | $2,200 | Available | |
| 06/09/2024 | 2 | Animal Kingdom Villas - Jambo House | Studio - Value | 4 | $592 | Available | |
| 06/09/2024 | 3 | Animal Kingdom Villas - Jambo House | Studio - Value | 4 | $900 | Available | |
| 05/21/2024 | 3 | Animal Kingdom Villas - Jambo House | Studio - Value | 4 | $900 | Available | |
| 03/15/2024 | 6 | Animal Kingdom Villas - Jambo House | Deluxe Studio - Standard View | 4 | $2,200 | Available | |
| 06/03/2024 | 2 | Animal Kingdom Villas - Jambo House | Studio - Value | 4 | $592 | Available | |
| 07/09/2024 | 3 | Animal Kingdom Villas - Jambo House | Studio - Value | 4 | $999 | Available | |
| 07/14/2024 | 3 | Animal Kingdom Villas - Jambo House | Studio - Value | 4 | $999 | Available | |
| 07/14/2024 | 3 | Animal Kingdom Villas - Jambo House | Studio - Value | 4 | $999 | Available | |
| 05/24/2024 | 1 | Animal Kingdom Villas - Jambo House | Studio - Value | 4 | $348 | Available | |
| 07/15/2024 | 2 | Animal Kingdom Villas - Jambo House | Studio - Value | 4 | $648 | Available | |
| 07/15/2024 | 2 | Animal Kingdom Villas - Jambo House | Studio - Value | 4 | $648 | Available | |
| 07/16/2024 | 2 | Animal Kingdom Villas - Jambo House | Studio - Value | 4 | $648 | Available | |
| 07/15/2024 | 3 | Animal Kingdom Villas - Jambo House | Studio - Value | 4 | $999 | Available | |
| 07/15/2024 | 1 | Animal Kingdom Villas - Jambo House | Studio - Value | 4 | $297 | Available | |
| 07/09/2024 | 2 | Animal Kingdom Villas - Jambo House | Studio - Value | 4 | $648 | Available | |
| 07/14/2024 | 2 | Animal Kingdom Villas - Jambo House | Studio - Value | 4 | $648 | Available | |
| 07/13/2024 | 1 | Animal Kingdom Villas - Jambo House | Studio - Value | 4 | $348 | Available | |
| 04/15/2024 | 1 | Animal Kingdom Villas - Jambo House | Studio - Value | 4 | $348 | Available | |
| 06/28/2024 | 1 | Animal Kingdom Villas - Jambo House | Studio - Value | 4 | $348 | Available | |
| 06/07/2024 | 1 | Animal Kingdom Villas - Jambo House | Studio - Value | 4 | $348 | Available | |
| 07/10/2024 | 1 | Animal Kingdom Villas - Jambo House | Studio - Value | 4 | $297 | Available | |
| 07/13/2024 | 2 | Animal Kingdom Villas - Jambo House | Studio - Value | 4 | $651 | Available | |
| 07/12/2024 | 2 | Animal Kingdom Villas - Jambo House | Studio - Value | 4 | $696 | Available | |
| 04/10/2024 | 1 | Animal Kingdom Villas - Jambo House | Studio - Value | 4 | $348 | Available | |
| 07/12/2024 | 2 | Animal Kingdom Villas - Jambo House | Studio - Value | 4 | $696 | Available | |
| 01/13/2024 | 4 | Animal Kingdom Villas - Jambo House | Deluxe Studio - Standard View | 4 | $1,550 | Available | |
| 07/17/2024 | 2 | Animal Kingdom Villas - Jambo House | Studio - Value | 4 | $648 | Available | |
| 07/08/2024 | 4 | Animal Kingdom Villas - Jambo House | Studio - Value | 4 | $1,188 | Available | |
| 07/18/2024 | 1 | Animal Kingdom Villas - Jambo House | Studio - Value | 4 | $297 | Available | |
| 07/18/2024 | 1 | Animal Kingdom Villas - Jambo House | Studio - Value | 4 | $297 | Available | |
| 07/18/2024 | 1 | Animal Kingdom Villas - Jambo House | Studio - Value | 4 | $297 | Available | |
| 07/11/2024 | 1 | Animal Kingdom Villas - Jambo House | Studio - Value | 4 | $297 | Available | |
| 07/18/2024 | 1 | Animal Kingdom Villas - Jambo House | Studio - Value | 4 | $297 | Available | |
| 07/08/2024 | 2 | Animal Kingdom Villas - Jambo House | Studio - Value | 4 | $648 | Available | |
| 07/16/2024 | 3 | Animal Kingdom Villas - Jambo House | Studio - Value | 4 | $999 | Available | |
| 03/18/2024 | 6 | Animal Kingdom Villas - Jambo House | 2 Bedroom Lock-Off Villa - Standard View | 9 | $5,888 | Available | |
| 07/19/2024 | 1 | Animal Kingdom Villas - Jambo House | Studio - Value | 4 | $348 | Available | |
| 07/19/2024 | 1 | Animal Kingdom Villas - Jambo House | Studio - Value | 4 | $348 | Available | |
| 07/19/2024 | 1 | Animal Kingdom Villas - Jambo House | Studio - Value | 4 | $348 | Available | |
| 07/17/2024 | 1 | Animal Kingdom Villas - Jambo House | Studio - Value | 4 | $297 | Available | |
| 07/14/2024 | 1 | Animal Kingdom Villas - Jambo House | Studio - Value | 4 | $297 | Available | |
| 05/23/2024 | 1 | Animal Kingdom Villas - Jambo House | Studio - Value | 4 | $296 | Available | |
| 05/27/2024 | 1 | Animal Kingdom Villas - Jambo House | Studio - Value | 4 | $296 | Available | |
| 07/11/2024 | 2 | Animal Kingdom Villas - Jambo House | Studio - Value | 4 | $651 | Available | |
| 10/11/2023 | 1 | Animal Kingdom Villas - Jambo House | Studio - Value | 4 | $299 | Available | |
| 07/12/2024 | 1 | Animal Kingdom Villas - Jambo House | Studio - Value | 4 | $348 | Available | |
| 07/08/2024 | 1 | Animal Kingdom Villas - Jambo House | Studio - Value | 4 | $297 | Available | |
| 07/12/2024 | 2 | Animal Kingdom Villas - Jambo House | Studio - Value | 4 | $696 | Available | |
| 07/07/2024 | 1 | Animal Kingdom Villas - Jambo House | Studio - Value | 4 | $297 | Available | |
| 07/20/2024 | 1 | Animal Kingdom Villas - Jambo House | Studio - Value | 4 | $348 | Available | |
| 07/15/2024 | 1 | Animal Kingdom Villas - Jambo House | Studio - Value | 4 | $297 | Available | |
| 06/08/2024 | 1 | Animal Kingdom Villas - Jambo House | 1 Bedroom Villa - Value | 4 | $572 | Available | |
| 07/18/2024 | 1 | Animal Kingdom Villas - Jambo House | Deluxe Studio - Club Level | 4 | $572 | Available | |
| 07/21/2024 | 1 | Animal Kingdom Villas - Jambo House | Deluxe Studio - Club Level | 4 | $572 | Available | |
| 01/20/2024 | 1 | Animal Kingdom Villas - Jambo House | 1 Bedroom Villa - Value | 4 | $462 | Available | |
| 05/24/2024 | 4 | Animal Kingdom Villas - Jambo House | Deluxe Studio - Standard View | 4 | $1,344 | Available | |
| 06/01/2024 | 6 | Animal Kingdom Villas - Jambo House | Deluxe Studio - Standard View | 4 | $1,920 | Available | |
| 06/08/2024 | 1 | Animal Kingdom Villas - Jambo House | Deluxe Studio - Club Level | 4 | $576 | Available | |
| 06/21/2024 | 1 | Animal Kingdom Villas - Jambo House | Studio - Value | 4 | $312 | Available | |
| 06/23/2024 | 2 | Animal Kingdom Villas - Jambo House | Studio - Value | 4 | $468 | Available | |
| 01/28/2024 | 1 | Animal Kingdom Villas - Jambo House | Deluxe Studio - Standard View | 4 | $264 | Available | |
| 07/07/2024 | 2 | Animal Kingdom Villas - Jambo House | Studio - Value | 4 | $432 | Available | |
| 07/01/2024 | 2 | Animal Kingdom Villas - Jambo House | Deluxe Studio - Club Level | 4 | $1,056 | Available | |
| 06/27/2024 | 1 | Animal Kingdom Villas - Jambo House | Deluxe Studio - Club Level | 4 | $528 | Available | |
| 07/07/2024 | 2 | Animal Kingdom Villas - Jambo House | Studio - Value | 4 | $432 | Available | |
| 05/11/2024 | 4 | Animal Kingdom Villas - Jambo House | Deluxe Studio - Standard View | 4 | $1,200 | Available | |
| 03/17/2024 | 5 | Animal Kingdom Villas - Jambo House | Deluxe Studio - Standard View | 4 | $2,320 | Available | |
| 11/27/2023 | 1 | Animal Kingdom Villas - Jambo House | Deluxe Studio - Standard View | 4 | $330 | Available | |
| 03/03/2024 | 1 | Animal Kingdom Villas - Jambo House | Studio - Value | 4 | $372 | Available | |
| 01/29/2024 | 1 | Animal Kingdom Villas - Jambo House | Deluxe Studio - Standard View | 4 | $216 | Available | |
| 02/26/2024 | 4 | Animal Kingdom Villas - Jambo House | Deluxe Studio - Standard View | 4 | $1,312 | Available | |
| 02/24/2024 | 1 | Animal Kingdom Villas - Jambo House | Deluxe Studio - Standard View | 4 | $360 | Available | |
| 07/14/2024 | 1 | Animal Kingdom Villas - Jambo House | Studio - Value | 4 | $324 | Available | |
| 06/07/2024 | 3 | Animal Kingdom Villas - Jambo House | Studio - Value | 4 | $1,152 | Available | |
| 07/04/2024 | 2 | Animal Kingdom Villas - Jambo House | Studio - Value | 4 | $756 | Available | |
| 05/27/2024 | 2 | Animal Kingdom Villas - Jambo House | Studio - Value | 4 | $640 | Available | |
| 05/23/2024 | 3 | Animal Kingdom Villas - Jambo House | Studio - Value | 4 | $1,184 | Available | |
| 04/16/2024 | 1 | Animal Kingdom Villas - Jambo House | Studio - Value | 4 | $372 | Available | |
| 06/09/2024 | 1 | Animal Kingdom Villas - Jambo House | Studio - Value | 4 | $298 | Available | |
| 07/29/2024 | 2 | Animal Kingdom Villas - Jambo House | Studio - Value | 4 | $648 | Available | |
| 05/30/2024 | 1 | Animal Kingdom Villas - Jambo House | 1 Bedroom Villa - Value | 4 | $460 | Available | |
| 01/28/2024 | 1 | Animal Kingdom Villas - Jambo House | Deluxe Studio - Standard View | 4 | $372 | Available | |
| 10/25/2023 | 1 | Animal Kingdom Villas - Jambo House | Studio - Value | 4 | $290 | Available | |
| 01/14/2024 | 2 | Animal Kingdom Villas - Jambo House | Deluxe Studio - Standard View | 4 | $696 | Available | |
| 04/14/2024 | 4 | Animal Kingdom Villas - Jambo House | Deluxe Studio - Standard View | 4 | $1,856 | Available | |
| 08/09/2024 | 5 | Animal Kingdom Villas - Jambo House | Studio - Value | 4 | $1,938 | Available | |
| 08/04/2024 | 4 | Animal Kingdom Villas - Jambo House | Studio - Value | 4 | $1,440 | Available | |
| 03/30/2024 | 1 | Animal Kingdom Villas - Jambo House | Deluxe Studio - Standard View | 4 | $460 | Available | |
| 08/04/2024 | 4 | Animal Kingdom Villas - Jambo House | Studio - Value | 4 | $1,440 | Available | |
| 08/09/2024 | 7 | Animal Kingdom Villas - Jambo House | Studio - Value | 4 | $2,553 | Available | |
| 03/26/2024 | 1 | Animal Kingdom Villas - Jambo House | Studio - Value | 4 | $416 | Available | |
| 04/19/2024 | 1 | Animal Kingdom Villas - Jambo House | Studio - Value | 4 | $364 | Available | |
| 05/11/2024 | 1 | Animal Kingdom Villas - Jambo House | Studio - Value | 4 | $286 | Available | |
| 05/28/2024 | 1 | Animal Kingdom Villas - Jambo House | Studio - Value | 4 | $208 | Available | |
| 03/06/2024 | 2 | Animal Kingdom Villas - Jambo House | Studio - Value | 4 | $744 | Available | |
| 07/26/2024 | 3 | Animal Kingdom Villas - Jambo House | Studio - Value | 4 | $1,188 | Available | |
| 07/28/2024 | 2 | Animal Kingdom Villas - Jambo House | Studio - Value | 4 | $702 | Available | |
| 04/06/2024 | 3 | Animal Kingdom Villas - Jambo House | Deluxe Studio - Standard View | 4 | $1,100 | Available | |
| 05/25/2024 | 7 | Animal Kingdom Villas - Jambo House | Deluxe Studio - Standard View | 4 | $2,280 | Available | |
| 05/25/2024 | 7 | Animal Kingdom Villas - Jambo House | Deluxe Studio - Standard View | 4 | $2,280 | Available | |
| 08/01/2024 | 1 | Animal Kingdom Villas - Jambo House | Studio - Value | 4 | $288 | Available | |
| 08/25/2024 | 2 | Animal Kingdom Villas - Jambo House | Studio - Value | 4 | $594 | Available | |
| 06/30/2024 | 5 | Animal Kingdom Villas - Jambo House | Deluxe Studio - Standard View | 4 | $1,680 | Available | |
| 06/30/2024 | 5 | Animal Kingdom Villas - Jambo House | Deluxe Studio - Standard View | 4 | $1,680 | Available | |
| 08/04/2024 | 5 | Animal Kingdom Villas - Jambo House | Deluxe Studio - Standard View | 4 | $1,680 | Available | |
| 08/04/2024 | 5 | Animal Kingdom Villas - Jambo House | Deluxe Studio - Standard View | 4 | $1,680 | Available | |
| 08/23/2024 | 1 | Animal Kingdom Villas - Jambo House | Studio - Value | 4 | $288 | Available | |
| 08/28/2024 | 5 | Animal Kingdom Villas - Jambo House | Deluxe Studio - Standard View | 4 | $1,632 | Available | |
| 04/27/2024 | 7 | Animal Kingdom Villas - Jambo House | Deluxe Studio - Standard View | 4 | $2,392 | Available | |
| 04/28/2024 | 6 | Animal Kingdom Villas - Jambo House | Deluxe Studio - Standard View | 4 | $1,978 | Available | |
| 08/19/2024 | 3 | Animal Kingdom Villas - Jambo House | Studio - Value | 4 | $999 | Available | |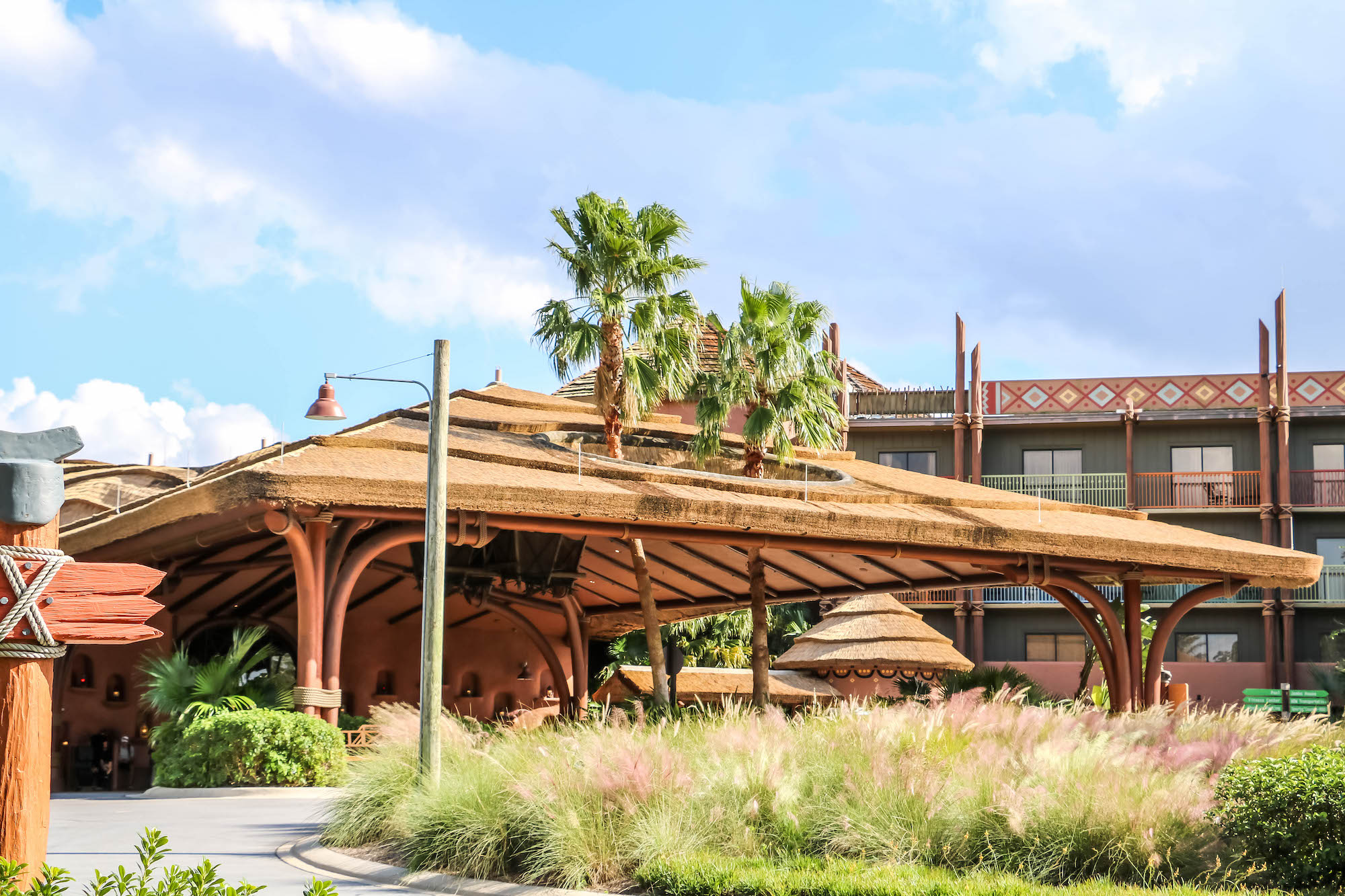 5 Star Resort
2901 Osceola Pkwy Lake Buena Vista, Florida
Disney's Animal Kingdom Villas, separated between Jambo House and Kidani Village, is designed to resemble a massive African lodge. With Jambo House originally built in 2001 and Kidani Village added on later in 2009, Disney's Animal Kingdom Villas are among the newer resorts at Walt Disney World.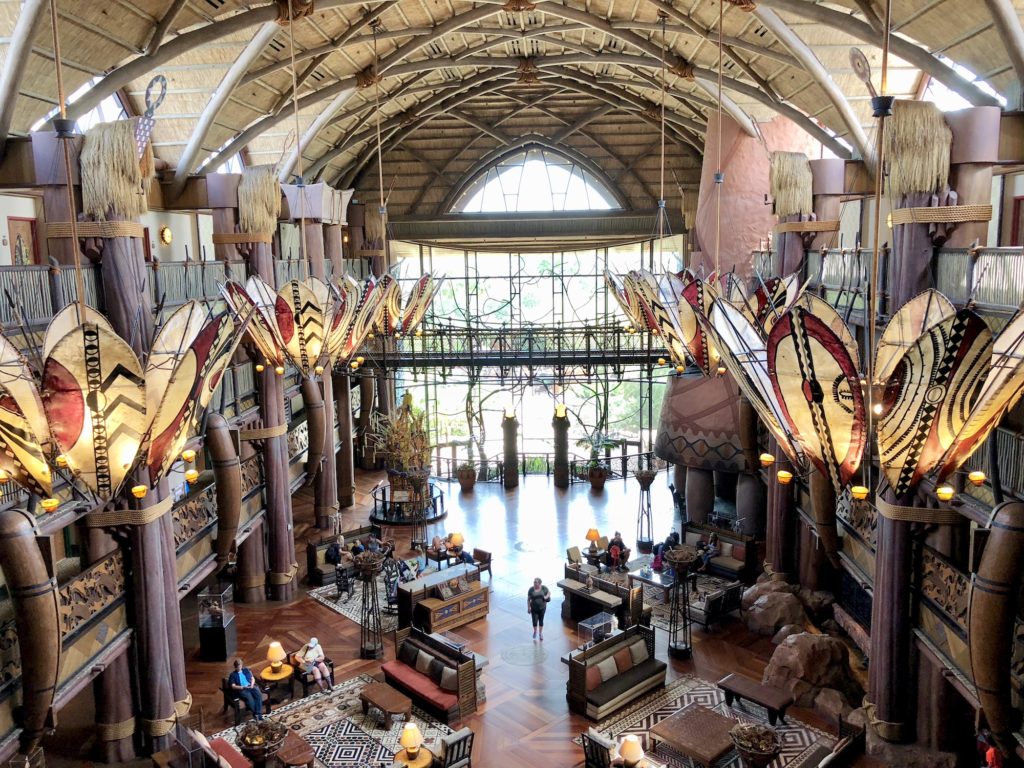 A special and unique draw of this resort is that Jambo House and Kidani Village are surrounded by 46 acres of savannas, which are home to 30 African wildlife species. Guests at the resort may have close encounters with these rare and beautiful creatures and will be most appreciated by guests who love the Animal Kingdom attraction, Kilimanjaro Safaris.
Rooms 
The resort has a variety of room sizes, including Studios, One-Bedroom Villas, Two-Bedroom Villas, and Three-Bedroom Villas. These rooms can have a Standard View, which looks over the pool area or parking area, or Savannah View, which looks over one of the resort's savannas. Each room has a Wildlife Guide for guests to learn more about the animals just outside their resort. Many areas of the resort have binoculars, as well, so guests can get a closer look at the animals.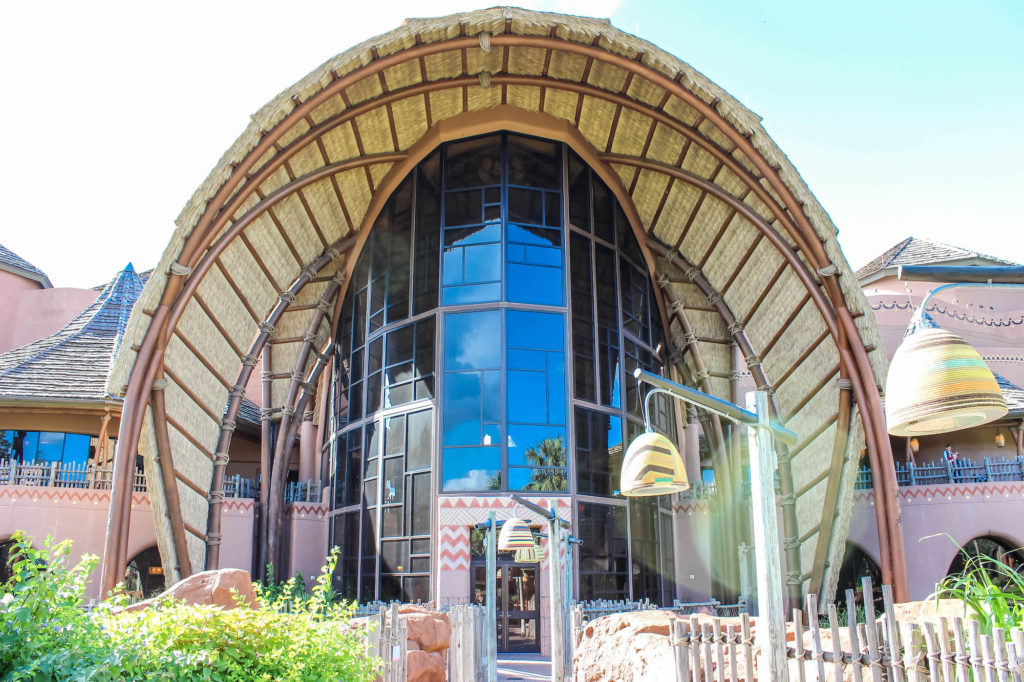 Dining
Animal Kingdom Villas also has several of the most popular table-service restaurants on property. Jiko – The Cooking Place offers beautiful and inventive South African cuisine in a setting designed to represent nature and has a lovely changing sunset on the back wall. 
Boma – Flavors of Africa hosts an African-style buffet in a dining room built to resemble an African marketplace, with a warm and inviting feel to it. Sanaa has breakfast, lunch, and dinner, with an Indian twist on African cooking, and built so the savanna is just a quick step outside the restaurant. 
Of course, there are also quick-service locations, such as The Mara, Uzima Springs Pool Bar and Maji Pool Bars. In addition, there are several lounges, notably the Cape Town Lounge and Wine Bar, the Victoria Falls Lounge, and Sanaa Lounge.
Amenities
Animal Kingdom Villas features many amenities, as well. In addition to the savannas, it also houses fitness centers, merchandise locations, arcades, basketball and tennis courts, and two oasis-style outdoor pools. However, because this resort does have the savannas too, it offers a couple extraordinary experiences. 
This includes the Wanyama Private Safari Tour and Dinner, which is a 90-minute tour of the huge savanna with an animal expert as your guide, followed by a multi-course meal at Jiko. There is also the Animal Specialist 4-Course Lunch at Sanaa, in which guests dine with an animal specialist as they survey the savannah from the restaurant.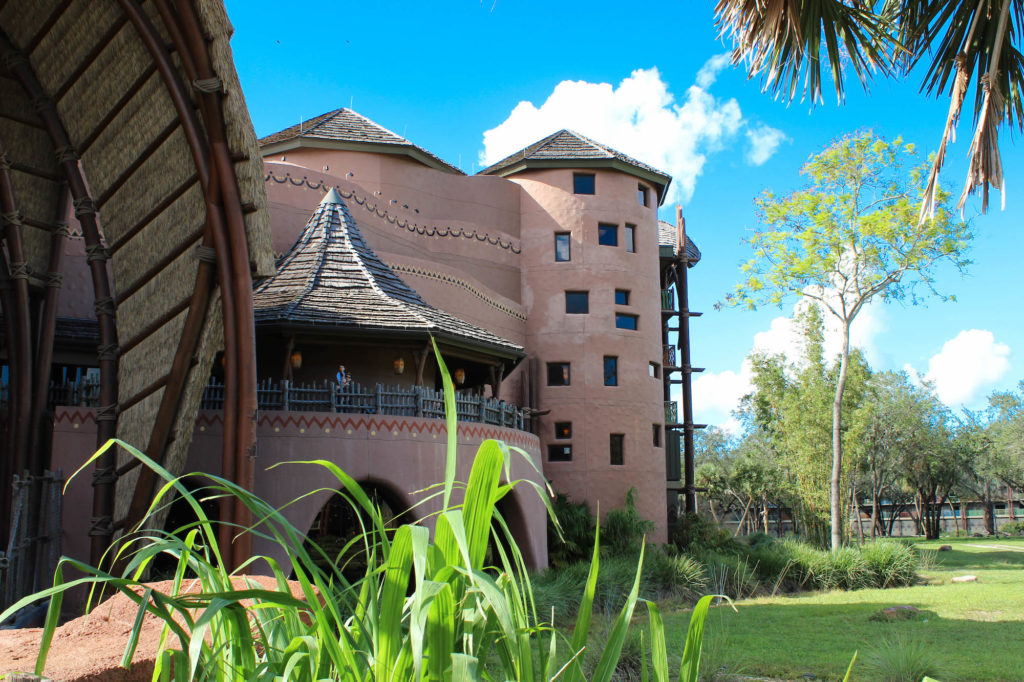 While Disney's Animal Kingdom Villas is farther away from the other parks in order to accommodate the animals, it provides an experience you can't find anywhere else at Disney World. In addition to the exquisite food options, top-tier service, beautiful design and gorgeous lobby, there are, of course, the savanna and African animals, just outside. It is a unique, extraordinary, and adventurous experience for all.
Click here to download map.