Confirmed Reservations
Photo Gallery
Resort Information
Resort Overview
Resort Map
Floor Plans
Point Charts
UNIT
Studio
1 Bedroom
2 Bedroom
3 Bedroom
SHOWING ALL LISTINGS
| Check-In | Nights | Resort | Room Type | Sleeps | Price | Status | Res ID |
| --- | --- | --- | --- | --- | --- | --- | --- |
| 06/18/2023 | 5 | Old Key West | Deluxe Studio - Near Hospitality House | 4 | $1,210 | Available | |
| 06/24/2023 | 7 | Old Key West | Deluxe Studio - Near Hospitality House | 4 | $2,697 | Available | |
| 06/30/2023 | 3 | Old Key West | Deluxe Studio - Near Hospitality House | 4 | $1,032 | Available | |
| 07/15/2023 | 7 | Old Key West | Deluxe Studio - Near Hospitality House | 4 | $2,697 | Available | |
| 07/01/2023 | 7 | Old Key West | Deluxe Studio - Near Hospitality House | 4 | $1,653 | Available | |
| 07/01/2023 | 7 | Old Key West | Deluxe Studio - Near Hospitality House | 4 | $1,653 | Available | |
| 07/22/2023 | 7 | Old Key West | Deluxe Studio - Near Hospitality House | 4 | $2,697 | Available | |
| 07/29/2023 | 7 | Old Key West | Deluxe Studio - Near Hospitality House | 4 | $2,697 | Available | |
| 08/05/2023 | 7 | Old Key West | Deluxe Studio - Near Hospitality House | 4 | $2,697 | Available | |
| 08/19/2023 | 7 | Old Key West | Deluxe Studio - Near Hospitality House | 4 | $2,697 | Available | |
| 08/01/2023 | 7 | Old Key West | Deluxe Studio - Near Hospitality House | 4 | $2,511 | Available | |
| 09/01/2023 | 8 | Old Key West | Deluxe Studio - Near Hospitality House | 4 | $2,604 | Available | |
| 07/22/2023 | 7 | Old Key West | Deluxe Studio - Near Hospitality House | 4 | $2,697 | Available | |
| 09/02/2023 | 8 | Old Key West | Deluxe Studio | 4 | $2,604 | Available | |
| 09/30/2023 | 7 | Old Key West | Deluxe Studio - Near Hospitality House | 4 | $2,945 | Available | |
| 09/23/2023 | 7 | Old Key West | Deluxe Studio | 4 | $2,201 | Available | |
| 09/17/2023 | 5 | Old Key West | Deluxe Studio | 4 | $1,395 | Available | |
| 07/15/2023 | 5 | Old Key West | Deluxe Studio - Near Hospitality House | 4 | $1,860 | Available | |
| 09/24/2023 | 4 | Old Key West | Deluxe Studio - Near Hospitality House | 4 | $1,116 | Available | |
| 10/14/2023 | 7 | Old Key West | Deluxe Studio - Near Hospitality House | 4 | $3,069 | Available | |
| 09/24/2023 | 5 | Old Key West | Deluxe Studio - Near Hospitality House | 4 | $1,395 | Available | |
| 10/19/2023 | 7 | Old Key West | Deluxe Studio - Near Hospitality House | 4 | $3,069 | Available | |
| 10/15/2023 | 5 | Old Key West | Deluxe Studio - Near Hospitality House | 4 | $2,015 | Available | |
| 07/29/2023 | 6 | Old Key West | Deluxe Studio - Near Hospitality House | 4 | $2,201 | Available | |
| 08/26/2023 | 6 | Old Key West | Deluxe Studio - Near Hospitality House | 4 | $2,556 | Available | |
| 09/01/2023 | 5 | Old Key West | Deluxe Studio | 4 | $1,643 | Available | |
| 09/30/2023 | 6 | Old Key West | Deluxe Studio - Near Hospitality House | 4 | $2,418 | Available | |
| 09/10/2023 | 5 | Old Key West | Deluxe Studio | 4 | $1,395 | Available | |
| 06/25/2023 | 5 | Old Key West | Deluxe Studio | 4 | $1,749 | Available | |
| 06/18/2023 | 5 | Old Key West | Deluxe Studio | 4 | $1,749 | Available | |
| 07/02/2023 | 5 | Old Key West | Deluxe Studio | 4 | $1,749 | Available | |
| 10/01/2023 | 7 | Old Key West | Deluxe Studio - Near Hospitality House | 4 | $3,069 | Available | |
| 08/05/2023 | 6 | Old Key West | Deluxe Studio - Near Hospitality House | 4 | $2,201 | Available | |
| 10/21/2023 | 7 | Old Key West | Deluxe Studio - Near Hospitality House | 4 | $3,069 | Available | |
| 09/16/2023 | 7 | Old Key West | Deluxe Studio | 4 | $2,201 | Available | |
| 10/07/2023 | 6 | Old Key West | Deluxe Studio - Near Hospitality House | 4 | $2,542 | Available | |
| 07/30/2023 | 6 | Old Key West | Deluxe Studio - Near Hospitality House | 4 | $2,201 | Available | |
| 08/12/2023 | 6 | Old Key West | Deluxe Studio - Near Hospitality House | 4 | $2,201 | Available | |
| 08/19/2023 | 6 | Old Key West | Deluxe Studio - Near Hospitality House | 4 | $2,201 | Pending | |
| 11/04/2023 | 7 | Old Key West | Deluxe Studio | 4 | $3,069 | Available | |
| 11/11/2023 | 7 | Old Key West | Deluxe Studio - Near Hospitality House | 4 | $3,069 | Available | |
| 11/18/2023 | 7 | Old Key West | Deluxe Studio - Near Hospitality House | 4 | $3,255 | Available | |
| 11/19/2023 | 7 | Old Key West | Deluxe Studio - Near Hospitality House | 4 | $3,255 | Available | |
| 09/02/2023 | 5 | Old Key West | Deluxe Studio | 4 | $1,519 | Available | |
| 07/09/2023 | 5 | Old Key West | Deluxe Studio - Near Hospitality House | 4 | $1,650 | Available | |
| 07/16/2023 | 5 | Old Key West | Deluxe Studio - Near Hospitality House | 4 | $1,650 | Available | |
| 07/23/2023 | 5 | Old Key West | Deluxe Studio - Near Hospitality House | 4 | $1,650 | Available | |
| 08/06/2023 | 5 | Old Key West | Deluxe Studio - Near Hospitality House | 4 | $1,650 | Available | |
| 08/13/2023 | 5 | Old Key West | Deluxe Studio - Near Hospitality House | 4 | $1,650 | Available | |
| 08/20/2023 | 5 | Old Key West | Deluxe Studio - Near Hospitality House | 4 | $1,650 | Available | |
| 10/27/2023 | 2 | Old Key West | Deluxe Studio - Near Hospitality House | 4 | $782 | Available | |
| 11/13/2023 | 5 | Old Key West | Deluxe Studio | 4 | $1,587 | Available | |
| 10/07/2023 | 6 | Old Key West | Deluxe Studio - Near Hospitality House | 4 | $2,050 | Available | |
| 07/23/2023 | 6 | Old Key West | Deluxe Studio - Near Hospitality House | 4 | $1,633 | Available | |
| 11/18/2023 | 7 | Old Key West | Deluxe Studio | 4 | $3,255 | Available | |
| 11/19/2023 | 6 | Old Key West | Deluxe Studio | 4 | $2,728 | Available | |
| 07/16/2023 | 5 | Old Key West | Deluxe Studio | 4 | $1,705 | Available | |
| 07/23/2023 | 5 | Old Key West | Deluxe Studio | 4 | $1,705 | Available | |
| 12/02/2023 | 7 | Old Key West | Deluxe Studio | 4 | $2,320 | Available | |
| 12/02/2023 | 7 | Old Key West | Deluxe Studio | 4 | $2,160 | Available | |
| 08/06/2023 | 5 | Old Key West | Deluxe Studio | 4 | $1,210 | Available | |
| 11/25/2023 | 7 | Old Key West | Deluxe Studio - Near Hospitality House | 4 | $3,007 | Available | |
| 10/28/2023 | 5 | Old Key West | Deluxe Studio - Near Hospitality House | 4 | $2,139 | Available | |
| 09/17/2023 | 5 | Old Key West | Deluxe Studio | 4 | $1,395 | Available | |
| 10/14/2023 | 7 | Old Key West | Deluxe Studio | 4 | $3,069 | Available | |
| 10/21/2023 | 6 | Old Key West | Deluxe Studio | 4 | $2,542 | Available | |
| 10/28/2023 | 7 | Old Key West | Deluxe Studio | 4 | $3,069 | Available | |
| 09/24/2023 | 7 | Old Key West | Deluxe Studio | 4 | $2,201 | Available | |
| 11/11/2023 | 7 | Old Key West | Deluxe Studio | 4 | $3,069 | Available | |
| 09/23/2023 | 4 | Old Key West | Deluxe Studio | 4 | $1,240 | Available | |
| 12/02/2023 | 7 | Old Key West | Deluxe Studio | 4 | $2,480 | Available | |
| 12/02/2023 | 6 | Old Key West | Deluxe Studio | 4 | $2,015 | Available | |
| 12/09/2023 | 5 | Old Key West | Deluxe Studio | 4 | $1,705 | Available | |
| 12/02/2023 | 7 | Old Key West | Deluxe Studio | 4 | $2,160 | Available | |
| 12/02/2023 | 5 | Old Key West | Deluxe Studio | 4 | $1,540 | Available | |
| 12/02/2023 | 7 | Old Key West | Deluxe Studio | 4 | $2,160 | Available | |
| 12/26/2023 | 6 | Old Key West | Deluxe Studio - Near Hospitality House | 4 | $4,340 | Available | |
| 12/26/2023 | 6 | Old Key West | Deluxe Studio - Near Hospitality House | 4 | $4,340 | Available | |
| 12/26/2023 | 6 | Old Key West | Deluxe Studio | 4 | $4,340 | Available | |
| 12/26/2023 | 6 | Old Key West | Deluxe Studio - Near Hospitality House | 4 | $4,340 | Available | |
| 07/07/2023 | 3 | Old Key West | Deluxe Studio - Near Hospitality House | 4 | $946 | Available | |
| 11/05/2023 | 5 | Old Key West | Deluxe Studio | 4 | $1,495 | Available | |
| 12/02/2023 | 7 | Old Key West | Deluxe Studio | 4 | $1,880 | Available | |
| 12/29/2023 | 7 | Old Key West | Deluxe Studio - Near Hospitality House | 4 | $2,622 | Available | |
| 12/29/2023 | 6 | Old Key West | Deluxe Studio - Near Hospitality House | 4 | $2,392 | Available | |
| 01/01/2024 | 7 | Old Key West | Deluxe Studio - Near Hospitality House | 4 | $2,418 | Available | |
| 01/01/2024 | 7 | Old Key West | Deluxe Studio - Near Hospitality House | 4 | $2,418 | Available | |
| 12/30/2023 | 5 | Old Key West | Deluxe Studio | 4 | $1,794 | Available | |
| 09/02/2023 | 6 | Old Key West | Deluxe Studio | 4 | $1,276 | Available | |
| 09/02/2023 | 6 | Old Key West | Deluxe Studio | 4 | $1,276 | Available | |
| 10/14/2023 | 6 | Old Key West | Deluxe Studio | 4 | $2,542 | Available | |
| 01/03/2024 | 5 | Old Key West | Deluxe Studio | 4 | $1,798 | Available | |
| 01/03/2024 | 7 | Old Key West | Deluxe Studio | 4 | $2,418 | Available | |
| 01/01/2024 | 7 | Old Key West | Deluxe Studio | 4 | $2,418 | Available | |
| 12/30/2023 | 7 | Old Key West | Deluxe Studio | 4 | $2,760 | Available | |
| 01/13/2024 | 7 | Old Key West | Deluxe Studio | 4 | $1,794 | Available | |
| 01/13/2024 | 7 | Old Key West | Deluxe Studio | 4 | $1,794 | Available | |
| 01/01/2024 | 1 | Old Key West | Deluxe Studio | 4 | $230 | Available | |
| 12/01/2023 | 3 | Old Key West | Deluxe Studio | 4 | $940 | Available | |
| 12/31/2023 | 2 | Old Key West | Deluxe Studio | 4 | $784 | Available | |
| 01/07/2024 | 5 | Old Key West | Deluxe Studio | 4 | $1,225 | Available | |
| 01/13/2024 | 6 | Old Key West | Deluxe Studio - Near Hospitality House | 4 | $1,568 | Available | |
| 01/13/2024 | 6 | Old Key West | Deluxe Studio - Near Hospitality House | 4 | $1,472 | Available | |
| 07/15/2023 | 7 | Old Key West | Deluxe Studio | 4 | $2,349 | Available | |
| 01/20/2024 | 7 | Old Key West | Deluxe Studio - Near Hospitality House | 4 | $2,418 | Available | |
| 12/31/2023 | 7 | Old Key West | Deluxe Studio | 4 | $2,790 | Available | |
| 12/31/2023 | 7 | Old Key West | Deluxe Studio | 4 | $2,790 | Available | |
| 12/30/2023 | 7 | Old Key West | Deluxe Studio | 4 | $2,550 | Available | |
| 07/14/2023 | 2 | Old Key West | Deluxe Studio - Near Hospitality House | 4 | $672 | Available | |
| 07/15/2023 | 6 | Old Key West | Deluxe Studio | 4 | $1,562 | Available | |
| 07/15/2023 | 7 | Old Key West | Deluxe Studio | 4 | $1,827 | Available | |
| 07/17/2023 | 5 | Old Key West | Deluxe Studio | 4 | $1,080 | Available | |
| 08/06/2023 | 1 | Old Key West | Deluxe Studio - Near Hospitality House | 4 | $220 | Available | |
| 09/01/2023 | 2 | Old Key West | Deluxe Studio | 4 | $520 | Available | |
| 07/14/2023 | 2 | Old Key West | Deluxe Studio - Near Hospitality House | 4 | $736 | Available | |
| 09/04/2023 | 5 | Old Key West | Deluxe Studio | 4 | $1,176 | Available | |
| 10/06/2023 | 7 | Old Key West | Deluxe Studio | 4 | $2,376 | Available | |
| 01/27/2024 | 7 | Old Key West | Deluxe Studio - Near Hospitality House | 4 | $2,511 | Available | |
| 02/03/2024 | 7 | Old Key West | Deluxe Studio - Near Hospitality House | 4 | $2,697 | Available | |
| 02/10/2024 | 7 | Old Key West | Deluxe Studio - Near Hospitality House | 4 | $2,790 | Available | |
| 01/13/2024 | 7 | Old Key West | Deluxe Studio | 4 | $2,418 | Available | |
| 09/03/2023 | 4 | Old Key West | Deluxe Studio | 4 | $936 | Available | |
| 01/28/2024 | 1 | Old Key West | Deluxe Studio - Near Hospitality House | 4 | $260 | Available | |
| 02/02/2024 | 2 | Old Key West | Deluxe Studio - Near Hospitality House | 4 | $832 | Available | |
| 02/11/2024 | 1 | Old Key West | Deluxe Studio - Near Hospitality House | 4 | $286 | Available | |
| 07/16/2023 | 3 | Old Key West | Deluxe Studio | 4 | $1,023 | Available | |
| 09/28/2023 | 2 | Old Key West | Deluxe Studio | 4 | $462 | Available | |
| 02/17/2024 | 7 | Old Key West | Deluxe Studio - Near Hospitality House | 4 | $2,825 | Available | |
| 12/31/2023 | 5 | Old Key West | Deluxe Studio | 4 | $1,612 | Available | |
| 01/07/2024 | 5 | Old Key West | Deluxe Studio | 4 | $1,250 | Available | |
| 12/22/2023 | 4 | Old Key West | Deluxe Studio - Near Hospitality House | 4 | $1,702 | Available | |
| 12/29/2023 | 3 | Old Key West | Deluxe Studio - Near Hospitality House | 4 | $1,702 | Available | |
| 12/16/2023 | 6 | Old Key West | Deluxe Studio | 4 | $2,015 | Available | |
| 01/13/2024 | 7 | Old Key West | Deluxe Studio | 4 | $2,418 | Available | |
| 01/13/2024 | 6 | Old Key West | Deluxe Studio | 4 | $1,984 | Available | |
| 02/11/2024 | 5 | Old Key West | Deluxe Studio - Near Hospitality House | 4 | $1,705 | Available | |
| 10/06/2023 | 1 | Old Key West | Deluxe Studio - Near Hospitality House | 4 | $374 | Available | |
| 09/28/2023 | 1 | Old Key West | Deluxe Studio | 4 | $243 | Available | |
| 07/22/2023 | 6 | Old Key West | Deluxe Studio | 4 | $1,846 | Available | |
| 10/27/2023 | 6 | Old Key West | Deluxe Studio | 4 | $1,806 | Available | |
| 10/01/2023 | 7 | Old Key West | Deluxe Studio | 4 | $2,178 | Available | |
| 10/14/2023 | 7 | Old Key West | Deluxe Studio | 4 | $2,178 | Available | |
| 10/15/2023 | 5 | Old Key West | Deluxe Studio | 4 | $1,430 | Available | |
| 10/27/2023 | 7 | Old Key West | Deluxe Studio | 4 | $2,178 | Available | |
| 10/29/2023 | 5 | Old Key West | Deluxe Studio | 4 | $1,430 | Available | |
| 07/07/2023 | 4 | Old Key West | Deluxe Studio | 4 | $1,080 | Available | |
| 03/01/2024 | 2 | Old Key West | Deluxe Studio - Near Hospitality House | 4 | $950 | Available | |
| 01/21/2024 | 1 | Old Key West | Deluxe Studio - Near Hospitality House | 4 | $230 | Available | |
| 01/19/2024 | 2 | Old Key West | Deluxe Studio - Near Hospitality House | 4 | $644 | Available | |
| 12/23/2023 | 1 | Old Key West | Deluxe Studio - Near Hospitality House | 4 | $345 | Available | |
| 09/04/2023 | 4 | Old Key West | Deluxe Studio | 4 | $999 | Available | |
| 10/26/2023 | 3 | Old Key West | Deluxe Studio - Near Hospitality House | 4 | $940 | Available | |
| 11/18/2023 | 7 | Old Key West | Deluxe Studio | 4 | $2,730 | Available | |
| 02/24/2024 | 6 | Old Key West | Deluxe Studio - Near Hospitality House | 4 | $2,914 | Available | |
| 10/26/2023 | 3 | Old Key West | Deluxe Studio | 4 | $1,128 | Available | |
| 01/07/2024 | 7 | Old Key West | Deluxe Studio - Near Hospitality House | 4 | $2,418 | Available | |
| 02/17/2024 | 7 | Old Key West | Deluxe Studio | 4 | $3,503 | Available | |
| 02/24/2024 | 6 | Old Key West | Deluxe Studio - Near Hospitality House | 4 | $2,914 | Available | |
| 03/02/2024 | 7 | Old Key West | Deluxe Studio - Near Hospitality House | 4 | $3,503 | Available | |
| 12/10/2023 | 5 | Old Key West | Deluxe Studio | 4 | $1,550 | Available | |
| 03/16/2024 | 7 | Old Key West | Deluxe Studio - Near Hospitality House | 4 | $3,503 | Available | |
| 03/09/2024 | 6 | Old Key West | Deluxe Studio - Near Hospitality House | 4 | $2,914 | Available | |
| 01/28/2024 | 5 | Old Key West | Deluxe Studio - Near Hospitality House | 4 | $1,581 | Available | |
| 07/29/2023 | 1 | Old Key West | Deluxe Studio - Near Hospitality House | 4 | $304 | Available | |
| 03/09/2024 | 1 | Old Key West | Deluxe Studio - Near Hospitality House | 4 | $456 | Available | |
| 03/15/2024 | 2 | Old Key West | Deluxe Studio - Near Hospitality House | 4 | $912 | Available | |
| 11/17/2023 | 1 | Old Key West | Deluxe Studio - Near Hospitality House | 4 | $374 | Available | |
| 11/18/2023 | 6 | Old Key West | Deluxe Studio | 4 | $1,892 | Available | |
| 03/16/2024 | 7 | Old Key West | Deluxe Studio - Near Hospitality House | 4 | $3,503 | Available | |
| 03/17/2024 | 5 | Old Key West | Deluxe Studio - Near Hospitality House | 4 | $2,325 | Available | |
| 01/20/2024 | 7 | Old Key West | Deluxe Studio | 4 | $2,418 | Available | |
| 07/23/2023 | 1 | Old Key West | Deluxe Studio | 4 | $209 | Available | |
| 11/19/2023 | 1 | Old Key West | Deluxe Studio | 4 | $286 | Available | |
| 12/06/2023 | 5 | Old Key West | 2 Bedroom Villa | 9 | $4,272 | Pending | |
| 11/22/2023 | 4 | Old Key West | Deluxe Studio | 4 | $1,584 | Available | |
| 07/14/2023 | 3 | Old Key West | Deluxe Studio | 4 | $860 | Available | |
| 07/30/2023 | 3 | Old Key West | Deluxe Studio | 4 | $891 | Available | |
| 07/09/2023 | 2 | Old Key West | Deluxe Studio | 4 | $594 | Available | |
| 02/17/2024 | 7 | Old Key West | Deluxe Studio | 4 | $3,277 | Available | |
| 02/25/2024 | 5 | Old Key West | Deluxe Studio - Near Hospitality House | 4 | $2,325 | Available | |
| 07/23/2023 | 3 | Old Key West | Deluxe Studio | 4 | $759 | Available | |
| 10/29/2023 | 4 | Old Key West | Deluxe Studio - Near Hospitality House | 4 | $1,196 | Available | |
| 07/21/2023 | 4 | Old Key West | Deluxe Studio | 4 | $1,080 | Available | |
| 07/28/2023 | 2 | Old Key West | Deluxe Studio | 4 | $640 | Available | |
| 08/25/2023 | 7 | Old Key West | Deluxe Studio | 4 | $2,001 | Available | |
| 09/30/2023 | 1 | Old Key West | Deluxe Studio | 4 | $299 | Available | |
| 03/31/2024 | 5 | Old Key West | Deluxe Studio - Near Hospitality House | 4 | $2,542 | Available | |
| 10/14/2023 | 5 | Old Key West | Deluxe Studio | 4 | $1,518 | Available | |
| 07/07/2023 | 5 | Old Key West | Deluxe Studio | 4 | $1,300 | Available | |
| 03/31/2024 | 5 | Old Key West | Deluxe Studio - Near Hospitality House | 4 | $2,542 | Available | |
| 11/25/2023 | 6 | Old Key West | Deluxe Studio | 4 | $1,804 | Available | |
| 11/26/2023 | 5 | Old Key West | Deluxe Studio | 4 | $1,625 | Available | |
| 12/01/2023 | 2 | Old Key West | Deluxe Studio | 4 | $555 | Available | |
| 08/11/2023 | 4 | Old Key West | Deluxe Studio | 4 | $1,080 | Available | |
| 09/04/2023 | 2 | Old Key West | Deluxe Studio | 4 | $342 | Available | |
| 04/06/2024 | 6 | Old Key West | Deluxe Studio - Near Hospitality House | 4 | $2,914 | Available | |
| 07/29/2023 | 5 | Old Key West | Deluxe Studio | 4 | $1,560 | Available | |
| 12/16/2023 | 6 | Old Key West | Deluxe Studio | 4 | $1,950 | Available | |
| 11/16/2023 | 1 | Old Key West | Deluxe Studio | 4 | $286 | Available | |
| 12/16/2023 | 2 | Old Key West | Deluxe Studio | 4 | $550 | Available | |
| 12/31/2023 | 3 | Old Key West | Deluxe Studio | 4 | $1,302 | Available | |
| 04/14/2024 | 5 | Old Key West | Deluxe Studio - Near Hospitality House | 4 | $2,325 | Available | |
| 10/01/2023 | 6 | Old Key West | Deluxe Studio | 4 | $2,378 | Available | |
| 09/11/2023 | 6 | Old Key West | Deluxe Studio | 4 | $1,922 | Available | |
| 07/12/2023 | 6 | Old Key West | Deluxe Studio | 4 | $1,444 | Available | |
| 02/03/2024 | 5 | Old Key West | Deluxe Studio - Near Hospitality House | 4 | $1,860 | Available | |
| 04/13/2024 | 7 | Old Key West | Deluxe Studio - Near Hospitality House | 4 | $3,503 | Available | |
| 08/26/2023 | 6 | Old Key West | Deluxe Studio | 4 | $1,349 | Available | |
| 09/04/2023 | 3 | Old Key West | Deluxe Studio | 4 | $540 | Available | |
| 09/04/2023 | 3 | Old Key West | Deluxe Studio | 4 | $540 | Available | |
| 11/25/2023 | 5 | Old Key West | Deluxe Studio | 4 | $1,380 | Available | |
| 11/26/2023 | 1 | Old Key West | Deluxe Studio | 4 | $286 | Available | |
| 11/17/2023 | 2 | Old Key West | Deluxe Studio | 4 | $680 | Available | |
| 03/16/2024 | 7 | Old Key West | Deluxe Studio - Near Hospitality House | 4 | $2,712 | Available | |
| 03/15/2024 | 3 | Old Key West | Deluxe Studio - Near Hospitality House | 4 | $1,272 | Available | |
| 02/03/2024 | 2 | Old Key West | Deluxe Studio | 4 | $648 | Available | |
| 04/20/2024 | 6 | Old Key West | Deluxe Studio - Near Hospitality House | 4 | $2,914 | Available | |
| 12/22/2023 | 2 | Old Key West | Deluxe Studio - Near Hospitality House | 4 | $660 | Available | |
| 11/12/2023 | 4 | Old Key West | Deluxe Studio | 4 | $1,508 | Available | |
| 10/28/2023 | 4 | Old Key West | Deluxe Studio | 4 | $1,736 | Available | |
| 08/13/2023 | 3 | Old Key West | Deluxe Studio | 4 | $1,023 | Available | |
| 04/27/2024 | 6 | Old Key West | Deluxe Studio - Near Hospitality House | 4 | $2,604 | Available | |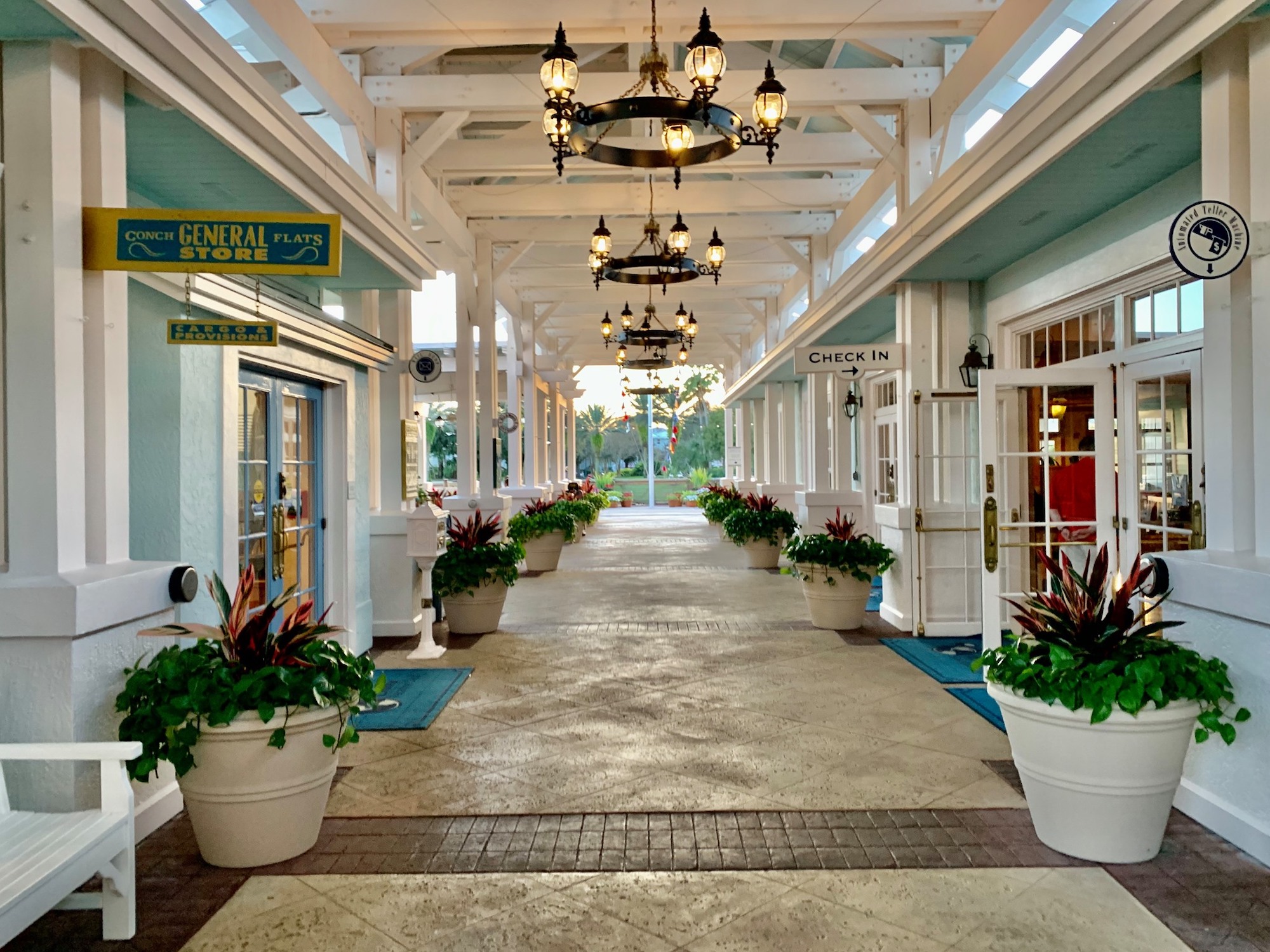 5 Star Resort
1510 N Cove Rd Lake Buena Vista, Florida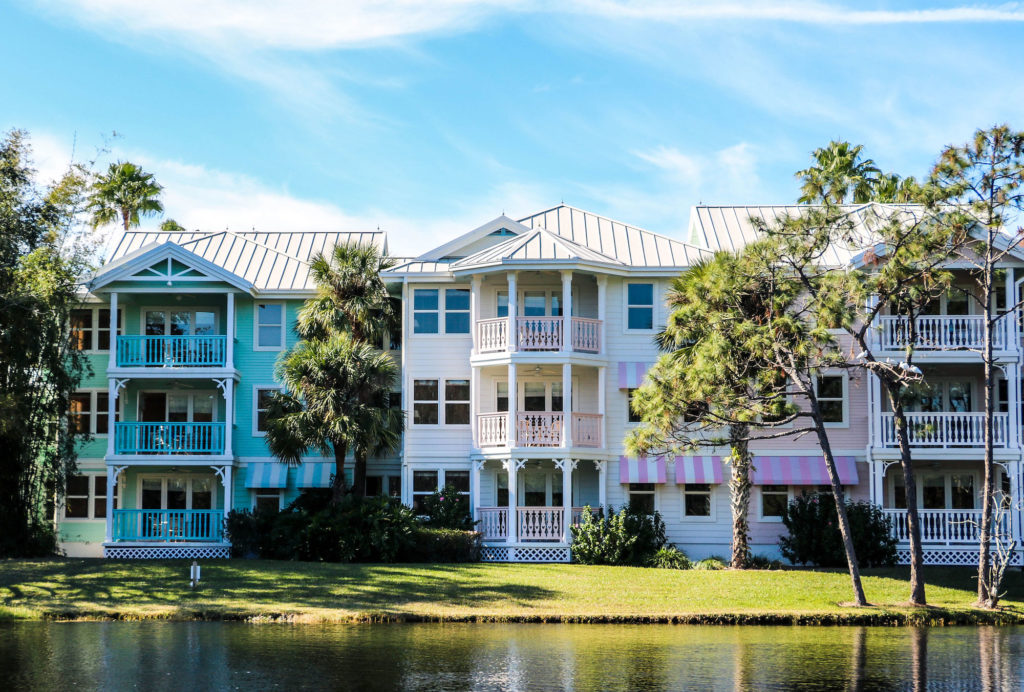 Built in 1991, Disney's Old Key West Resort was the first Disney Vacation Club Resort and remains the second largest DVC location. Old Key West was modeled after the Florida Keys and was constructed on an island hamlet surrounded by waterways. It's also a terrific value, with some of the largest rooms among the DVC resorts. In addition, it's also only a short boat ride to Disney Springs. With a romantic island feel and filled with lush landscapes and palm trees, Old Key West Resort makes for the perfect retreat. 
Most recently renovated in 2019, giving a more modern spin on its charming rooms, Old Key West has some of the largest rooms on Disney World property, as well as large balconies for guests to relax on. It has four types of rooms: Deluxe Studios, One-Bedroom Villas, Two-Bedroom Villas, Two-Bedroom Lock-Off Villas, and Three-Bedroom Grand Villas. These rooms can sleep anywhere from four to twelve guests, depending on the room size and its flexibility. In addition, the Three-Bedroom Villas are two stories, and all rooms have views of the Water, Woodlands, or Fairways. While guests are unable to pick a view preference, they can decide whether they want to stay near the Hospitality House, where many of the main amenities are at the sprawling resort.
While Old Key West does not have any fine dining, guests can choose between a table-service casual dining experience, quick-service, bar, or in-room dining. 
Olivia's Café is Old Key West's table-service option and is very popular among Disney World guests. Open for all three meals, the seaside-themed Olivia's Café serves classic American cooking with a Florida Keys' twist to it. 
Good's Food To Go is one of Old Key West's two quick-service locations, where you can grab burgers, salads, and desserts to go or enjoy at a picnic table by the main pool. 
The second quick-service option is Turtle Shack Poolside Snack, where guests can find sandwiches, hot dogs, pizza, and salads while they relax by the pool. 
Gurgling Suitcase is the resort's bar, with plenty of choices of wines, beers, and cocktails, as well as entrees available from Olivia's Café. 
In-room dining is also available, with pizza delivery, as well as some other options, available from 5pm to midnight. Of course, guests are also easily able to find dining options at Disney Springs, which is a short and scenic boat ride away.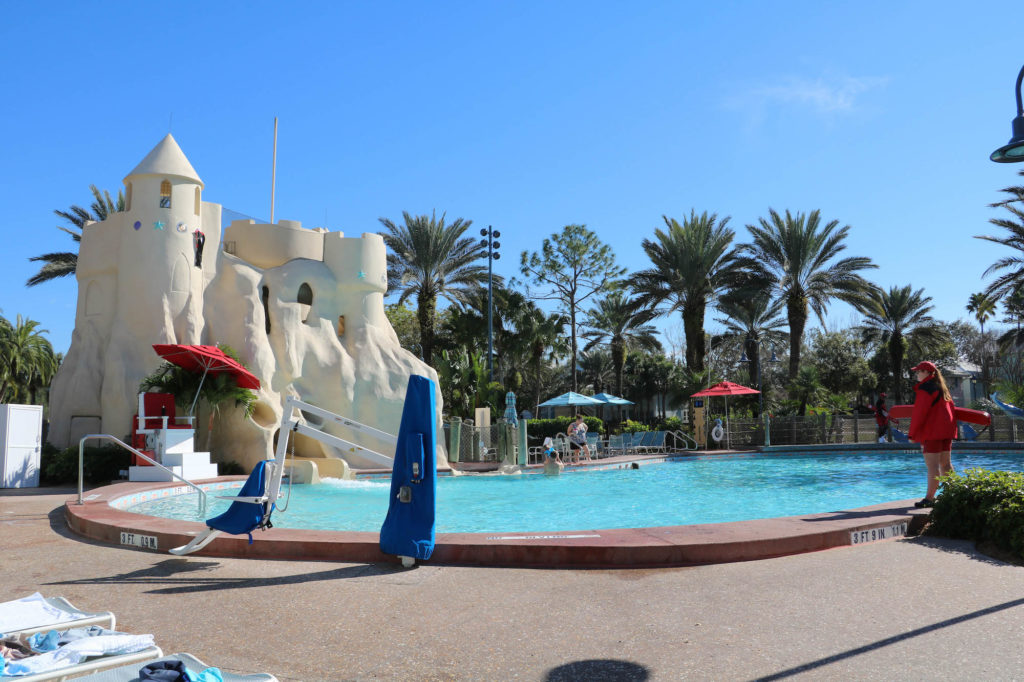 Old Key West Resort is large, and so is its array of amenities. The resort has four pools, of which Sandcastle Pool is the main one. Located near the Hospitality House, Sandcastle Pool offers a slide through a giant sandcastle, an area to sunbathe on a sandy beach, a whirlpool spa, and a dry sauna. 
The other pools are leisure pools, all with whirlpool spas, at the Old Turtle Pond, South Point, and Miller's Road locations of the resort. 
Guests also have access to the Community Hall, where they can enjoy foosball, billiards, video games, ping pong, and shuffleboard, as well as equipment for tennis, basketball, and volleyball. The resort also has a fitness center, bike and Surrey bike rentals, DVD rentals for DVC members, bass fishing excursions, playgrounds, jogging paths, a barbeque area, and two arcades. Since the resort is so large, there are multiple bus stops throughout the resort, whether you want to visit the parks or the Hospitality House.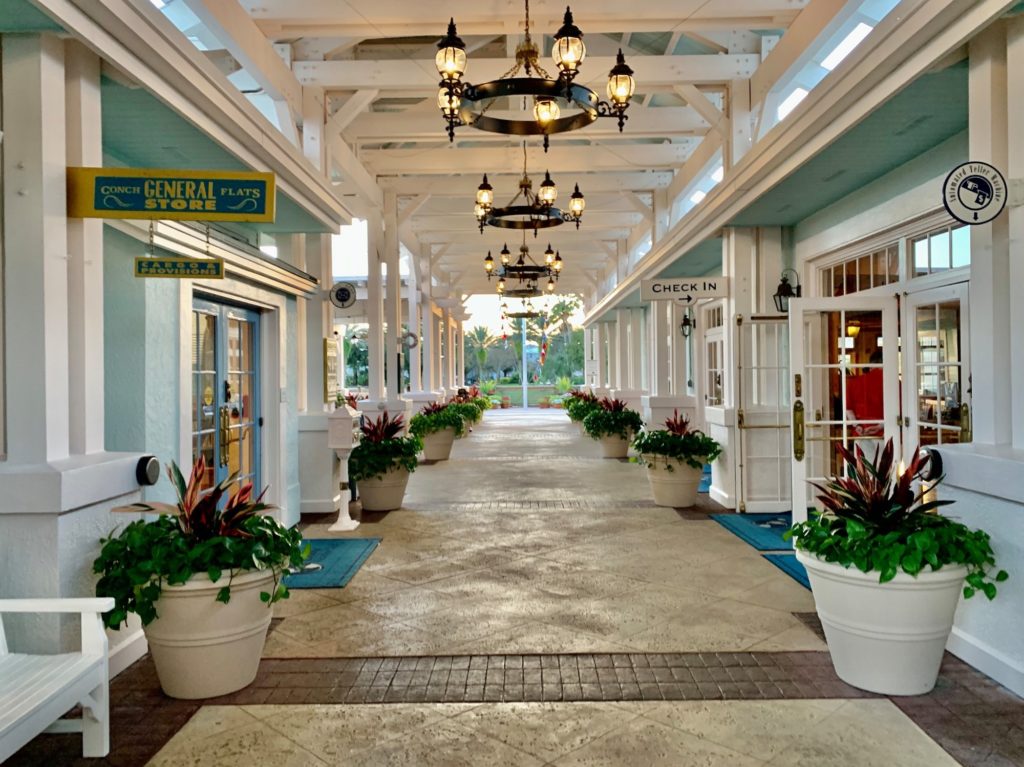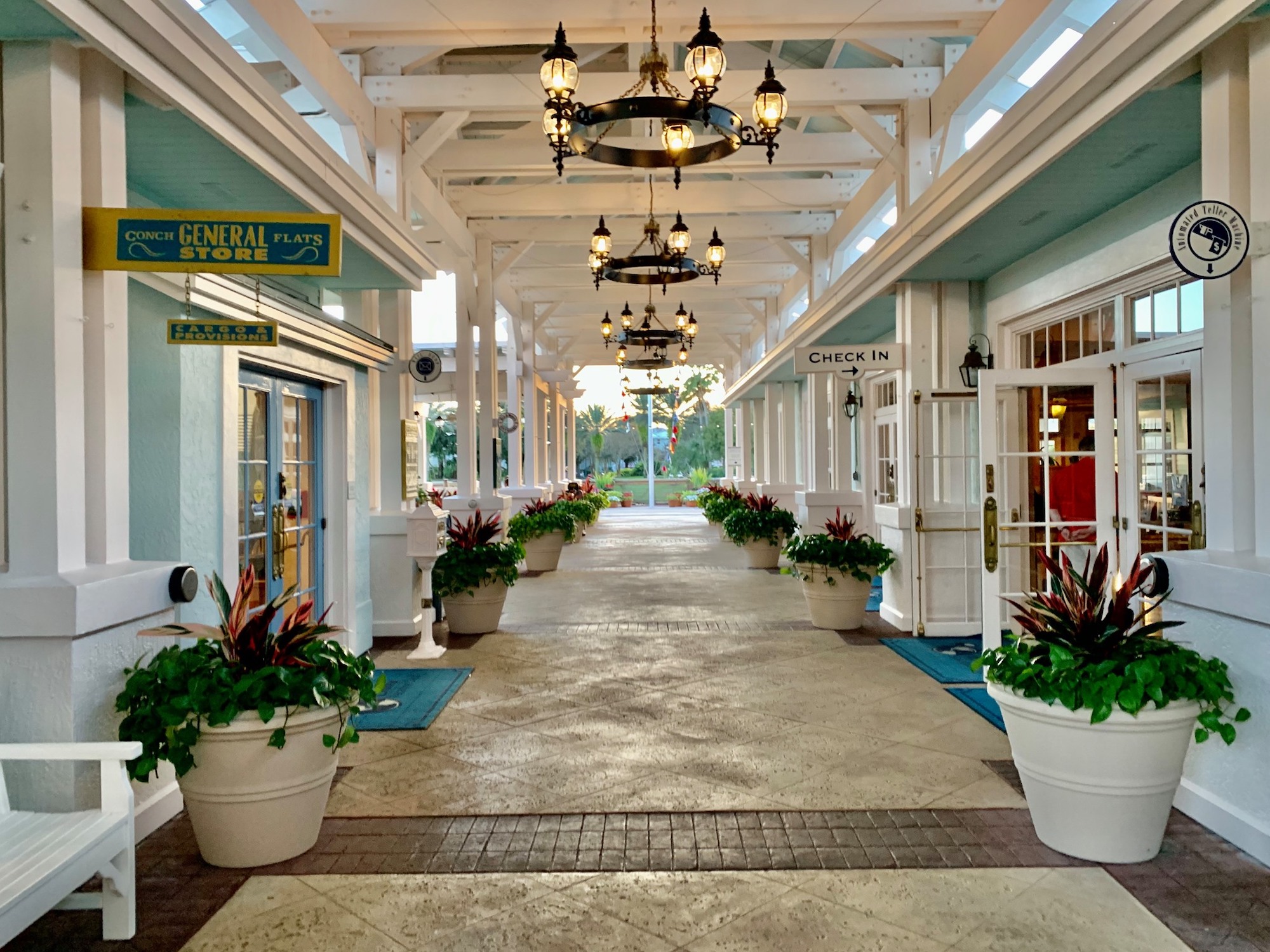 While the size of the resort can be overwhelming, Old Key West Resort offers wide open spaces and beautiful scenery you can't find at some of the other DVC resorts. With its pastel buildings and gorgeous landscaping, it makes for the perfect island getaway while enjoying all the perks of being a guest at Disney World. Guests can choose to lose themselves in the relaxation and calm of the resort or find transportation throughout the resort to the parks, Disney Springs, or the Hospitality House. Giving guests both the Key West and Disney experience, a stay at Disney's Old Key West Resort is sure to give guests the full vacation experience they're looking for.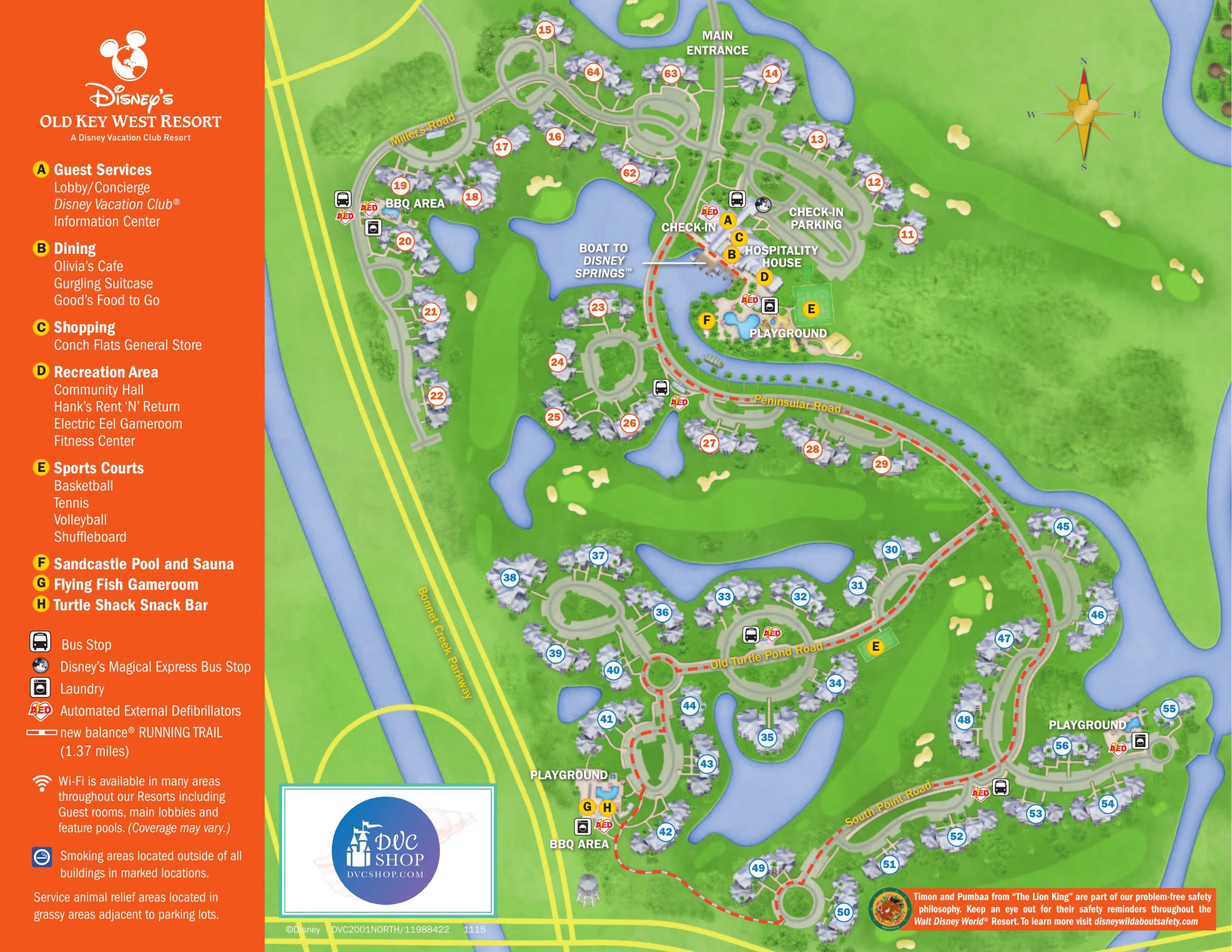 Click here to download map.