Disney's Boardwalk Villas
Confirmed Reservations
Photo Gallery
Resort Information
Resort Overview
Resort Map
Floor Plans
Point Charts
UNIT
Studio
1 Bedroom
2 Bedroom
3 Bedroom
SHOWING ALL LISTINGS
| Check-In | Nights | Resort | Room Type | Sleeps | Price | Status | Res ID |
| --- | --- | --- | --- | --- | --- | --- | --- |
| 04/23/2023 | 5 | Boardwalk Villas | Deluxe Studio - Standard View | 5 | $2,700 | Available | |
| 06/10/2023 | 7 | Boardwalk Villas | Deluxe Studio - Standard View | 5 | $3,276 | Available | |
| 05/23/2023 | 7 | Boardwalk Villas | Deluxe Studio - Standard View | 5 | $2,880 | Pending | |
| 06/10/2023 | 7 | Boardwalk Villas | Deluxe Studio - Standard View | 5 | $3,276 | Available | |
| 06/17/2023 | 7 | Boardwalk Villas | Deluxe Studio - Standard View | 5 | $3,312 | Available | |
| 06/18/2023 | 3 | Boardwalk Villas | Deluxe Studio - Standard View | 5 | $1,296 | Available | |
| 06/24/2023 | 7 | Boardwalk Villas | Deluxe Studio - Standard View | 5 | $3,312 | Available | |
| 06/24/2023 | 7 | Boardwalk Villas | Deluxe Studio - Standard View | 5 | $3,312 | Available | |
| 07/07/2023 | 6 | Boardwalk Villas | Deluxe Studio - Standard View | 5 | $2,320 | Available | |
| 06/21/2023 | 7 | Boardwalk Villas | Deluxe Studio - Standard View | 5 | $3,312 | Available | |
| 07/08/2023 | 4 | Boardwalk Villas | Deluxe Studio - Standard View | 5 | $1,872 | Available | |
| 07/15/2023 | 7 | Boardwalk Villas | Deluxe Studio - Standard View | 5 | $3,312 | Available | |
| 07/29/2023 | 7 | Boardwalk Villas | Deluxe Studio - Standard View | 5 | $3,312 | Available | |
| 08/05/2023 | 7 | Boardwalk Villas | Deluxe Studio - Standard View | 5 | $3,312 | Available | |
| 08/05/2023 | 5 | Boardwalk Villas | Deluxe Studio - Standard View | 5 | $2,304 | Available | |
| 08/12/2023 | 7 | Boardwalk Villas | Deluxe Studio - Standard View | 5 | $3,312 | Available | |
| 07/19/2023 | 5 | Boardwalk Villas | Deluxe Studio - Standard View | 5 | $1,989 | Available | |
| 08/20/2023 | 5 | Boardwalk Villas | Deluxe Studio - Standard View | 5 | $2,160 | Available | |
| 07/07/2023 | 4 | Boardwalk Villas | Deluxe Studio - Standard View | 5 | $1,512 | Available | |
| 08/26/2023 | 7 | Boardwalk Villas | Deluxe Studio - Standard View | 5 | $2,581 | Available | |
| 06/16/2023 | 6 | Boardwalk Villas | Deluxe Studio - Standard View | 5 | $2,880 | Available | |
| 09/04/2023 | 3 | Boardwalk Villas | Deluxe Studio - Standard View | 5 | $999 | Available | |
| 06/28/2023 | 4 | Boardwalk Villas | Deluxe Studio - Standard View | 5 | $1,988 | Available | |
| 08/27/2023 | 5 | Boardwalk Villas | Deluxe Studio - Standard View | 5 | $2,160 | Available | |
| 09/04/2023 | 2 | Boardwalk Villas | Deluxe Studio - Standard View | 5 | $648 | Available | |
| 09/07/2023 | 1 | Boardwalk Villas | Deluxe Studio - Standard View | 5 | $297 | Available | |
| 09/04/2023 | 7 | Boardwalk Villas | Deluxe Studio - Standard View | 5 | $2,556 | Available | |
| 05/13/2023 | 7 | Boardwalk Villas | Deluxe Studio - Garden/Pool View | 5 | $3,472 | Available | |
| 09/10/2023 | 3 | Boardwalk Villas | Deluxe Studio - Standard View | 5 | $999 | Available | |
| 09/04/2023 | 1 | Boardwalk Villas | Deluxe Studio - Standard View | 5 | $297 | Available | |
| 09/04/2023 | 1 | Boardwalk Villas | Deluxe Studio - Standard View | 5 | $297 | Available | |
| 08/02/2023 | 6 | Boardwalk Villas | Deluxe Studio - Standard View | 5 | $2,960 | Available | |
| 07/26/2023 | 6 | Boardwalk Villas | Deluxe Studio - Standard View | 5 | $2,960 | Available | |
| 09/07/2023 | 1 | Boardwalk Villas | Deluxe Studio - Standard View | 5 | $297 | Available | |
| 09/10/2023 | 1 | Boardwalk Villas | Deluxe Studio - Standard View | 5 | $297 | Available | |
| 08/26/2023 | 6 | Boardwalk Villas | Deluxe Studio - Standard View | 5 | $2,736 | Available | |
| 09/04/2023 | 1 | Boardwalk Villas | Deluxe Studio - Standard View | 5 | $297 | Available | |
| 09/10/2023 | 1 | Boardwalk Villas | Deluxe Studio - Standard View | 5 | $297 | Available | |
| 09/14/2023 | 2 | Boardwalk Villas | Deluxe Studio - Standard View | 5 | $693 | Available | |
| 09/14/2023 | 1 | Boardwalk Villas | Deluxe Studio - Standard View | 5 | $297 | Available | |
| 05/14/2023 | 1 | Boardwalk Villas | Deluxe Studio - Garden/Pool View | 5 | $345 | Available | |
| 09/13/2023 | 2 | Boardwalk Villas | Deluxe Studio - Standard View | 5 | $675 | Available | |
| 09/14/2023 | 1 | Boardwalk Villas | Deluxe Studio - Standard View | 5 | $297 | Available | |
| 09/13/2023 | 6 | Boardwalk Villas | Deluxe Studio - Standard View | 5 | $2,232 | Available | |
| 09/13/2023 | 3 | Boardwalk Villas | Deluxe Studio - Standard View | 5 | $999 | Available | |
| 09/13/2023 | 3 | Boardwalk Villas | Deluxe Studio - Standard View | 5 | $1,000 | Available | |
| 09/14/2023 | 1 | Boardwalk Villas | Deluxe Studio - Standard View | 5 | $297 | Available | |
| 09/20/2023 | 1 | Boardwalk Villas | Deluxe Studio - Standard View | 5 | $297 | Available | |
| 05/24/2023 | 1 | Boardwalk Villas | Deluxe Studio - Standard View | 5 | $350 | Available | |
| 09/20/2023 | 1 | Boardwalk Villas | Deluxe Studio - Standard View | 5 | $297 | Available | |
| 09/21/2023 | 2 | Boardwalk Villas | Deluxe Studio - Standard View | 5 | $748 | Available | |
| 09/12/2023 | 1 | Boardwalk Villas | Deluxe Studio - Standard View | 5 | $297 | Available | |
| 09/19/2023 | 1 | Boardwalk Villas | Deluxe Studio - Standard View | 5 | $297 | Available | |
| 09/21/2023 | 1 | Boardwalk Villas | Deluxe Studio - Standard View | 5 | $297 | Available | |
| 07/12/2023 | 1 | Boardwalk Villas | Deluxe Studio - Standard View | 5 | $360 | Available | |
| 06/28/2023 | 1 | Boardwalk Villas | Deluxe Studio - Standard View | 5 | $360 | Available | |
| 09/15/2023 | 7 | Boardwalk Villas | Deluxe Studio - Standard View | 5 | $2,769 | Available | |
| 09/19/2023 | 1 | Boardwalk Villas | Deluxe Studio - Standard View | 5 | $297 | Available | |
| 09/14/2023 | 2 | Boardwalk Villas | Deluxe Studio - Standard View | 5 | $693 | Available | |
| 09/20/2023 | 1 | Boardwalk Villas | Deluxe Studio - Standard View | 5 | $297 | Available | |
| 09/21/2023 | 4 | Boardwalk Villas | Deluxe Studio - Standard View | 5 | $1,595 | Available | |
| 09/21/2023 | 4 | Boardwalk Villas | Deluxe Studio - Standard View | 5 | $1,595 | Available | |
| 05/30/2023 | 1 | Boardwalk Villas | Deluxe Studio - Standard View | 5 | $325 | Available | |
| 05/30/2023 | 1 | Boardwalk Villas | Deluxe Studio - Standard View | 5 | $325 | Available | |
| 08/02/2023 | 1 | Boardwalk Villas | Deluxe Studio - Standard View | 5 | $360 | Available | |
| 08/13/2023 | 1 | Boardwalk Villas | Deluxe Studio - Standard View | 5 | $360 | Available | |
| 08/06/2023 | 1 | Boardwalk Villas | Deluxe Studio - Standard View | 5 | $360 | Available | |
| 07/06/2023 | 1 | Boardwalk Villas | Deluxe Studio - Standard View | 5 | $360 | Available | |
| 08/22/2023 | 3 | Boardwalk Villas | Deluxe Studio - Standard View | 5 | $990 | Available | |
| 08/06/2023 | 1 | Boardwalk Villas | Deluxe Studio - Standard View | 5 | $360 | Available | |
| 09/25/2023 | 2 | Boardwalk Villas | Deluxe Studio - Standard View | 5 | $675 | Available | |
| 09/25/2023 | 2 | Boardwalk Villas | Deluxe Studio - Standard View | 5 | $648 | Available | |
| 09/25/2023 | 2 | Boardwalk Villas | Deluxe Studio - Standard View | 5 | $648 | Available | |
| 09/25/2023 | 2 | Boardwalk Villas | Deluxe Studio - Standard View | 5 | $648 | Available | |
| 09/25/2023 | 3 | Boardwalk Villas | Deluxe Studio - Standard View | 5 | $999 | Available | |
| 09/25/2023 | 3 | Boardwalk Villas | Deluxe Studio - Standard View | 5 | $999 | Available | |
| 09/25/2023 | 3 | Boardwalk Villas | Deluxe Studio - Standard View | 5 | $999 | Available | |
| 09/25/2023 | 3 | Boardwalk Villas | Deluxe Studio - Standard View | 5 | $999 | Available | |
| 09/27/2023 | 1 | Boardwalk Villas | Deluxe Studio - Standard View | 5 | $297 | Available | |
| 09/17/2023 | 1 | Boardwalk Villas | Deluxe Studio - Standard View | 5 | $297 | Available | |
| 09/26/2023 | 2 | Boardwalk Villas | Deluxe Studio - Standard View | 5 | $648 | Available | |
| 09/04/2023 | 3 | Boardwalk Villas | Deluxe Studio - Standard View | 5 | $999 | Available | |
| 06/24/2023 | 5 | Boardwalk Villas | Deluxe Studio - Standard View | 5 | $2,304 | Available | |
| 06/20/2023 | 5 | Boardwalk Villas | Deluxe Studio - Standard View | 5 | $2,448 | Available | |
| 06/25/2023 | 4 | Boardwalk Villas | Deluxe Studio - Standard View | 5 | $1,800 | Available | |
| 09/27/2023 | 1 | Boardwalk Villas | Deluxe Studio - Standard View | 5 | $297 | Available | |
| 09/27/2023 | 1 | Boardwalk Villas | Deluxe Studio - Standard View | 5 | $297 | Available | |
| 05/28/2023 | 7 | Boardwalk Villas | Deluxe Studio - Garden/Pool View | 5 | $3,534 | Available | |
| 09/20/2023 | 1 | Boardwalk Villas | Deluxe Studio - Standard View | 5 | $297 | Available | |
| 09/28/2023 | 1 | Boardwalk Villas | Deluxe Studio - Standard View | 5 | $297 | Available | |
| 09/28/2023 | 3 | Boardwalk Villas | Deluxe Studio - Standard View | 5 | $1,085 | Available | |
| 09/28/2023 | 1 | Boardwalk Villas | Deluxe Studio - Standard View | 5 | $297 | Available | |
| 09/15/2023 | 6 | Boardwalk Villas | Deluxe Studio - Standard View | 5 | $2,247.50 | Available | |
| 09/15/2023 | 6 | Boardwalk Villas | Deluxe Studio - Standard View | 5 | $2,263 | Available | |
| 06/03/2023 | 7 | Boardwalk Villas | Deluxe Studio - Garden/Pool View | 5 | $2,850 | Available | |
| 06/03/2023 | 7 | Boardwalk Villas | Deluxe Studio - Garden/Pool View | 5 | $2,850 | Available | |
| 06/04/2023 | 4 | Boardwalk Villas | Deluxe Studio - Garden/Pool View | 5 | $1,600 | Available | |
| 05/25/2023 | 3 | Boardwalk Villas | Deluxe Studio - Standard View | 5 | $1,198 | Available | |
| 10/03/2023 | 2 | Boardwalk Villas | Deluxe Studio - Standard View | 5 | $770 | Available | |
| 08/25/2023 | 4 | Boardwalk Villas | Deluxe Studio - Standard View | 5 | $1,456 | Available | |
| 07/20/2023 | 4 | Boardwalk Villas | Deluxe Studio - Standard View | 5 | $1,680 | Available | |
| 07/27/2023 | 5 | Boardwalk Villas | Deluxe Studio - Standard View | 5 | $1,989 | Available | |
| 06/11/2023 | 4 | Boardwalk Villas | Deluxe Studio - Standard View | 5 | $1,596 | Available | |
| 09/30/2023 | 7 | Boardwalk Villas | Deluxe Studio - Standard View | 5 | $3,600 | Available | |
| 09/30/2023 | 6 | Boardwalk Villas | Deluxe Studio - Standard View | 5 | $2,988 | Available | |
| 06/01/2023 | 5 | Boardwalk Villas | Deluxe Studio - Garden/Pool View | 5 | $2,542 | Available | |
| 10/03/2023 | 7 | Boardwalk Villas | Deluxe Studio - Garden/Pool View | 5 | $3,380 | Available | |
| 07/05/2023 | 5 | Boardwalk Villas | Deluxe Studio - Standard View | 5 | $2,448 | Available | |
| 07/23/2023 | 3 | Boardwalk Villas | Deluxe Studio - Standard View | 5 | $1,188 | Available | |
| 07/09/2023 | 5 | Boardwalk Villas | Deluxe Studio - Standard View | 5 | $1,995 | Available | |
| 04/18/2023 | 1 | Boardwalk Villas | Deluxe Studio - Standard View | 5 | $420 | Available | |
| 04/20/2023 | 2 | Boardwalk Villas | Deluxe Studio - Standard View | 5 | $884 | Available | |
| 09/18/2023 | 1 | Boardwalk Villas | Deluxe Studio - Standard View | 5 | $297 | Available | |
| 08/29/2023 | 3 | Boardwalk Villas | Deluxe Studio - Standard View | 5 | $1,296 | Available | |
| 07/01/2023 | 1 | Boardwalk Villas | Deluxe Studio - Standard View | 5 | $576 | Available | |
| 10/04/2023 | 7 | Boardwalk Villas | Deluxe Studio - Standard View | 5 | $3,744 | Available | |
| 05/26/2023 | 6 | Boardwalk Villas | Deluxe Studio - Garden/Pool View | 5 | $3,038 | Available | |
| 07/09/2023 | 5 | Boardwalk Villas | Deluxe Studio - Standard View | 5 | $1,995 | Available | |
| 09/03/2023 | 5 | Boardwalk Villas | Deluxe Studio - Garden/Pool View | 5 | $1,820 | Available | |
| 09/22/2023 | 1 | Boardwalk Villas | Deluxe Studio - Standard View | 5 | $338 | Available | |
| 09/30/2023 | 1 | Boardwalk Villas | Deluxe Studio - Standard View | 5 | $338 | Available | |
| 09/30/2023 | 1 | Boardwalk Villas | Deluxe Studio - Standard View | 5 | $338 | Available | |
| 06/19/2023 | 3 | Boardwalk Villas | Deluxe Studio - Standard View | 5 | $1,188 | Available | |
| 06/19/2023 | 3 | Boardwalk Villas | Deluxe Studio - Standard View | 5 | $1,188 | Available | |
| 08/13/2023 | 1 | Boardwalk Villas | Deluxe Studio - Standard View | 5 | $288 | Available | |
| 08/13/2023 | 1 | Boardwalk Villas | Deluxe Studio - Standard View | 5 | $288 | Available | |
| 08/29/2023 | 3 | Boardwalk Villas | Deluxe Studio - Standard View | 5 | $828 | Available | |
| 08/24/2023 | 7 | Boardwalk Villas | Deluxe Studio - Standard View | 5 | $3,312 | Available | |
| 06/18/2023 | 5 | Boardwalk Villas | Deluxe Studio - Garden/Pool View | 5 | $2,480 | Available | |
| 10/09/2023 | 6 | Boardwalk Villas | Deluxe Studio - Standard View | 5 | $3,240 | Available | |
| 10/14/2023 | 5 | Boardwalk Villas | Deluxe Studio - Standard View | 5 | $2,628 | Available | |
| 06/20/2023 | 4 | Boardwalk Villas | Deluxe Studio - Standard View | 5 | $1,599 | Available | |
| 06/20/2023 | 4 | Boardwalk Villas | Deluxe Studio - Standard View | 5 | $1,599 | Available | |
| 06/20/2023 | 4 | Boardwalk Villas | Deluxe Studio - Standard View | 5 | $1,599 | Available | |
| 09/10/2023 | 1 | Boardwalk Villas | Deluxe Studio - Standard View | 5 | $297 | Available | |
| 10/07/2023 | 1 | Boardwalk Villas | Deluxe Studio - Standard View | 5 | $408 | Available | |
| 10/11/2023 | 3 | Boardwalk Villas | Deluxe Studio - Standard View | 5 | $1,080 | Available | |
| 10/21/2023 | 1 | Boardwalk Villas | Deluxe Studio - Standard View | 5 | $442 | Available | |
| 07/09/2023 | 4 | Boardwalk Villas | Deluxe Studio - Standard View | 5 | $1,584 | Available | |
| 09/15/2023 | 6 | Boardwalk Villas | Deluxe Studio - Standard View | 5 | $2,232 | Available | |
| 06/29/2023 | 1 | Boardwalk Villas | Deluxe Studio - Standard View | 5 | $348 | Available | |
| 10/26/2023 | 3 | Boardwalk Villas | Deluxe Studio - Standard View | 5 | $1,272 | Available | |
| 10/27/2023 | 3 | Boardwalk Villas | Deluxe Studio - Standard View | 5 | $1,248 | Available | |
| 10/23/2023 | 7 | Boardwalk Villas | Deluxe Studio - Standard View | 5 | $3,744 | Available | |
| 10/03/2023 | 5 | Boardwalk Villas | Deluxe Studio - Standard View | 5 | $2,736 | Available | |
| 10/09/2023 | 6 | Boardwalk Villas | Deluxe Studio - Standard View | 5 | $3,240 | Available | |
| 07/02/2023 | 6 | Boardwalk Villas | Deluxe Studio - Garden/Pool View | 5 | $3,038 | Available | |
| 09/30/2023 | 1 | Boardwalk Villas | Deluxe Studio - Standard View | 5 | $351 | Available | |
| 09/02/2023 | 7 | Boardwalk Villas | Deluxe Studio - Garden/Pool View | 5 | $3,672 | Available | |
| 09/02/2023 | 5 | Boardwalk Villas | Deluxe Studio - Garden/Pool View | 5 | $2,592 | Available | |
| 07/01/2023 | 6 | Boardwalk Villas | Deluxe Studio - Garden/Pool View | 5 | $2,548 | Available | |
| 07/07/2023 | 2 | Boardwalk Villas | Deluxe Studio - Standard View | 5 | $832 | Available | |
| 06/14/2023 | 1 | Boardwalk Villas | Deluxe Studio - Standard View | 5 | $348 | Available | |
| 07/08/2023 | 2 | Boardwalk Villas | Deluxe Studio - Standard View | 5 | $798 | Available | |
| 07/27/2023 | 7 | Boardwalk Villas | Deluxe Studio - Standard View | 5 | $2,990 | Available | |
| 11/06/2023 | 7 | Boardwalk Villas | Deluxe Studio - Standard View | 5 | $3,744 | Available | |
| 11/03/2023 | 6 | Boardwalk Villas | Deluxe Studio - Standard View | 5 | $3,240 | Available | |
| 07/16/2023 | 5 | Boardwalk Villas | Deluxe Studio - Standard View | 5 | $1,980 | Available | |
| 07/13/2023 | 2 | Boardwalk Villas | Deluxe Studio - Standard View | 5 | $798 | Available | |
| 08/19/2023 | 4 | Boardwalk Villas | Deluxe Studio - Standard View | 5 | $1,599 | Available | |
| 11/11/2023 | 7 | Boardwalk Villas | Deluxe Studio - Standard View | 5 | $3,744 | Available | |
| 11/12/2023 | 7 | Boardwalk Villas | Deluxe Studio - Standard View | 5 | $3,744 | Available | |
| 06/20/2023 | 2 | Boardwalk Villas | Deluxe Studio - Standard View | 5 | $744 | Available | |
| 07/12/2023 | 3 | Boardwalk Villas | Deluxe Studio - Standard View | 5 | $1,200 | Available | |
| 07/12/2023 | 3 | Boardwalk Villas | Deluxe Studio - Standard View | 5 | $1,200 | Available | |
| 10/29/2023 | 5 | Boardwalk Villas | Deluxe Studio - Standard View | 5 | $2,520 | Available | |
| 11/15/2023 | 7 | Boardwalk Villas | Deluxe Studio - Standard View | 5 | $3,744 | Available | |
| 11/24/2023 | 4 | Boardwalk Villas | Deluxe Studio - Standard View | 5 | $1,664 | Available | |
| 11/24/2023 | 4 | Boardwalk Villas | Deluxe Studio - Standard View | 5 | $1,664 | Available | |
| 11/17/2023 | 2 | Boardwalk Villas | Deluxe Studio - Standard View | 5 | $884 | Available | |
| 07/18/2023 | 1 | Boardwalk Villas | Deluxe Studio - Standard View | 5 | $360 | Available | |
| 07/05/2023 | 1 | Boardwalk Villas | Deluxe Studio - Standard View | 5 | $1,680 | Available | |
| 09/30/2023 | 1 | Boardwalk Villas | Deluxe Studio - Garden/Pool View | 5 | $495 | Available | |
| 11/25/2023 | 7 | Boardwalk Villas | Deluxe Studio - Garden/Pool View | 5 | $3,048 | Available | |
| 07/23/2023 | 5 | Boardwalk Villas | Deluxe Studio - Garden/Pool View | 5 | $1,880 | Available | |
| 11/26/2023 | 1 | Boardwalk Villas | Deluxe Studio - Garden/Pool View | 5 | $432 | Available | |
| 07/23/2023 | 5 | Boardwalk Villas | Deluxe Studio - Garden/Pool View | 5 | $2,080 | Available | |
| 08/01/2023 | 7 | Boardwalk Villas | Deluxe Studio - Standard View | 5 | $2,760 | Available | |
| 08/04/2023 | 6 | Boardwalk Villas | Deluxe Studio - Garden/Pool View | 5 | $2,500 | Available | |
| 06/19/2023 | 1 | Boardwalk Villas | Deluxe Studio - Standard View | 5 | $360 | Available | |
| 10/08/2023 | 3 | Boardwalk Villas | Deluxe Studio - Garden/Pool View | 5 | $1,512 | Available | |
| 10/21/2023 | 1 | Boardwalk Villas | Deluxe Studio - Standard View | 5 | $476 | Available | |
| 10/27/2023 | 1 | Boardwalk Villas | Deluxe Studio - Standard View | 5 | $476 | Available | |
| 11/17/2023 | 1 | Boardwalk Villas | Deluxe Studio - Standard View | 5 | $476 | Available | |
| 12/01/2023 | 1 | Boardwalk Villas | Deluxe Studio - Standard View | 5 | $465 | Available | |
| 12/09/2023 | 6 | Boardwalk Villas | Deluxe Studio - Garden/Pool View | 5 | $2,716 | Available | |
| 11/14/2023 | 5 | Boardwalk Villas | Deluxe Studio - Garden/Pool View | 5 | $2,538 | Available | |
| 11/19/2023 | 1 | Boardwalk Villas | Deluxe Studio - Standard View | 5 | $399 | Available | |
| 12/08/2023 | 1 | Boardwalk Villas | Deluxe Studio - Standard View | 5 | $435 | Available | |
| 12/08/2023 | 1 | Boardwalk Villas | Deluxe Studio - Standard View | 5 | $435 | Available | |
| 08/11/2023 | 7 | Boardwalk Villas | Deluxe Studio - Garden/Pool View | 5 | $2,552 | Available | |
| 08/20/2023 | 4 | Boardwalk Villas | Deluxe Studio - Standard View | 5 | $1,728 | Available | |
| 12/15/2023 | 1 | Boardwalk Villas | Deluxe Studio - Standard View | 5 | $450 | Available | |
| 11/07/2023 | 1 | Boardwalk Villas | Deluxe Studio - Standard View | 5 | $420 | Available | |
| 12/16/2023 | 6 | Boardwalk Villas | Deluxe Studio - Garden/Pool View | 5 | $2,813 | Available | |
| 12/16/2023 | 6 | Boardwalk Villas | Deluxe Studio - Garden/Pool View | 5 | $2,813 | Available | |
| 12/13/2023 | 1 | Boardwalk Villas | Deluxe Studio - Standard View | 5 | $350 | Available | |
| 08/15/2023 | 1 | Boardwalk Villas | Deluxe Studio - Standard View | 5 | $348 | Available | |
| 07/26/2023 | 5 | Boardwalk Villas | Deluxe Studio - Standard View | 5 | $2,091 | Available | |
| 12/12/2023 | 1 | Boardwalk Villas | Deluxe Studio - Standard View | 5 | $350 | Available | |
| 12/14/2023 | 7 | Boardwalk Villas | Deluxe Studio - Standard View | 5 | $3,744 | Available | |
| 12/18/2023 | 1 | Boardwalk Villas | Deluxe Studio - Standard View | 5 | $350 | Available | |
| 12/18/2023 | 1 | Boardwalk Villas | Deluxe Studio - Standard View | 5 | $350 | Available | |
| 12/19/2023 | 1 | Boardwalk Villas | Deluxe Studio - Standard View | 5 | $350 | Available | |
| 07/10/2023 | 1 | Boardwalk Villas | Deluxe Studio - Standard View | 5 | $348 | Available | |
| 12/19/2023 | 1 | Boardwalk Villas | Deluxe Studio - Standard View | 5 | $350 | Available | |
| 08/26/2023 | 7 | Boardwalk Villas | Deluxe Studio - Garden/Pool View | 5 | $2,508 | Available | |
| 08/18/2023 | 5 | Boardwalk Villas | Deluxe Studio - Garden/Pool View | 5 | $1,848 | Available | |
| 11/25/2023 | 7 | Boardwalk Villas | Deluxe Studio - Standard View | 5 | $3,672 | Available | |
| 08/18/2023 | 3 | Boardwalk Villas | Deluxe Studio - Garden/Pool View | 5 | $1,144 | Available | |
| 08/26/2023 | 7 | Boardwalk Villas | Deluxe Studio - Garden/Pool View | 5 | $2,508 | Available | |
| 10/11/2023 | 2 | Boardwalk Villas | Deluxe Studio - Standard View | 5 | $1,008 | Available | |
| 08/28/2023 | 3 | Boardwalk Villas | Deluxe Studio - Standard View | 5 | $1,116 | Available | |
| 10/03/2023 | 1 | Boardwalk Villas | Deluxe Studio - Standard View | 5 | $420 | Available | |
| 10/23/2023 | 1 | Boardwalk Villas | Deluxe Studio - Standard View | 5 | $420 | Available | |
| 06/21/2023 | 1 | Boardwalk Villas | Deluxe Studio - Standard View | 5 | $360 | Available | |
| 09/14/2023 | 1 | Boardwalk Villas | Deluxe Studio - Standard View | 5 | $297 | Available | |
| 10/06/2023 | 1 | Boardwalk Villas | Deluxe Studio - Standard View | 5 | $442 | Available | |
| 10/18/2023 | 1 | Boardwalk Villas | Deluxe Studio - Standard View | 5 | $364 | Available | |
| 10/28/2023 | 1 | Boardwalk Villas | Deluxe Studio - Standard View | 5 | $442 | Available | |
| 11/17/2023 | 1 | Boardwalk Villas | Deluxe Studio - Garden/Pool View | 5 | $460 | Available | |
| 11/26/2023 | 4 | Boardwalk Villas | Deluxe Studio - Garden/Pool View | 5 | $1,656 | Available | |
| 08/28/2023 | 4 | Boardwalk Villas | Deluxe Studio - Standard View | 5 | $1,488 | Available | |
| 11/26/2023 | 7 | Boardwalk Villas | Deluxe Studio - Standard View | 5 | $3,600 | Available | |
| 09/08/2023 | 1 | Boardwalk Villas | Deluxe Studio - Garden/Pool View | 5 | $384 | Available | |
| 07/02/2023 | 5 | Boardwalk Villas | Deluxe Studio - Garden/Pool View | 5 | $2,480 | Available | |
| 07/05/2023 | 1 | Boardwalk Villas | Deluxe Studio - Standard View | 5 | $348 | Available | |
| 09/29/2023 | 1 | Boardwalk Villas | Deluxe Studio - Standard View | 5 | $390 | Available | |
| 10/11/2023 | 2 | Boardwalk Villas | Deluxe Studio - Standard View | 5 | $798 | Available | |
| 11/28/2023 | 1 | Boardwalk Villas | Deluxe Studio - Standard View | 5 | $434 | Available | |
| 03/30/2023 | 1 | Boardwalk Villas | Deluxe Studio - Standard View | 5 | $420 | Available | |
| 11/19/2023 | 2 | Boardwalk Villas | Deluxe Studio - Standard View | 5 | $896 | Available | |
| 04/20/2023 | 1 | Boardwalk Villas | Deluxe Studio - Standard View | 5 | $390 | Available | |
| 07/12/2023 | 1 | Boardwalk Villas | Deluxe Studio - Standard View | 5 | $360 | Available | |
| 09/29/2023 | 1 | Boardwalk Villas | Deluxe Studio - Standard View | 5 | $350 | Available | |
| 11/20/2023 | 1 | Boardwalk Villas | Deluxe Studio - Standard View | 5 | $399 | Available | |
| 11/21/2023 | 1 | Boardwalk Villas | Deluxe Studio - Standard View | 5 | $399 | Available | |
| 08/29/2023 | 2 | Boardwalk Villas | Deluxe Studio - Standard View | 5 | $600 | Available | |
| 11/25/2023 | 1 | Boardwalk Villas | Deluxe Studio - Standard View | 5 | $357 | Available | |
| 01/15/2024 | 6 | Boardwalk Villas | Deluxe Studio - Garden/Pool View | 5 | $2,208 | Available | |
| 08/19/2023 | 4 | Boardwalk Villas | Deluxe Studio - Standard View | 5 | $1,599 | Available | |
| 10/02/2023 | 1 | Boardwalk Villas | Deluxe Studio - Standard View | 5 | $399 | Available | |
| 12/22/2023 | 1 | Boardwalk Villas | Deluxe Studio - Standard View | 5 | $540 | Available | |
| 01/06/2024 | 1 | Boardwalk Villas | Deluxe Studio - Boardwalk View | 5 | $576 | Available | |
| 01/19/2024 | 5 | Boardwalk Villas | Deluxe Studio - Garden/Pool View | 5 | $2,772 | Available | |
| 01/26/2024 | 6 | Boardwalk Villas | Deluxe Studio - Garden/Pool View | 5 | $3,312 | Available | |
| 08/28/2023 | 5 | Boardwalk Villas | Deluxe Studio - Garden/Pool View | 5 | $2,160 | Available | |
| 11/10/2023 | 1 | Boardwalk Villas | Deluxe Studio - Standard View | 5 | $476 | Available | |
| 11/18/2023 | 1 | Boardwalk Villas | Deluxe Studio - Standard View | 5 | $459 | Available | |
| 11/14/2023 | 1 | Boardwalk Villas | Deluxe Studio - Standard View | 5 | $399 | Available | |
| 10/01/2023 | 4 | Boardwalk Villas | Deluxe Studio - Garden/Pool View | 5 | $2,232 | Available | |
| 10/03/2023 | 1 | Boardwalk Villas | Deluxe Studio - Standard View | 5 | $399 | Available | |
| 09/15/2023 | 1 | Boardwalk Villas | Deluxe Studio - Standard View | 5 | $351 | Available | |
| 07/15/2023 | 5 | Boardwalk Villas | Deluxe Studio - Garden/Pool View | 5 | $2,542 | Available | |
| 10/09/2023 | 6 | Boardwalk Villas | Deluxe Studio - Standard View | 5 | $3,240 | Available | |
| 10/11/2023 | 4 | Boardwalk Villas | Deluxe Studio - Standard View | 5 | $2,232 | Available | |
| 10/14/2023 | 5 | Boardwalk Villas | Deluxe Studio - Standard View | 5 | $2,628 | Available | |
| 10/23/2023 | 6 | Boardwalk Villas | Deluxe Studio - Standard View | 5 | $3,240 | Available | |
| 12/26/2023 | 1 | Boardwalk Villas | Deluxe Studio - Standard View | 5 | $594 | Available | |
| 12/24/2023 | 1 | Boardwalk Villas | Deluxe Studio - Standard View | 5 | $594 | Available | |
| 10/14/2023 | 1 | Boardwalk Villas | Deluxe Studio - Standard View | 5 | $459 | Available | |
| 10/16/2023 | 2 | Boardwalk Villas | Deluxe Studio - Standard View | 5 | $798 | Available | |
| 04/16/2023 | 1 | Boardwalk Villas | Deluxe Studio - Standard View | 5 | $390 | Available | |
| 10/16/2023 | 3 | Boardwalk Villas | Deluxe Studio - Standard View | 5 | $1,281 | Available | |
| 10/16/2023 | 1 | Boardwalk Villas | Deluxe Studio - Standard View | 5 | $399 | Available | |
| 06/04/2023 | 5 | Boardwalk Villas | Deluxe Studio - Garden/Pool View | 5 | $2,000 | Available | |
| 10/01/2023 | 1 | Boardwalk Villas | Deluxe Studio - Garden/Pool View | 5 | $432 | Available | |
| 08/22/2023 | 1 | Boardwalk Villas | Deluxe Studio - Standard View | 5 | $348 | Available | |
| 10/17/2023 | 1 | Boardwalk Villas | Deluxe Studio - Standard View | 5 | $504 | Available | |
| 04/28/2023 | 1 | Boardwalk Villas | Deluxe Studio - Boardwalk View | 5 | $528 | Available | |
| 07/22/2023 | 1 | Boardwalk Villas | Deluxe Studio - Standard View | 5 | $336 | Available | |
| 04/18/2023 | 3 | Boardwalk Villas | Deluxe Studio - Standard View | 5 | $1,395 | Available | |
| 09/01/2023 | 1 | Boardwalk Villas | Deluxe Studio - Garden/Pool View | 5 | $384 | Available | |
| 05/21/2023 | 1 | Boardwalk Villas | Deluxe Studio - Garden/Pool View | 5 | $448 | Available | |
| 02/09/2024 | 7 | Boardwalk Villas | Deluxe Studio - Garden/Pool View | 5 | $3,016 | Available | |
| 12/15/2023 | 6 | Boardwalk Villas | Deluxe Studio - Standard View | 5 | $2,520 | Available | |
| 12/18/2023 | 7 | Boardwalk Villas | Deluxe Studio - Standard View | 5 | $3,312 | Available | |
| 01/18/2024 | 6 | Boardwalk Villas | Deluxe Studio - Boardwalk View | 5 | $3,312 | Available | |
| 01/15/2024 | 6 | Boardwalk Villas | Deluxe Studio - Garden/Pool View | 5 | $3,312 | Available | |
| 02/11/2024 | 5 | Boardwalk Villas | Deluxe Studio - Boardwalk View | 5 | $2,880 | Available | |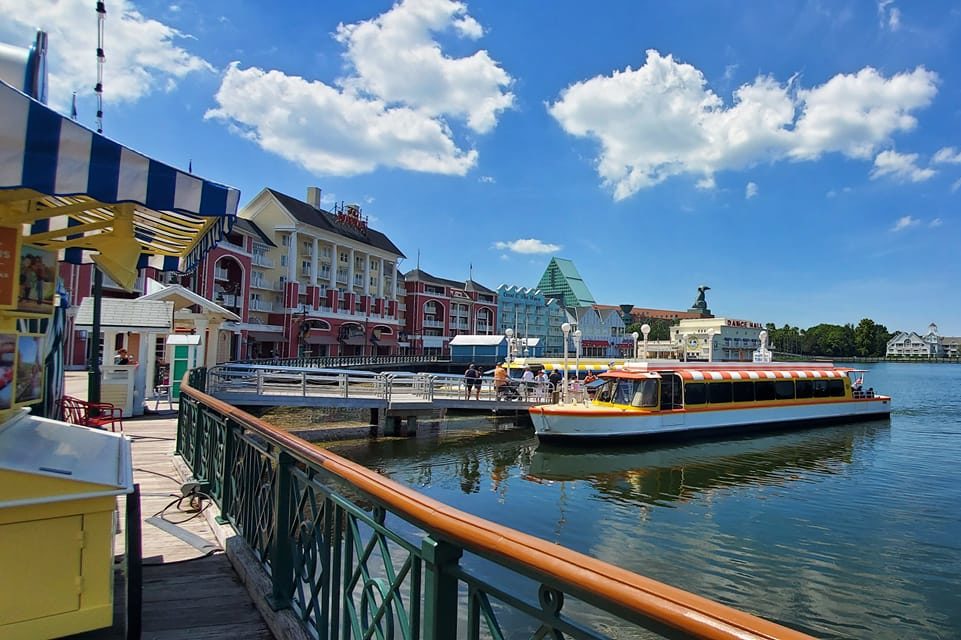 5 Star Resort
2101 N. Epcot Resorts Blvd Lake Buena Vista, Florida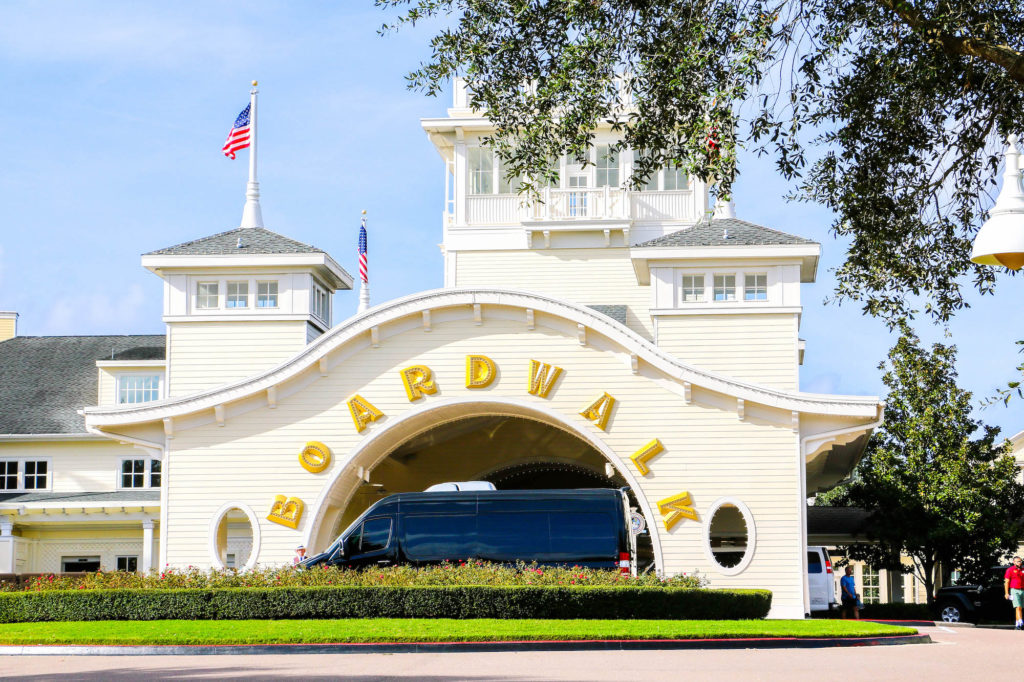 Disney's Boardwalk Villas is one of the most popular DVC locations for Disney vacations. Its convenience and beauty brings guests back time and again. Built in 1996, the villas are also one of the original Disney Vacation Club resorts, second only to Disney's Old Key West Resort. 
Inspired by 1940's Atlantic City, Disney's Boardwalk Inn and Villas Resort has a grand total of 530 rooms and has a charm and whimsy that draws guests to the resort. Positioned on Crescent Lake along with Disney's Yacht and Beach Club Resorts, Boardwalk Villas has a picturesque waterfront views and plenty of entertainment and dining options for everyone.
The villas are also a short 10-15 minute walk to EPCOT and Disney's Hollywood Studios. Disney's Skyliner gondolas, available just outside EPCOT's International Gateway, as well as boats and resort buses are available for guests to take between the resorts and parks, .
Renovated in 2016, the rooms in Boardwalk Villas have a cozy and relaxing feel to them. The resort has several options for occupancy, with Deluxe Studios, One-Bedroom Villas, Two-Bedroom Lock-Off Villas, and Three-Bedroom Grand Villas.
The views include Standard View (with a view of the resort grounds or parking area), Boardwalk View, and Garden/Pool View (with a view of pool, water, or garden areas).
*Insider Tip: The DVC point value for the Standard View rooms is great compared to some other DVC Resort locations, drawing many DVC members to the Boardwalk Villas.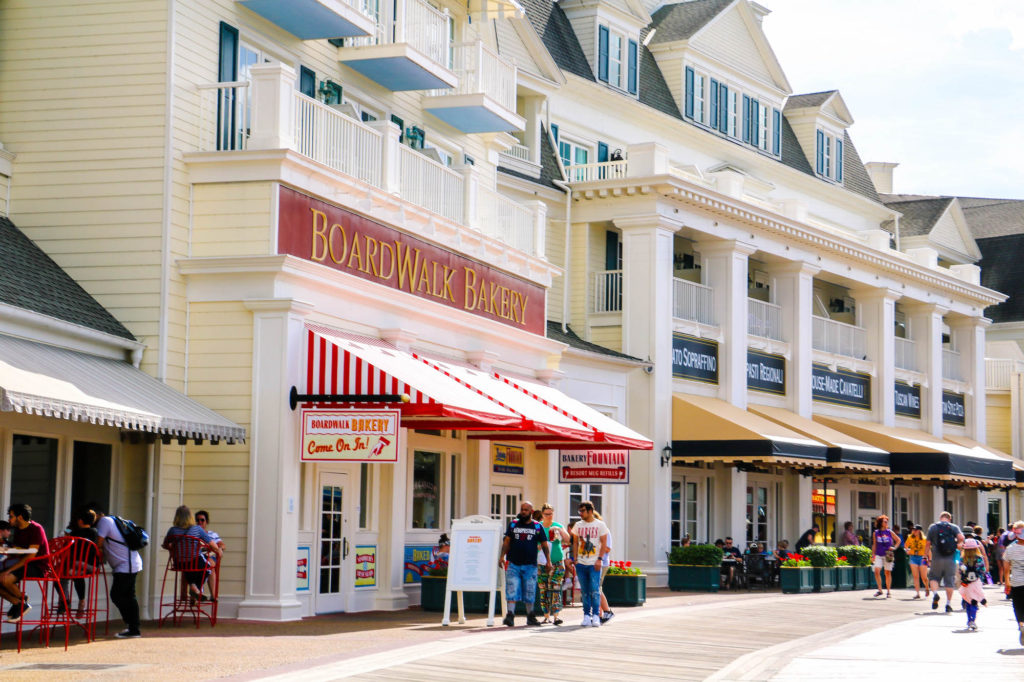 Disney's Boardwalk Inn and Villas Resort has some of the more well-known dining options on Disney World property. Boardwalk Inn is home to Flying Fish, one of Disney's most famous Signature Dining experiences with its open kitchen and elegant, welcoming dining room filled with luxurious ambiance. Big River Grille & Brewing Works invites guests to its family-friendly microbrewery and a fresh twist on the American pub.  Guests can also find ESPN Club at Boardwalk Inn, where any sports fan can happily watch televised games from one of nearly 100 monitors and 30 different programs in the 13,000 square foot pub. Trattoria al Forno is open in the morning for its Bon Voyage Adventure Character breakfast and is a great example of artisanal Italian cooking.
The resort also has plenty of quick service locations to grab a casual meal or quick snack. Boardwalk Bakery is open all day with sandwiches, salads, beverages, and baked goods. BoardWalk Joe's Marvelous Margaritas is a fun cart where guests can grab a margarita, Mickey pretzel, or roasted nuts – or all three, and then they can find a funnel cake at the Funnel Cake Cart.
Pizza Window offers guests a slice or a whole pizza that they can enjoy on the patio while taking in the Boardwalk's charm. The To-Go Cart has your favorite classic boardwalk snacks of hot dogs, burgers, and fries. Guests sitting by the Luna Park Pool can grab a quick bite from Leaping Horse Libations as they enjoy the sun, and Ample Hills Creamery offers handcrafted ice-cream from grass-fed cows, and made with organic cane sugar and hormone-free milk. While Belle Vue Lounge has breakfast in the morning, it is also a great place to play some board games while enjoying an afternoon cocktail. AbracadaBar serves a number of snacks and is magically-themed.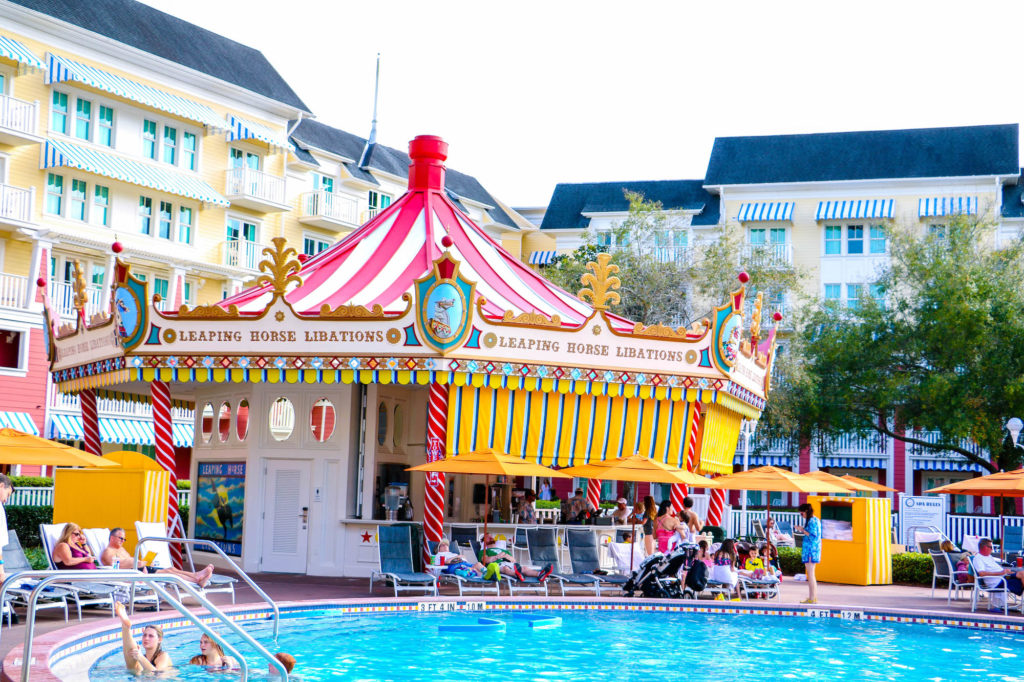 Boardwalk Villas also has a variety of amenities for its guests. Of course, the Luna Park Pool, carnival/Coney Island-themed, boasts a 200-foot waterslide and elephant fountains, but there are two other leisure pools, as well. The resort also has a campfire, movies under the stars, miniature golf at Fantasia Gardens and Fairways, games and movies Ferris W. Eahlers Community Hall, Surrey bike rentals, fishing, jogging paths, tennis courts, a playground, an arcade, and yoga.
While being in the middle of an entertainment district might not make for the quietest vacations, the convenience of Boardwalk Villas is terrific for guests who plan to explore the parks and resorts. It has plenty of amenities and entertainment options for any guest. Its quirkiness and beauty makes the resort a relaxing and fun location to stay for your next Disney World vacation.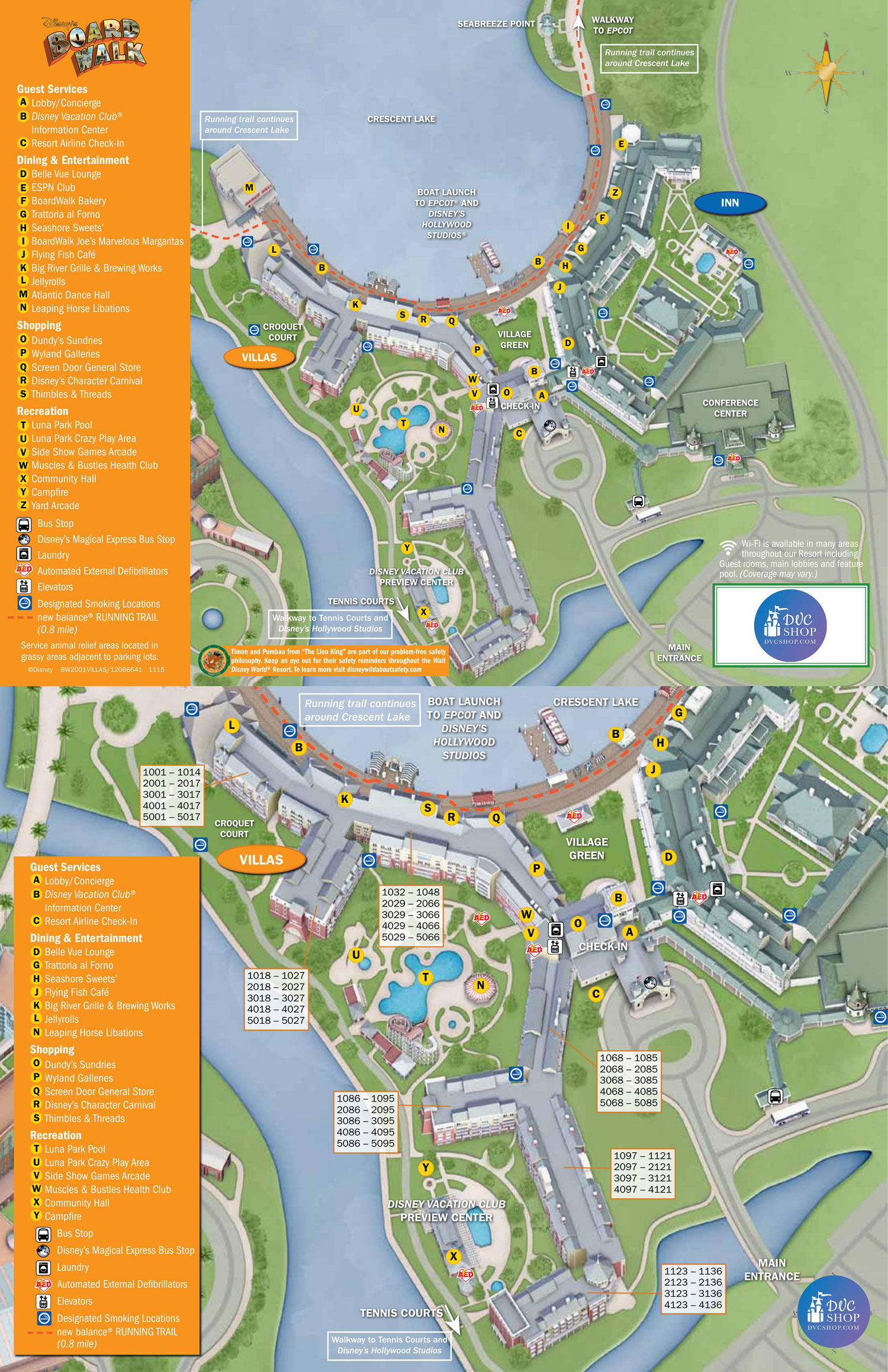 Click here to download map.