Confirmed Reservations
Photo Gallery
Resort Information
Resort Overview
Resort Map
Floor Plans
Point Charts
UNIT
Studio
1 Bedroom
2 Bedroom
3 Bedroom
SHOWING ALL LISTINGS
| Check-In | Nights | Resort | Room Type | Sleeps | Price | Status | Res ID |
| --- | --- | --- | --- | --- | --- | --- | --- |
| 01/07/2024 | 5 | Bay Lake Tower | Deluxe Studio - Standard View | 4 | $2,700 | Available | |
| 01/15/2024 | 5 | Bay Lake Tower | Deluxe Studio - Standard View | 4 | $2,387 | Available | |
| 02/05/2024 | 6 | Bay Lake Tower | Deluxe Studio - Standard View | 4 | $2,544 | Available | |
| 02/19/2024 | 3 | Bay Lake Tower | Deluxe Studio - Standard View | 4 | $1,368 | Available | |
| 01/15/2024 | 1 | Bay Lake Tower | Deluxe Studio - Standard View | 4 | $375 | Available | |
| 01/15/2024 | 1 | Bay Lake Tower | Deluxe Studio - Standard View | 4 | $375 | Available | |
| 01/19/2024 | 2 | Bay Lake Tower | Deluxe Studio - Lake View | 4 | $950 | Available | |
| 01/20/2024 | 1 | Bay Lake Tower | Deluxe Studio - Standard View | 4 | $425 | Available | |
| 03/09/2024 | 1 | Bay Lake Tower | Deluxe Studio - Standard View | 4 | $484 | Available | |
| 02/12/2024 | 6 | Bay Lake Tower | Deluxe Studio - Standard View | 4 | $3,136 | Available | |
| 03/01/2024 | 2 | Bay Lake Tower | Deluxe Studio - Standard View | 4 | $1,232 | Available | |
| 01/26/2024 | 1 | Bay Lake Tower | Deluxe Studio - Standard View | 4 | $340 | Available | |
| 01/08/2024 | 3 | Bay Lake Tower | Deluxe Studio - Standard View | 4 | $1,395 | Available | |
| 01/23/2024 | 4 | Bay Lake Tower | Deluxe Studio - Standard View | 4 | $1,922 | Available | |
| 05/01/2024 | 1 | Bay Lake Tower | Deluxe Studio - Standard View | 4 | $420 | Available | |
| 05/05/2024 | 2 | Bay Lake Tower | Deluxe Studio - Lake View | 4 | $1,008 | Available | |
| 05/11/2024 | 2 | Bay Lake Tower | Deluxe Studio - Standard View | 4 | $896 | Available | |
| 02/18/2024 | 1 | Bay Lake Tower | Deluxe Studio - Lake View | 4 | $462 | Available | |
| 05/14/2024 | 3 | Bay Lake Tower | Deluxe Studio - Standard View | 4 | $1,363 | Available | |
| 01/19/2024 | 2 | Bay Lake Tower | Deluxe Studio - Standard View | 4 | $1,054 | Available | |
| 01/28/2024 | 1 | Bay Lake Tower | Deluxe Studio - Standard View | 4 | $465 | Available | |
| 01/13/2024 | 5 | Bay Lake Tower | Deluxe Studio - Standard View | 4 | $2,464 | Available | |
| 01/26/2024 | 4 | Bay Lake Tower | Deluxe Studio - Standard View | 4 | $2,048 | Available | |
| 05/18/2024 | 6 | Bay Lake Tower | Deluxe Studio - Standard View | 4 | $3,038 | Available | |
| 05/18/2024 | 4 | Bay Lake Tower | Deluxe Studio - Standard View | 4 | $2,046 | Available | |
| 05/03/2024 | 1 | Bay Lake Tower | Deluxe Studio - Standard View | 4 | $408 | Available | |
| 03/15/2024 | 2 | Bay Lake Tower | Deluxe Studio - Standard View | 4 | $1,056 | Available | |
| 06/23/2024 | 7 | Bay Lake Tower | Deluxe Studio - Standard View | 4 | $2,952 | Available | |
| 06/07/2024 | 2 | Bay Lake Tower | Deluxe Studio - Standard View | 4 | $864 | Available | |
| 05/17/2024 | 2 | Bay Lake Tower | Deluxe Studio - Standard View | 4 | $900 | Available | |
| 07/13/2024 | 3 | Bay Lake Tower | Deluxe Studio - Standard View | 4 | $1,320 | Available | |
| 06/20/2024 | 3 | Bay Lake Tower | Deluxe Studio - Standard View | 4 | $1,320 | Available | |
| 06/29/2024 | 4 | Bay Lake Tower | Deluxe Studio - Standard View | 4 | $1,680 | Available | |
| 07/06/2024 | 7 | Bay Lake Tower | Deluxe Studio - Standard View | 4 | $2,952 | Available | |
| 06/12/2024 | 4 | Bay Lake Tower | Deluxe Studio - Standard View | 4 | $1,728 | Available | |
| 07/07/2024 | 5 | Bay Lake Tower | Deluxe Studio - Standard View | 4 | $2,040 | Available | |
| 06/27/2024 | 3 | Bay Lake Tower | Deluxe Studio - Standard View | 4 | $1,320 | Available | |
| 05/24/2024 | 1 | Bay Lake Tower | Deluxe Studio - Standard View | 4 | $414 | Available | |
| 04/13/2024 | 4 | Bay Lake Tower | Deluxe Studio - Standard View | 4 | $1,817 | Available | |
| 04/07/2024 | 5 | Bay Lake Tower | Deluxe Studio - Standard View | 4 | $2,185 | Available | |
| 12/22/2023 | 2 | Bay Lake Tower | Deluxe Studio - Lake View | 4 | $880 | Available | |
| 05/02/2024 | 1 | Bay Lake Tower | Deluxe Studio - Standard View | 4 | $375 | Available | |
| 05/05/2024 | 1 | Bay Lake Tower | Deluxe Studio - Standard View | 4 | $375 | Available | |
| 05/27/2024 | 2 | Bay Lake Tower | Deluxe Studio - Standard View | 4 | $800 | Available | |
| 06/08/2024 | 2 | Bay Lake Tower | Deluxe Studio - Standard View | 4 | $850 | Available | |
| 06/09/2024 | 2 | Bay Lake Tower | Deluxe Studio - Standard View | 4 | $800 | Available | |
| 08/01/2024 | 4 | Bay Lake Tower | Deluxe Studio - Standard View | 4 | $1,800 | Available | |
| 08/17/2024 | 7 | Bay Lake Tower | Deluxe Studio - Standard View | 4 | $3,075 | Available | |
| 12/23/2023 | 3 | Bay Lake Tower | Deluxe Studio - Lake View | 4 | $1,672 | Available | |
| 01/20/2024 | 5 | Bay Lake Tower | Deluxe Studio - Lake View | 4 | $2,639 | Available | |
| 02/12/2024 | 4 | Bay Lake Tower | Deluxe Studio - Standard View | 4 | $1,904 | Available | |
| 03/10/2024 | 1 | Bay Lake Tower | Deluxe Studio - Standard View | 4 | $380 | Available | |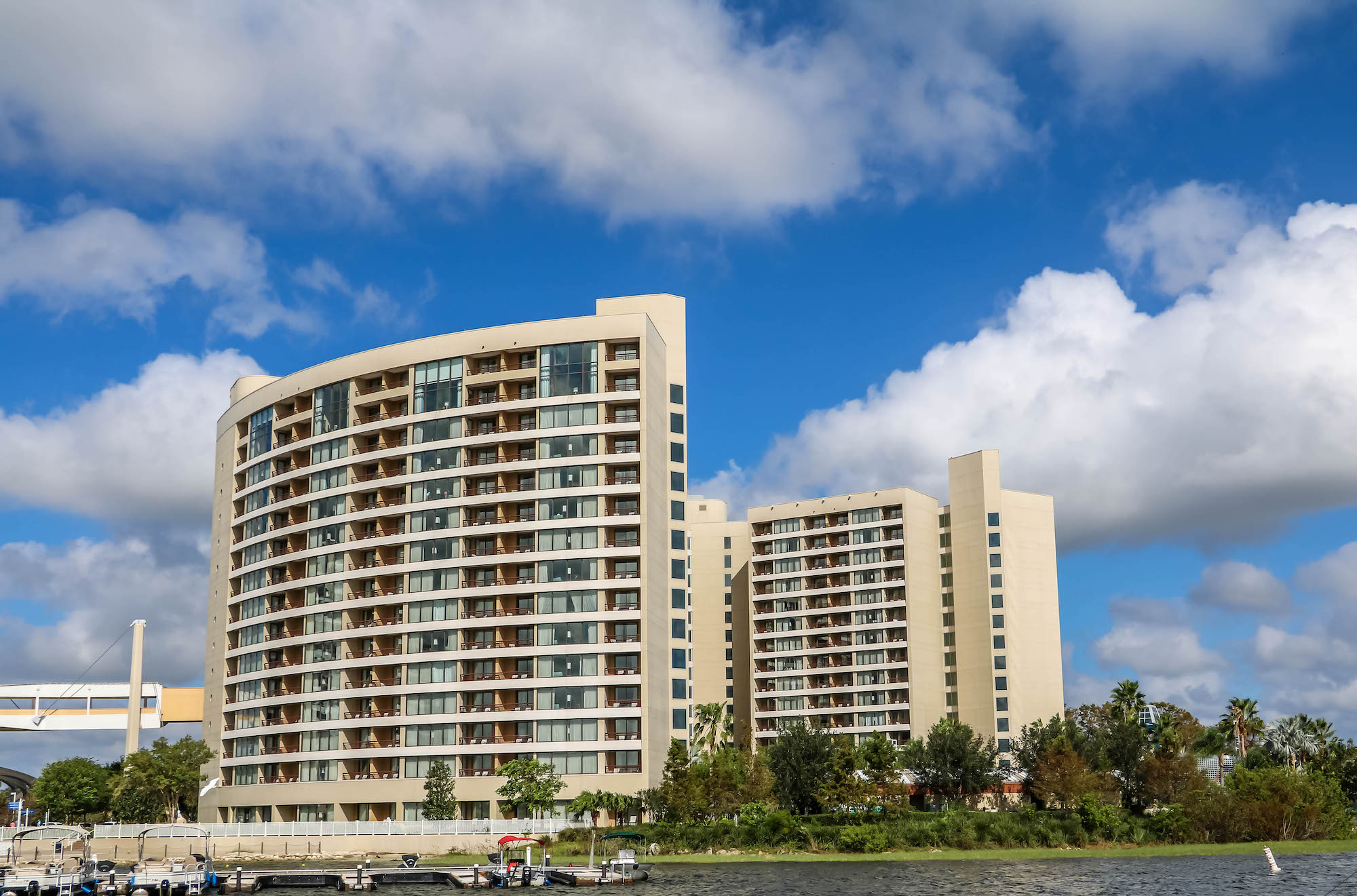 5 Star Resort
4600 N World Dr. Lake Buena Vista, Florida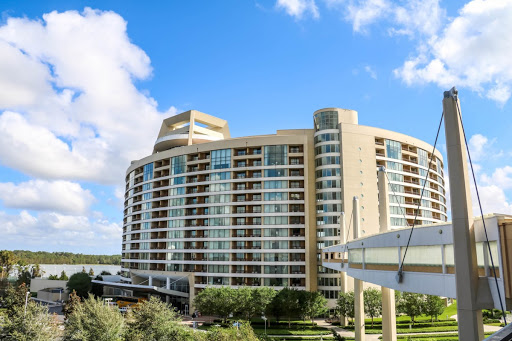 While Disney's Contemporary Resort opened with Disney's The Magic Kingdom in 1971, Bay Lake Tower wasn't added to the Contemporary until 2009. As the Contemporary's home for its DVC family, Bay Lake Tower fits easily into the resort's modern and sleek aesthetic. The curved tower offers luxurious accommodations, fun activities, and beautiful views. With views of both Bay Lake and Magic Kingdom, it's not only lovely but also convenient, as a quick walk through the passageway to the main section of the Contemporary Resort gives guests access to the Monorail to take them quickly to Magic Kingdom.
One of the most well-known perks of staying at Bay Lake Tower is the Top of the World lounge on the 16th, and top, floor. Not only is it available for any DVC member staying at a DVC resort, and their guests, to use (on a first-come, first-serve basis), but it can also be reserved for events. As a bar and lounge, it offers appetizers, desserts, and cocktails for guests to enjoy. While they eat, guests can take in gorgeous views of the Monorail and Magic Kingdom. At night, guests can watch Magic Kingdom's Happily Ever After Firework Spectacular from the windows or the massive balcony outside the lounge.
With a total of 16 stories, Bay Lake Tower has a total of 295 rooms, of various sizes, including, Deluxe Studios, One-Bedroom Villas, Two-Bedroom Villas, and Three-Bedroom Grand Villas. There are an assortment of views, as well, with a Theme Park view offering a view of the Magic Kingdom, making the balcony an amazing place to watch the fireworks from, and Bay Lake View, which offers a view of Bay Lake and its courtyard with the resort pool. There is also a Standard View room, with obstructed views of Magic Kingdom or Bay Lake, or of the parking area.
As Disney World's original, and one of its most famous resorts, the Contemporary offers quite a number of dining options for guests. While only Top of the World and Cove Bar are located inside Bay Lake Tower, the other options are just across the walkway inside the main section of the Contemporary. Located by the Bay Lake Tower pool, Cove Bar is exclusively for guests at Bay Lake Tower, DVC members, and their guests, and offers cocktails, wraps, and salads that guests can enjoy in between swims.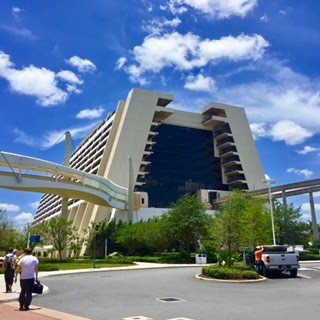 The Contemporary Resort is home to some of Disney World's most famous, and delicious, fine-dining restaurants, such as California Grill and Lounge, Chef Mickey's, and The Wave Restaurant & Lounge. Accessed via a private elevator, California Grill and Lounge is on the Contemporary's 15th floor, and offers guests tastes of California and the Pacific Coast, and gorgeous views of Magic Kingdom, including Cinderella's Castle and the Seven Seas Lagoon.
Chef Mickey's is an all-day Character Buffet with Mickey and Friends, offering views of the 90-foot tall mural by Disney Legend Mary Blair and the Monorail whizzing by. Casually elegant, The Wave… of American Flavors focuses on fresh and novel American cuisine, with all locally and regionally sourced ingredients.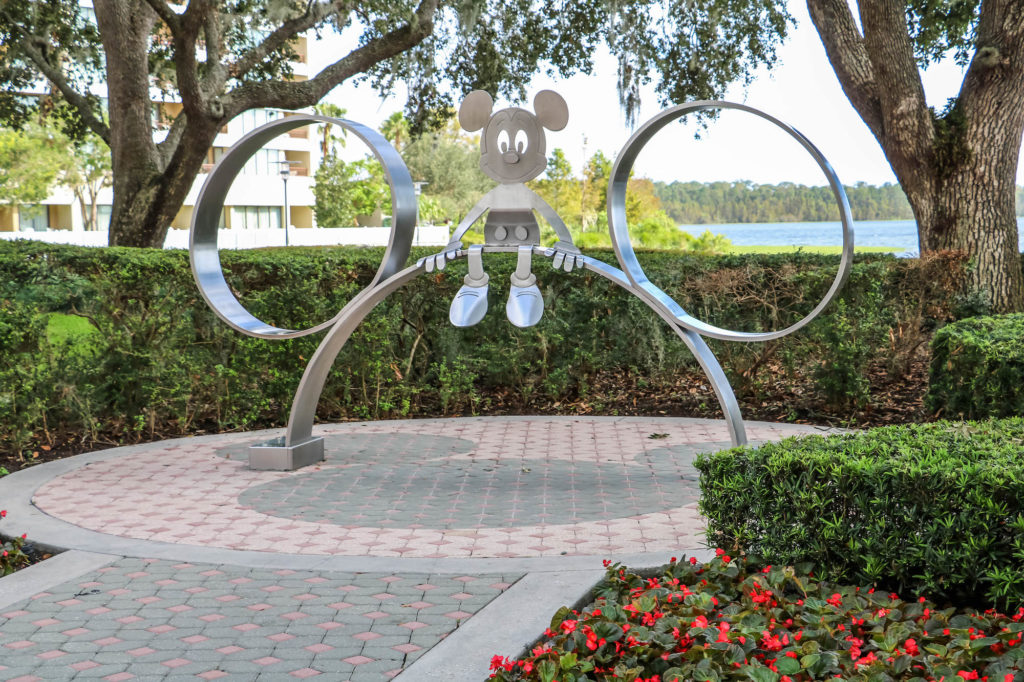 There are also a number of quick service options at the Contemporary for Bay Lake Tower guests to enjoy. Located in the Grand Canyon Concourse just next to Chef Mickey's, Contempo Café is the perfect place to grab a quick but satisfying meal, with both quick-service and grab-and-go items.
Contemporary Grounds is the Contemporary's Joffrey's location, with a full selection of gourmet coffees, iced teas, hot chocolate, smoothies, and baked goods, and is the perfect place to grab a quick bite before heading to the parks, or great for relaxing after returning from the parks.
There is also The Sand Bar, which invites guests to picnic by the Contemporary's swimming pool, for a snack, quick meal, or a refreshing drink. Finally, there is Outer Rim, where guests can enjoy spectacular views of Bay Lake while enjoying a cocktail. 
Bay Lake Tower also offers guests a host of amenities and activities. Staying at Bay Lake Tower provides guests access to Bay Lake Tower pool with its 148ft waterslide, kid slide, and splash zone, as well as the Contemporary's pool, with its own waterslide, whirlpool, and cabana rentals. There are also activities on Bay Lake, including boat rentals, guided fishing excursions, lakeside yoga. There are numerous other activities, as well, including an arcade, courts for basketball, volleyball, and tennis, jogging trails, a campfire experience, movies under the stars, and a community hall.
Bay Lake Tower might involve a walk to the amenities located in the main section of the Contemporary Resort, but it offers an unforgettable experience for DVC members. Not only is there a large range in room sizes and access to Top of the World, it's also the perfect place to get spectacular views of Magic Kingdom, the fireworks, and Bay Lake.
With a host of dining options and some of the most convenient and exciting access to the parks on property, staying in the sleek urban modern Bay Lake Tower will give any guest a wonderful experience at Disney World.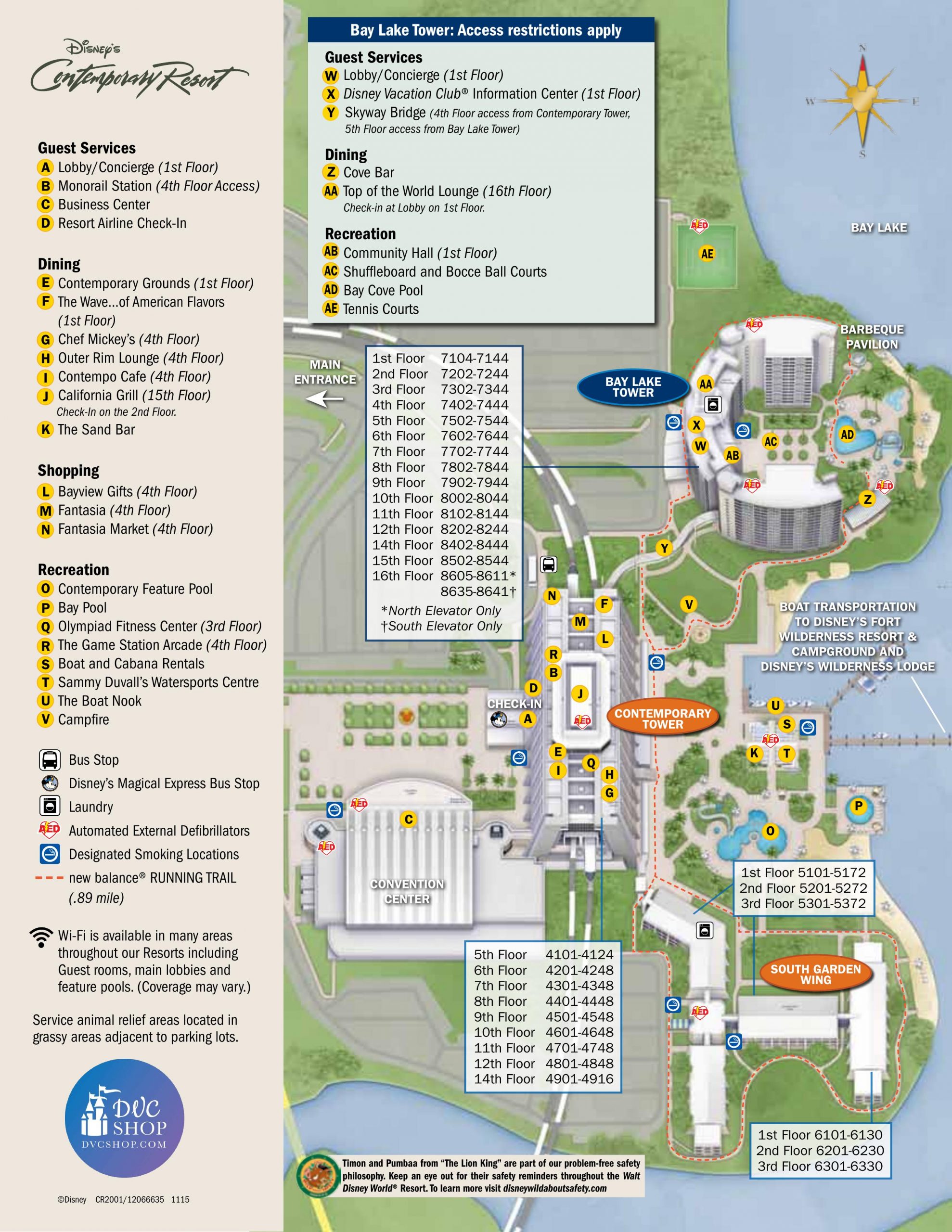 Click here to download map.