Confirmed Reservations
Photo Gallery
Resort Information
Resort Overview
Resort Map
Floor Plans
Point Charts
UNIT
Studio
1 Bedroom
2 Bedroom
3 Bedroom
SHOWING ALL LISTINGS
| Check-In | Nights | Resort | Room Type | Sleeps | Price | Status | Res ID |
| --- | --- | --- | --- | --- | --- | --- | --- |
| 06/10/2023 | 6 | Copper Creek | Deluxe Studio | 4 | $2,448 | Available | |
| 07/16/2023 | 5 | Copper Creek | Deluxe Studio | 4 | $2,040 | Available | |
| 07/09/2023 | 5 | Copper Creek | Deluxe Studio | 4 | $2,040 | Available | |
| 08/13/2023 | 5 | Copper Creek | Deluxe Studio | 4 | $2,040 | Available | |
| 07/02/2023 | 5 | Copper Creek | Deluxe Studio | 4 | $2,040 | Available | |
| 06/30/2023 | 5 | Copper Creek | Deluxe Studio | 4 | $2,088 | Available | |
| 08/05/2023 | 7 | Copper Creek | Deluxe Studio | 4 | $2,904 | Available | |
| 06/24/2023 | 6 | Copper Creek | Deluxe Studio | 4 | $2,472 | Available | |
| 08/12/2023 | 7 | Copper Creek | Deluxe Studio | 4 | $2,904 | Available | |
| 07/09/2023 | 5 | Copper Creek | Deluxe Studio | 4 | $2,040 | Available | |
| 07/01/2023 | 6 | Copper Creek | Deluxe Studio | 4 | $2,472 | Available | |
| 07/02/2023 | 4 | Copper Creek | Deluxe Studio | 4 | $1,394 | Available | |
| 09/16/2023 | 6 | Copper Creek | Deluxe Studio | 4 | $1,960 | Available | |
| 05/28/2023 | 5 | Copper Creek | Deluxe Studio | 4 | $2,480 | Available | |
| 05/12/2023 | 5 | Copper Creek | Deluxe Studio | 4 | $2,488.50 | Available | |
| 06/04/2023 | 7 | Copper Creek | Deluxe Studio | 4 | $3,534 | Available | |
| 10/06/2023 | 7 | Copper Creek | Deluxe Studio | 4 | $2,952 | Available | |
| 07/22/2023 | 5 | Copper Creek | Deluxe Studio | 4 | $2,666 | Available | |
| 08/18/2023 | 5 | Copper Creek | Deluxe Studio | 4 | $1,914 | Available | |
| 08/06/2023 | 5 | Copper Creek | Deluxe Studio | 4 | $1,870 | Available | |
| 08/05/2023 | 6 | Copper Creek | Deluxe Studio | 4 | $2,266 | Available | |
| 05/28/2023 | 4 | Copper Creek | Deluxe Studio | 4 | $1,984 | Available | |
| 12/31/2023 | 2 | Copper Creek | Deluxe Studio | 4 | $960 | Available | |
| 03/31/2023 | 1 | Copper Creek | Deluxe Studio | 4 | $420 | Available | |
| 10/06/2023 | 2 | Copper Creek | Deluxe Studio | 4 | $912 | Available | |
| 01/07/2024 | 5 | Copper Creek | Deluxe Studio | 4 | $1,800 | Available | |
| 09/22/2023 | 1 | Copper Creek | Deluxe Studio - with Walk-In Shower | 4 | $360 | Available | |
| 10/01/2023 | 5 | Copper Creek | Deluxe Studio - with Walk-In Shower | 4 | $2,040 | Available | |
| 10/06/2023 | 4 | Copper Creek | Deluxe Studio - with Walk-In Shower | 4 | $1,728 | Available | |
| 10/15/2023 | 4 | Copper Creek | Deluxe Studio - with Walk-In Shower | 4 | $1,632 | Available | |
| 01/09/2024 | 5 | Copper Creek | Deluxe Studio | 4 | $1,848 | Available | |
| 01/12/2024 | 5 | Copper Creek | Deluxe Studio | 4 | $1,848 | Available | |
| 01/13/2024 | 6 | Copper Creek | Deluxe Studio | 4 | $2,184 | Available | |
| 01/26/2024 | 6 | Copper Creek | Deluxe Studio | 4 | $2,208 | Available | |
| 10/01/2023 | 7 | Copper Creek | Deluxe Studio | 4 | $2,706 | Available | |
| 01/14/2024 | 5 | Copper Creek | Deluxe Studio | 4 | $1,800 | Available | |
| 04/25/2023 | 1 | Copper Creek | Deluxe Studio - with Walk-In Shower | 4 | $432 | Available | |
| 08/27/2023 | 5 | Copper Creek | Deluxe Studio | 4 | $1,870 | Available | |
| 04/11/2023 | 1 | Copper Creek | Deluxe Studio | 4 | $486 | Available | |
| 01/14/2024 | 5 | Copper Creek | Deluxe Studio - with Walk-In Shower | 4 | $1,800 | Available | |
| 09/22/2023 | 2 | Copper Creek | Deluxe Studio - with Walk-In Shower | 4 | $720 | Available | |
| 02/17/2024 | 6 | Copper Creek | Deluxe Studio | 4 | $2,664 | Available | |
| 02/17/2024 | 7 | Copper Creek | Deluxe Studio | 4 | $3,168 | Available | |
5 Star Resort
901 Timberline Dr. Blvd Lake Buena Vista, Florida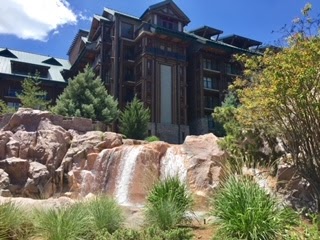 Disney's Wilderness Lodge envelops guests into the fold of nature that one can normally only find in the Pacific Northwest. Themed after exploration in that region in the 1800s, the lodge is divided into three sections: Wilderness Lodge, Copper Creek Villas & Cabins and Boulder Ridge Villas.
While the Copper Creek Villas are part of the Wilderness Lodge's main building, the Cascade Cabins, as well as Boulder Ridge, are in separate buildings. While the original Wilderness Lodge and Copper Creek Villas were built in 1994, the resort's 2016 refurbishment added the Cabins to Copper Creek's 184 villas.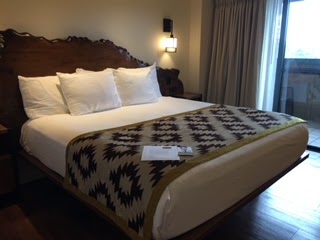 Copper Creek offers a large variety of room choices for guests to choose from: Deluxe Studios, Deluxe Studios with Walk-In Shower, One-Bedroom Villas, Two-Bedroom Villas, Two-Bedroom Lock-Off Villas, Two Bedroom Lock-Off Villas with Walk-In Shower, Three- Bedroom Grand Villas, and the Cascade Cabins.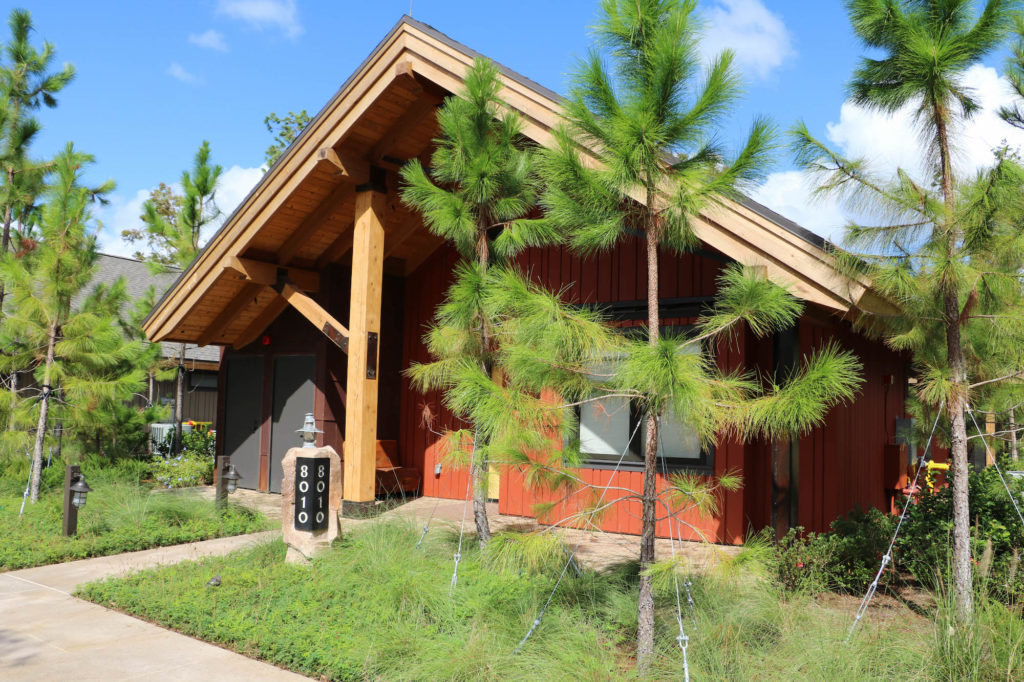 These room options can sleep anywhere from four to twelve guests, with some flexibility depending on the size of the rooms. All twenty-six Cascade Cabins have a beautiful view of Bay Lake, while the other rooms have views of Pool, Bay Lake, Woodlands, Courtyard, Wilderness Lodge, or Boulder Ridge Villas. The rooms have a sleek, but rustic and cozy feel.
While Wilderness Lodge has fewer dining options than some other resorts, the ones it has are unique in their theming. For quick-service options, there's Roaring Fork, Geyser Point Bar & Grill, and Territory Lounge.
Roaring Fork is available for all three meals of the day, offering a hearty breakfast, as well as sandwiches and burgers for lunch and dinner. Geyser Point Bar & Grill is available for lunch and dinner, as well as late snacks, with your favorite bar food options, and a couple options for more adventurous guests. Territory Lounge opens at 5pm, offering beers, wines, beverages, along with pastries and snacks.
There are also two table-service options at Wilderness Lodge, and they are both remarkable. Whispering Canyon is a favorite across Disney World property, styled after an Old Western eatery with large portions, games, and fun servers.
Storybook Dining at Artist Point with Snow White is a Fine Character Dining experience at Disney. Here guests feast on delicious food with Snow White and the Seven Dwarfs.
Guests staying in Copper Creek have access to all of the amenities at Wilderness Lodge, including both of its pools. Copper Creek Spring Pool is a heated pool with a 67-foot waterslide and is surrounded by whirlpool spas and trees. Geyser Point is located adjacent to the pool for guests who want to grab a snack as they relax poolside. The other pool is Boulder Ridge Cove Pool, which is a smaller, quieter pool with shaded seating areas and is perfect for relaxing.
Other amenities at the resort include, Reunion Station (a place for gathering, games, and crafts for DVC members), a fitness center, bike and boat rentals, barbecue pavilions, basketball courts and jogging trails, fishing, an arcade, campfires, and movies under the stars.
Copper Creek Villas & Cabins is a perfect stay for those DVC members who love to lose themselves in nature. Wilderness Lodge and Copper Creek was created to celebrate the majesty of the lush nature of the Pacific Northwest, and it can be found in every area of the lodge. Guests who want to be close to Bay Lake and Magic Kingdom will love everything Wilderness Lodge has to offer, and it's perfect for those looking for a retreat from the noise and bustle of some of the other resorts. Calming and peaceful, Copper Creek offers a convenient and relaxing escape for all its guests.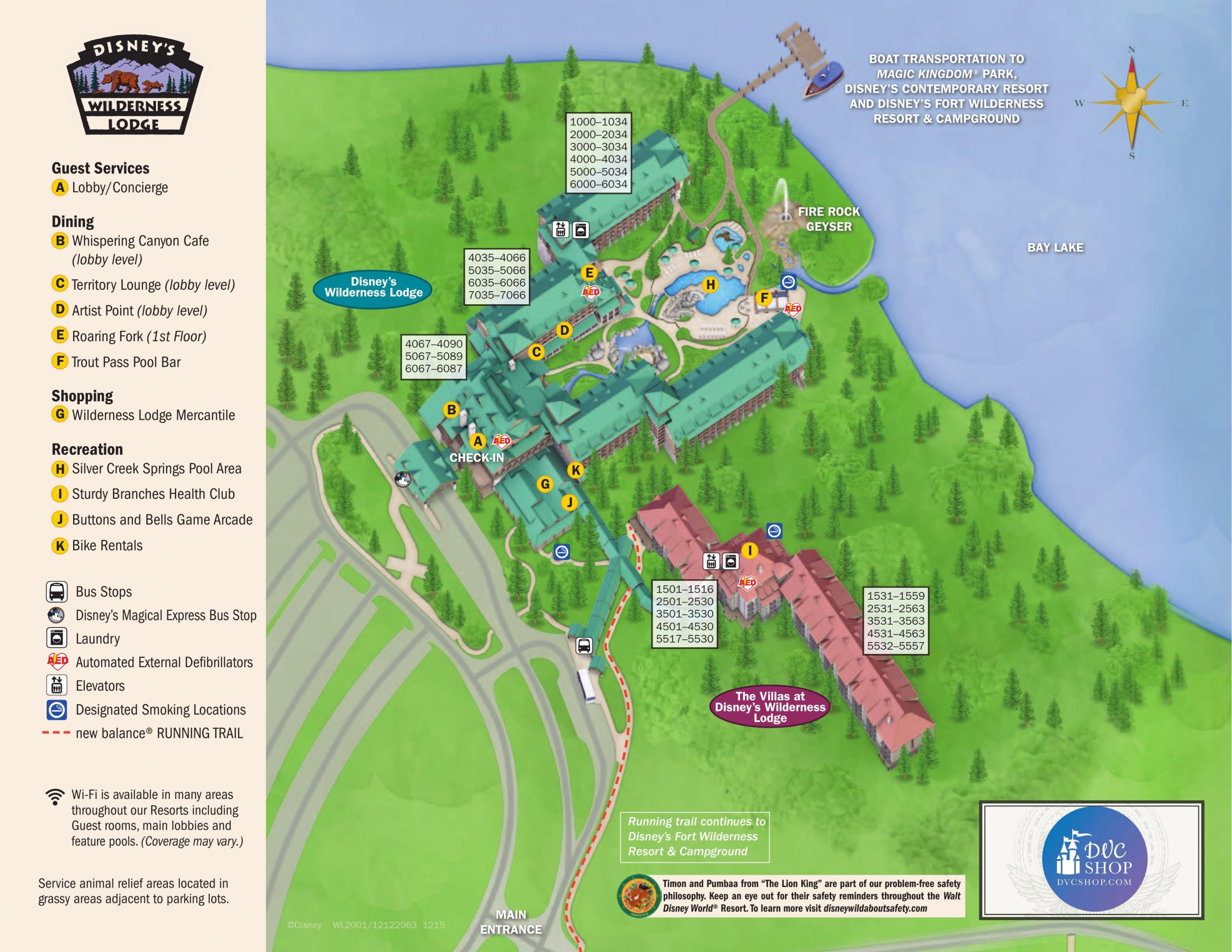 Click here to download map.