Confirmed Reservations
Photo Gallery
Resort Information
Resort Overview
Resort Map
Floor Plans
Point Charts
UNIT
Studio
1 Bedroom
2 Bedroom
3 Bedroom
SHOWING ALL LISTINGS
| Check-In | Nights | Resort | Room Type | Sleeps | Price | Status | Res ID |
| --- | --- | --- | --- | --- | --- | --- | --- |
| 09/01/2023 | 1 | Aulani Hawaii | Deluxe Studio - Standard View | 4 | $484 | Available | |
| 01/02/2024 | 2 | Aulani Hawaii | Hotel Room - Standard View | 4 | $924 | Available | |
| 12/10/2023 | 5 | Aulani Hawaii | Hotel Room - Standard View | 4 | $2,112 | Available | |
| 12/30/2023 | 2 | Aulani Hawaii | Deluxe Studio - Ocean View | 4 | $1,364 | Available | |
| 12/30/2023 | 2 | Aulani Hawaii | Deluxe Studio - Ocean View | 4 | $1,364 | Available | |
| 12/30/2023 | 2 | Aulani Hawaii | Deluxe Studio - Ocean View | 4 | $1,364 | Available | |
| 12/08/2023 | 2 | Aulani Hawaii | Deluxe Studio - Standard View | 4 | $748 | Available | |
| 12/08/2023 | 2 | Aulani Hawaii | Deluxe Studio - Standard View | 4 | $748 | Available | |
| 10/26/2023 | 2 | Aulani Hawaii | Hotel Room - Standard View | 4 | $748 | Available | |
| 11/03/2023 | 3 | Aulani Hawaii | Hotel Room - Standard View | 4 | $1,122 | Available | |
| 11/16/2023 | 2 | Aulani Hawaii | Hotel Room - Standard View | 4 | $704 | Available | |
| 12/01/2023 | 2 | Aulani Hawaii | Hotel Room - Standard View | 4 | $704 | Available | |
| 12/08/2023 | 1 | Aulani Hawaii | Hotel Room - Standard View | 4 | $352 | Available | |
| 12/01/2023 | 2 | Aulani Hawaii | Deluxe Studio - Standard View | 4 | $748 | Available | |
| 12/14/2023 | 2 | Aulani Hawaii | Hotel Room - Standard View | 4 | $704 | Available | |
| 11/03/2023 | 2 | Aulani Hawaii | Deluxe Studio - Standard View | 4 | $836 | Available | |
| 12/10/2023 | 5 | Aulani Hawaii | Hotel Room - Standard View | 4 | $1,760 | Available | |
| 09/28/2023 | 2 | Aulani Hawaii | Hotel Room - Standard View | 4 | $704 | Available | |
| 11/04/2023 | 3 | Aulani Hawaii | Hotel Room - Standard View | 4 | $1,122 | Available | |
| 09/01/2023 | 1 | Aulani Hawaii | Hotel Room - Standard View | 4 | $522 | Available | |
| 01/11/2024 | 2 | Aulani Hawaii | Deluxe Studio - Standard View | 4 | $748 | Available | |
| 01/19/2024 | 3 | Aulani Hawaii | Deluxe Studio - Standard View | 4 | $1,224 | Available | |
| 01/26/2024 | 2 | Aulani Hawaii | Hotel Room - Standard View | 4 | $704 | Available | |
| 12/10/2023 | 4 | Aulani Hawaii | Hotel Room - Standard View | 4 | $1,536 | Available | |
| 01/07/2024 | 4 | Aulani Hawaii | Hotel Room - Standard View | 4 | $1,536 | Available | |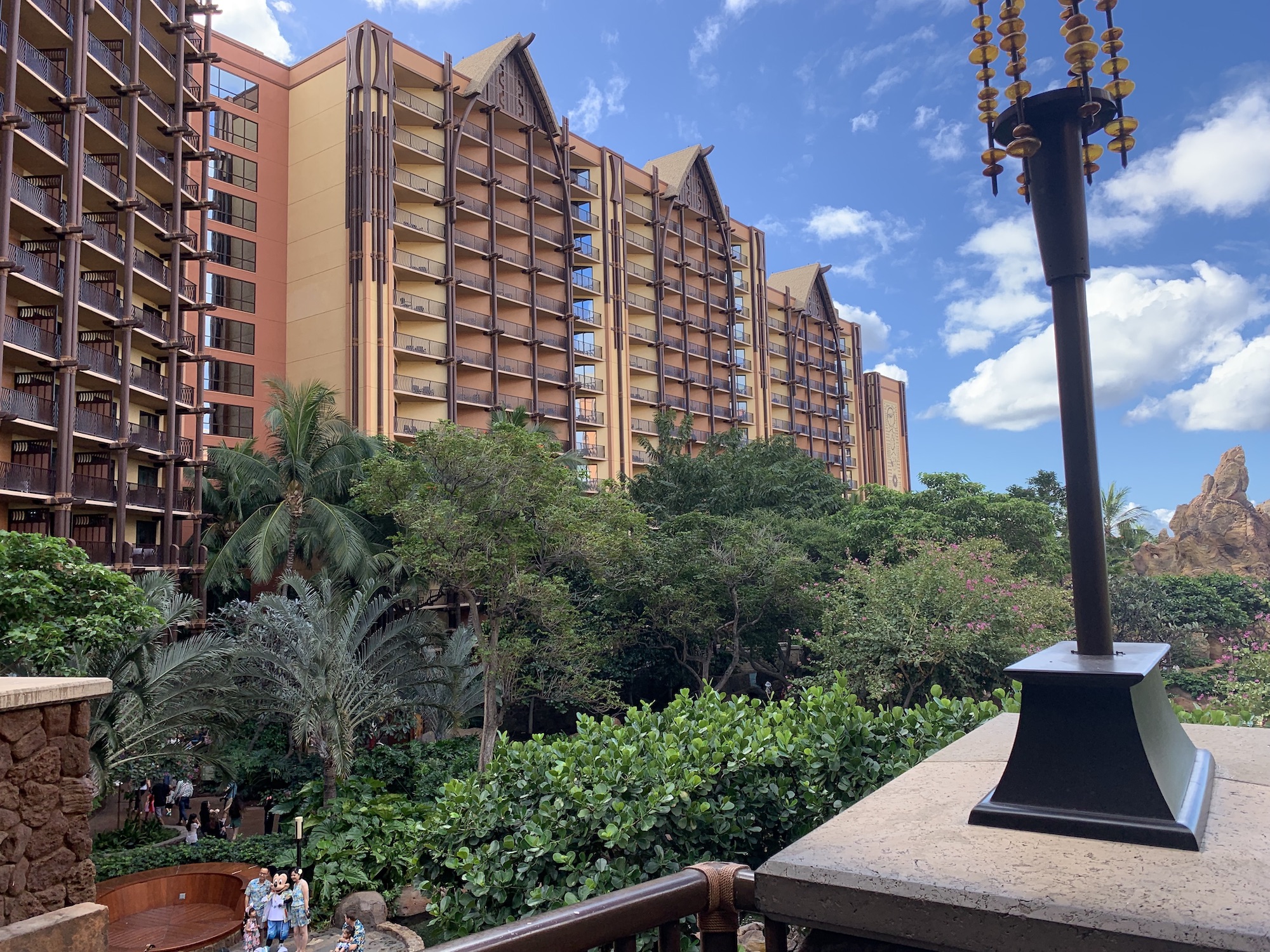 5 Star Resort
92-1185 Aliinui Drive Kapolei, Hawaii
A trip to Disney's Aulani would be an unforgettable vacation getaway with the unique combination of Disney's exceptional service and Hawaii's beauty. Still very young, having been built in 2011, Aulani was the third Disney Vacation Club stand-alone resort, after Disney's Hilton Head Island Resort and Disney's Vero Beach Resort. It has become known as an extraordinary location for both romantic and family vacations.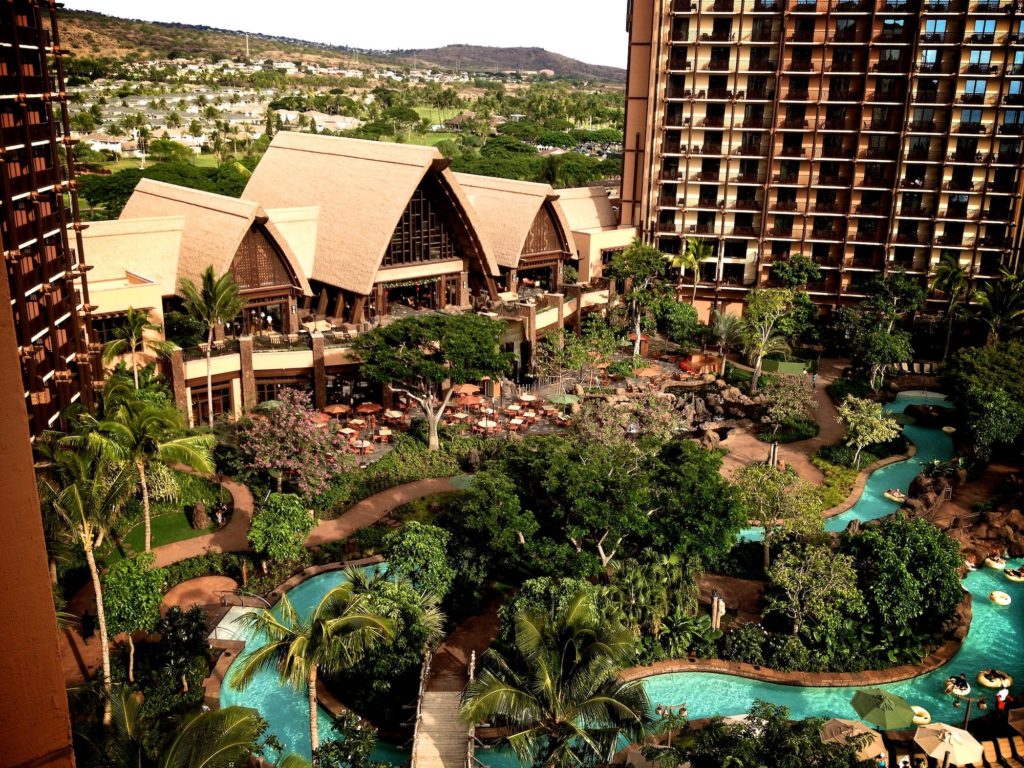 Aulani is located in Kapolei, on Oahu in the Hawaiian Islands, and its design and features represent aspects of Hawaiian culture, traditions, and customs. With Disney so focused on storytelling, it comes as no surprise that Disney worked with experts on local Hawaiian culture during Aulani's building. The resort works to show guests aspects of Hawaiian art, architecture, and culture and to inspire them to explore more of the islands.
While Aulani is a Disney resort, it is outstanding in its own right. While there are hidden Mickeys, character meet and greets, and Disney-themed food, Aulani has so much to offer regardless of how much of a Disney fan you are.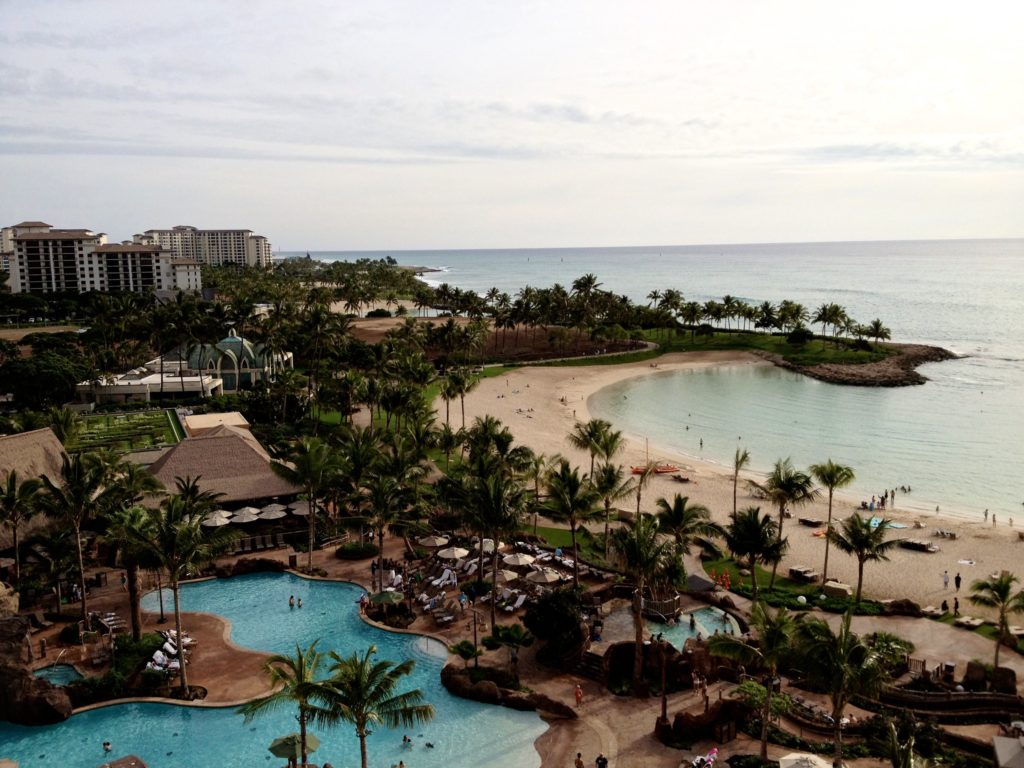 Built on a sprawling 21 acres, the massive resort offers activities and amenities for any and all guests. From beaches and lagoons, to swimming and snorkeling, to fun-filled days of activities and evenings of wandering into the sunset, Aulani has everything to make your vacation the one you've been dreaming of.
Rooms 
With a huge total of 460 DVC villas, there are a variety of room types and views to choose from. Room types include Hotel Rooms, Deluxe Studios, One-Bedroom Villas, Two-Bedroom Villas, Two-Bedroom Lock-Off Villas, and Three-Bedroom Villas. These bedrooms have an assortment of different views, including Standard View (a view of the conference center, parking lot, or parking garage), Island Gardens View (a view of the mountains, spa, or landscaping), Poolside Gardens View (a view of the pool, courtyards, water features, or landscaping), and Ocean View (a view of the ocean).
Dining 
Of course, at a resort as massive as Aulani, there are a wide variety of food options, ranging from table-service to casual dining. 'AMA'AMA – Contemporary Island Cooking is a beautiful open-air restaurant with an oceanfront view, and is designed to resemble a beachside house, inspired by fishing settlements on Oahu's coast. Located on a lanai overlooking a koi pond, Makahiki – The Bounty of the Islands is a Character Dining Buffet inspired by the traditional Hawaiian celebration of the harvest.
For quick service options, guests at Aulani have plenty to choose from. Mama's Snack Shop is located by both a pool and a lagoon and features such dishes as Fish and Chips and Coconut-Breaded Shrimp, making it the perfect meal to grab in between swims. Ulu Café is open all day for Aulani's guests, and is right by the Wailana Pool, for anyone wanting to grab convenient or fresh and hot entrees. Little 'Opihi's is a kiosk on Ko Olina Beach and offers snacks, light meals, and cocktails you can enjoy from your lounge chair. Papalua Shave Ice is a refreshing snack shop offering shave ice, a popular Hawaiian treat that can even be Mickey-shaped. Lava Shack is right across from Mama's Snack Shop and stocks drinks, snacks, and sundries. 
At the 'Olelo Room, guests can enjoy cocktails and appetizers either inside or under the night sky, surrounded by a celebration of the Hawaiian language and looking over the koi pond. Off the Hook is a relaxing bar and lounge just next to 'AMA'AMA, and is designed to resemble a fisherman's seaside shack with a wonderful ocean view. Finally, those guests 18 and older are able to enjoy the Wailana Pool Bar and is designed to be a sanctuary for adults looking to unwind by the poolside and enjoy local Hawaiian cuisine.

Amenities
Aulani also offers an abundance of amenities for its guests. Aunty's Beach House is a fun kid's club on property, allowing kids to have fun while their parents enjoy other activities. There are a myriad of pools, including Waikolohe Pool (with a slide, lazy river, and rapids), Wailana Pool (for guests 18+), Ka Maka Grotto (a cave-like pool on the beach), and Keiki Cove Splash Pool and Menehune Bridge as fun kids pools. There is also Rainbow Reef where guests can snorkel and swim with fish, and the beach! In addition, Aulani offers Pau Hana Room (Aulani's take on the DVC Community Hall), Hawaiian entertainment, excursions off property to see more of Oahu, and the LaniWai Spa (Aulani's 18000ft spa that includes a hydrotherapy garden, steam rooms, and spa services) to ensure all guests are sufficiently relaxed. 
Aulani easily offers enough to keep you and your family entertained and relaxed for a week or two, while not only enjoying Hawaii, but with a Disney twist! Steeped in beauty and culture, Aulani provides not only a Hawaiian vacation but a look into Hawaiian art, architecture, and food from the design of every restaurant and pool to the structure and decoration of the lobby and rooms. This will truly be the trip of a lifetime and an experience to always remember.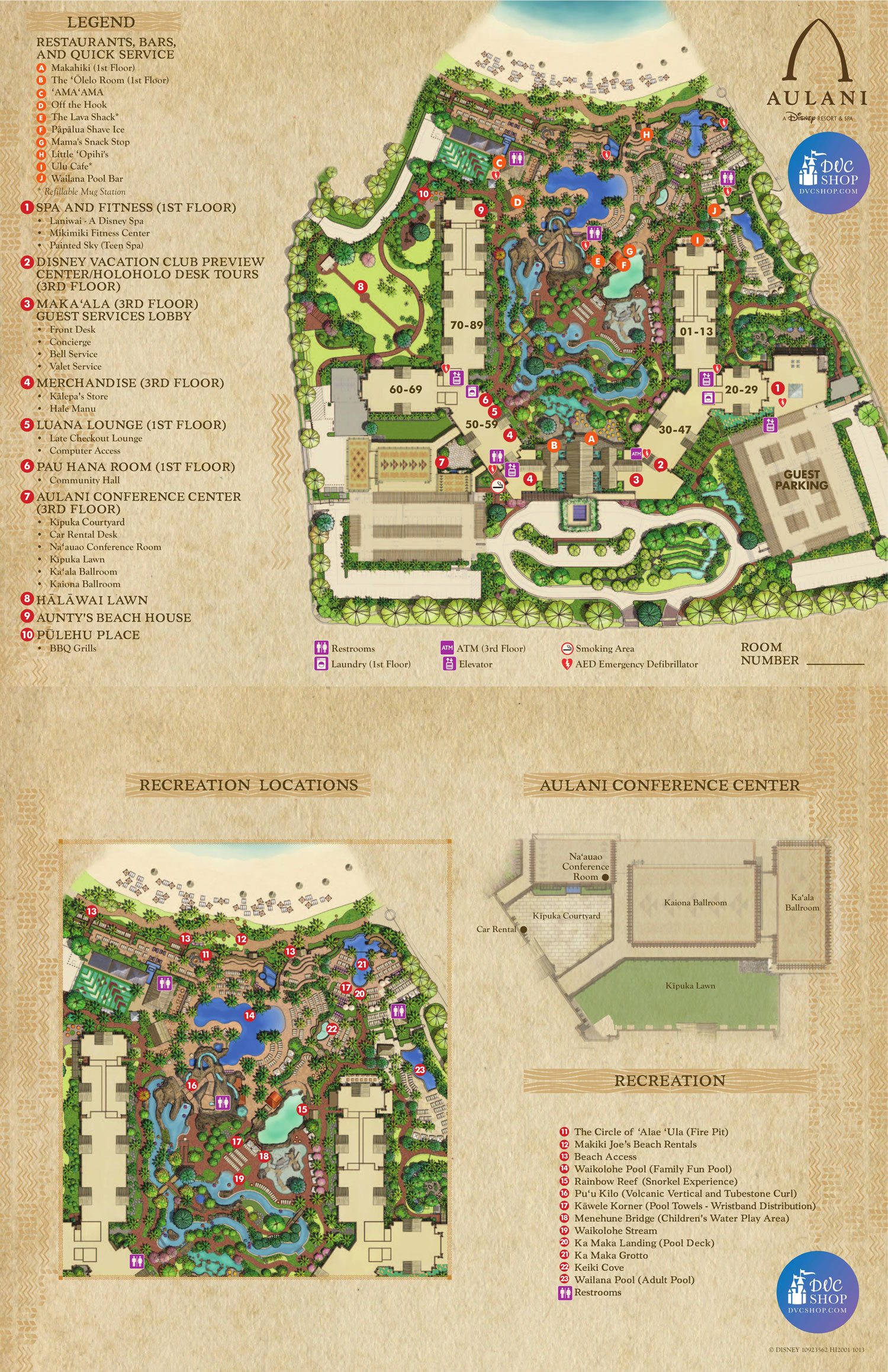 Click here to download map.