Disney's Animal Kingdom Villas
Confirmed Reservations
Photo Gallery
Resort Information
Resort Overview
Floor Plans
Point Charts
Location
| Check-In | Nights | Resort | Unit | Sleeps | View | Price | Status | Learn More |
| --- | --- | --- | --- | --- | --- | --- | --- | --- |
| 12/26/2020 | 7 | Animal Kingdom Villas | Studio | 4 | Standard View | $2,055 | Available | |
| 12/26/2020 | 7 | Animal Kingdom Villas | Studio | 4 | Standard View | $2,740 | Available | |
| 2/18/2021 | 4 | Animal Kingdom Villas | Studio | 4 | Savanna View | $1,680 | Available | |
| 4/10/2021 | 7 | Animal Kingdom Villas | Studio | 4 | Standard View | $2,200 | Available | |
| 2/21/2021 | 2 | Animal Kingdom Villas | Studio | 4 | Value Accommodation | $456 | Available | |
| 3/5/2021 | 1 | Animal Kingdom Villas | Studio | 4 | Kilimanjaro Club Concierge | $494 | Available | |
| 3/12/2021 | 1 | Animal Kingdom Villas | Studio | 4 | Value Accommodation | $266 | Available | |
| 3/26/2021 | 1 | Animal Kingdom Villas | Studio | 4 | Value Accommodation | $266 | Available | |
| 4/9/2021 | 1 | Animal Kingdom Villas | Studio | 4 | Value Accommodation | $266 | Available | |
| 4/10/2021 | 1 | Animal Kingdom Villas | Studio | 4 | Kilimanjaro Club Concierge | $494 | Available | |
| 4/10/2021 | 1 | Animal Kingdom Villas | Studio | 4 | Kilimanjaro Club Concierge | $494 | Available | |
| 4/23/2021 | 1 | Animal Kingdom Villas | Studio | 4 | Value Accommodation | $247 | Available | |
| 4/23/2021 | 1 | Animal Kingdom Villas | Studio | 4 | Value Accommodation | $247 | Available | |
| 4/24/2021 | 1 | Animal Kingdom Villas | Studio | 4 | Value Accommodation | $247 | Available | |
| 4/25/2021 | 5 | Animal Kingdom Villas | Studio | 4 | Value Accommodation | $1,045 | Available | |
| 4/30/2021 | 1 | Animal Kingdom Villas | Studio | 4 | Value Accommodation | $247 | Available | |
| 4/30/2021 | 2 | Animal Kingdom Villas | Studio | 4 | Value Accommodation | $456 | Available | |
| 5/1/2021 | 1 | Animal Kingdom Villas | Studio | 4 | Kilimanjaro Club Concierge | $456 | Available | |
| 3/6/2021 | 6 | Animal Kingdom Villas | Studio | 4 | Value Accommodation | $1,406 | Available | |
| 4/30/2021 | 1 | Animal Kingdom Villas | Studio | 4 | Kilimanjaro Club Concierge | $475 | Available | |
| 5/4/2021 | 3 | Animal Kingdom Villas | Studio | 4 | Kilimanjaro Club Concierge | $1,197 | Available | |
| 5/9/2021 | 1 | Animal Kingdom Villas | Studio | 4 | Value Accommodation | $171 | Available | |
| 1/31/2021 | 1 | Animal Kingdom Villas | Studio | 4 | Standard View | $156 | Available | |
| 1/15/2021 | 7 | Animal Kingdom Villas | Studio | 4 | Savanna View | $1,792 | Available | |
| 11/16/2020 | 5 | Animal Kingdom Villas | Studio | 4 | Standard View | $1,088 | Available | |
| 1/23/2021 | 1 | Animal Kingdom Villas | Studio | 4 | Standard View | $157.50 | Available | |
| 1/21/2021 | 4 | Animal Kingdom Villas | Studio | 4 | Standard View | $780 | Available | |
| 11/29/2020 | 2 | Animal Kingdom Villas | Studio | 4 | Value Accommodation | $252 | Pending | |
| 11/29/2020 | 2 | Animal Kingdom Villas | Studio | 4 | Value Accommodation | $252 | Pending | |
| 11/16/2020 | 1 | Animal Kingdom Villas | Studio | 4 | Standard View | $126 | Available | |
| 11/15/2020 | 4 | Animal Kingdom Villas | Studio | 4 | Standard View | $840 | Available | |
| 3/5/2021 | 2 | Animal Kingdom Villas | Studio | 4 | Value Accommodation | $364 | Available | |
| 4/30/2021 | 1 | Animal Kingdom Villas | Studio | 4 | Value Accommodation | $169 | Available | |
| 11/29/2020 | 1 | Animal Kingdom Villas | Studio | 4 | Standard View | $156 | Available | |
| 4/10/2021 | 1 | Animal Kingdom Villas | Studio | 4 | Value Accommodation | $210 | Available | |
| 5/14/2021 | 1 | Animal Kingdom Villas | Studio | 4 | Value Accommodation | $165 | Available | |
| 1/10/2021 | 1 | Animal Kingdom Villas | Studio | 4 | Value Accommodation | $104 | Available | |
| 1/31/2021 | 1 | Animal Kingdom Villas | Studio | 4 | Value Accommodation | $104 | Available | |
| 3/6/2021 | 7 | Animal Kingdom Villas | Studio | 4 | Standard View | $1,856 | Available | |
| 2/6/2021 | 7 | Animal Kingdom Villas | Studio | 4 | Standard View | $1,500 | Available | |
| 3/21/2021 | 5 | Animal Kingdom Villas | Studio | 4 | Savanna View | $1,900 | Available | |
| 3/11/2021 | 3 | Animal Kingdom Villas | Studio | 4 | Value Accommodation | $740 | Available | |
| 1/28/2021 | 2 | Animal Kingdom Villas | Studio | 4 | Value Accommodation | $285 | Available | |
| 11/1/2020 | 1 | Animal Kingdom Villas | Studio | 4 | Value Accommodation | $135 | Available | |
| 1/10/2021 | 1 | Animal Kingdom Villas | Studio | 4 | Standard View | $112 | Available | |
| 1/1/2021 | 5 | Animal Kingdom Villas | Studio | 4 | Standard View | $960 | Available | |
| 3/27/2021 | 7 | Animal Kingdom Villas | Studio | 4 | Standard View | $2,190 | Available | |
| 2/12/2021 | 1 | Animal Kingdom Villas | Studio | 4 | Standard View | $165 | Available | |
| 11/1/2020 | 1 | Animal Kingdom Villas | Studio | 4 | Value Accommodation | $126 | Available | |
| 4/27/2021 | 3 | Animal Kingdom Villas | Studio | 4 | Standard View | $594 | Available | |
| 5/19/2021 | 3 | Animal Kingdom Villas | Studio | 4 | Standard View | $522 | Available | |
| 5/28/2021 | 4 | Animal Kingdom Villas | Studio | 4 | Standard View | $1,008 | Available | |
| 5/28/2021 | 3 | Animal Kingdom Villas | Studio | 4 | Standard View | $774 | Available | |
| 12/6/2020 | 1 | Animal Kingdom Villas | Studio | 4 | Standard View | $154 | Available | |
| 1/21/2021 | 1 | Animal Kingdom Villas | Studio | 4 | Value Accommodation | $120 | Available | |
| 7/27/2021 | 3 | Animal Kingdom Villas | Studio | 4 | Value Accommodation | $627 | Available | |
| 8/3/2021 | 3 | Animal Kingdom Villas | Studio | 4 | Value Accommodation | $627 | Available | |
| 5/18/2021 | 3 | Animal Kingdom Villas | Studio | 4 | Kilimanjaro Club Concierge | $1,071 | Available | |
| 6/28/2021 | 4 | Animal Kingdom Villas | Studio | 4 | Kilimanjaro Club Concierge | $1,564 | Available | |
| 7/23/2021 | 4 | Animal Kingdom Villas | Studio | 4 | Kilimanjaro Club Concierge | $1,632 | Available | |
| 7/27/2021 | 4 | Animal Kingdom Villas | Studio | 4 | Value Accommodation | $782 | Available | |
| 2/6/2021 | 7 | Animal Kingdom Villas | Studio | 4 | Standard View | $1,400 | Available | |
| 2/15/2021 | 4 | Animal Kingdom Villas | Studio | 4 | Value Accommodation | $690 | Available | |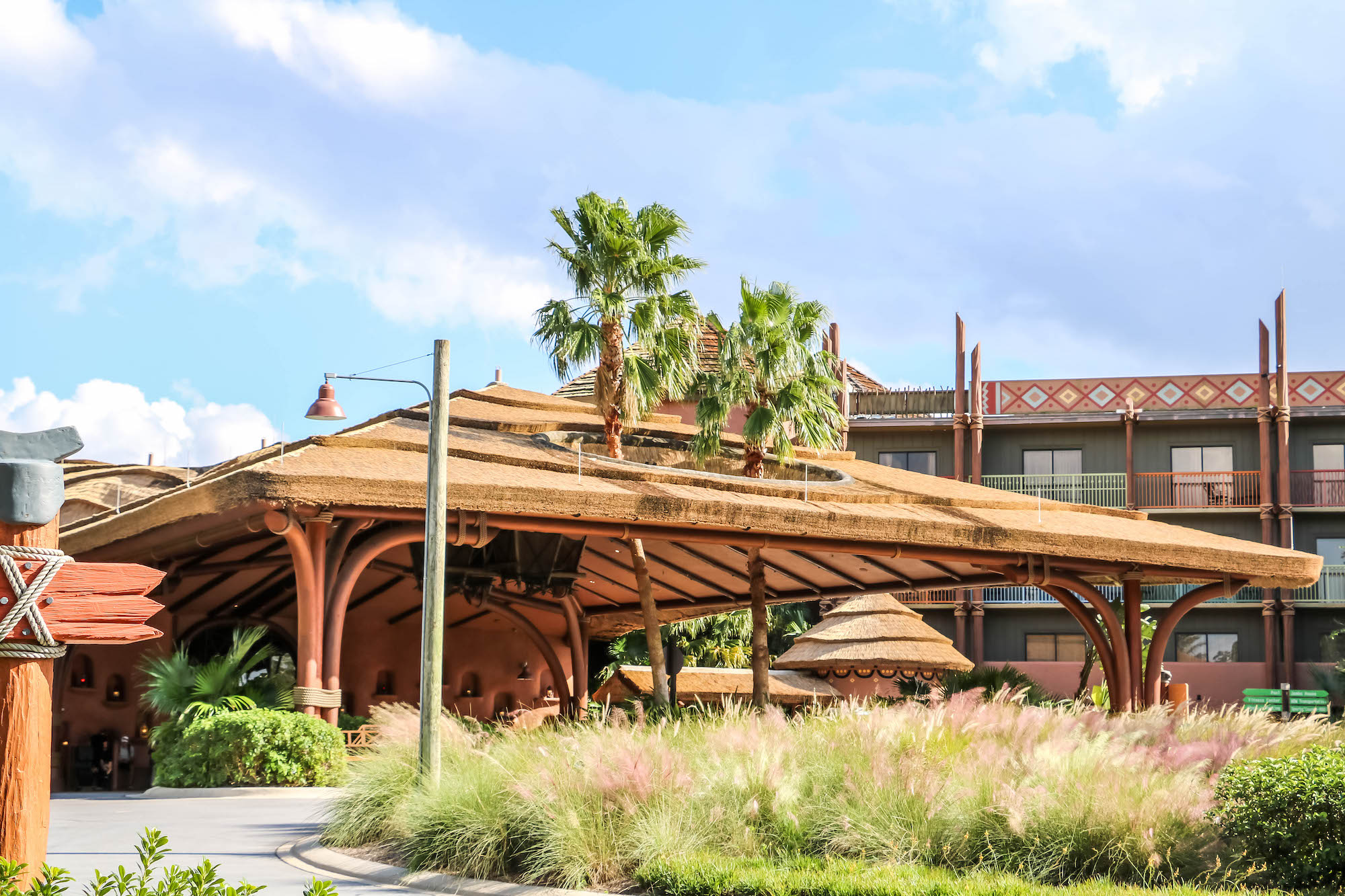 5 Star Resort
2901 Osceola Pkwy Lake Buena Vista, Florida
Maintenance Cost
$7.67 per point
This resort is very different  and a lot of fun! Animals, everywhere you look.  At night they have night vision goggles to see the animals on the savanna.  You will also find ladies in the lobby playing bongo type drums and entertaining the kids.
There are 2 buildings Jambo  & Kadani.  Jambo has DVC rooms on the 5th floor only, the remainder of the resort is hotel guest.  Jambo has value rooms (18), club level (10) and studio, 1,2 & 3 bedroom villas.  All of the restaurants are located here except for Sanaa which is at Kidani (and has the bread service, yum!).  A great QS and 3 sit down restaurants that are all very unique. This resort has a very large pool and the lobby is amazing.
A short 10 minute walk or hop on the van that runs back and forth and you are at Kidani. This resort was built as a DVC resort and is all DVC (with the exception of the required minimum cash rooms).  The lobby is a smaller version of Jambo and has a smaller pool, but has a great kids splash pad! This is a more quaint resort and feels very homey.